HP's 1x000, 7x00, and 5x00 Indigo Press Seriesand Label and Packaging Web Press Series achieve OEM certification demonstrating press aptitude as it relates to capability to print to specified color spaces and color tolerance control.
Alexandria, Va. – Idealliance, the global communications non-profit organization, with 11 offices around the world, has certified the HP Indigo 1x000, 7x00, 5x00 Press Series and the HP Indigo Label & Packaging Web Press Series with its Master Elite Level ISO/PAS 15339 Certification designations. Idealliance ISO/PAS 15339 Certification is an extended compliance program of the Digital Press Certification for digital printing press manufacturers, allowing OEMs to certify demonstration of press aptitude as it relates to hitting specified color spaces and the ability to hold color tolerance.
By achieving both the Idealliance Digital Press and the Master Elite Level of Idealliance ISO/PAS 15339 Certification, the HP Indigo presses demonstrated clearly not only their capability to print to the largest color gamut, Universal Extra Large CRPC 7 within CIEDE2000 tolerances as specified in CGATS TR 016-2014, but also their capability to hold color consistently.
Newly added to the Idealliance Digital Press Certification Program, the Idealliance ISO/PAS 15339 Certification allows OEMs to demonstrate the capability of their presses to print to a variety of color spaces specified by the Characterized Reference Printing Conditions of ISO/PAS 15339. The program comprises two tiers—CRPC 1-6 and CRPC 1-6 Plus 7—and four aptitude levels: Master Elite, Advanced Elite, Intermediate Elite, and Satisfactory Elite (see chart below).
"We are extremely proud to acknowledge that HP Indigo has attained the highest level of achievement within this certification program—Level I-Master Elite, Tier 1 and Tier 2—for its press series 1x000, 7x00, and 5x00, all driven by the HP SmartStream Digital Front End," says Timothy Baechle, Idealliance Vice President, Global Print Technologies & Workflows. "This accomplishment shows the significant range and performance of the HP Indigo cut-sheet technology, in particular its ability to achieve color spaces and, especially, to hit and maintain incredibly tight tolerances.
"We extend profound congratulations to HP Indigo and its entire technical staff for their tremendous work in achieving this status," he continues, "and it's noteworthy to point out that that HP Indigo's passing tolerances were actually significantly tighter than the parameters of the Level I ΔE00 colorimetric tolerances on the cut-sheet series, which should also be commended."
Idealliance is the largest certifying body in the world and is recognized globally as an industry think tank, a developer of specifications and standards, certifications and training, research, and the intersection of innovation, education, and validation. Idealliance has programs that cross many sectors of the industry and serve all those who participate in the global industry.
The tiers and levels of the Master Elite Level ISO/PAS 15339 digital press program are as follows:
Master Elite Level ISO/PAS 15339 Tier 1: CRPC 1-6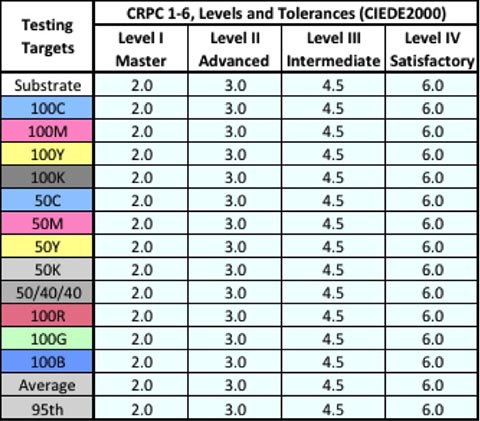 Master Elite Level ISO/PAS 15339 Tier 2: CRPC 1-6 Plus 7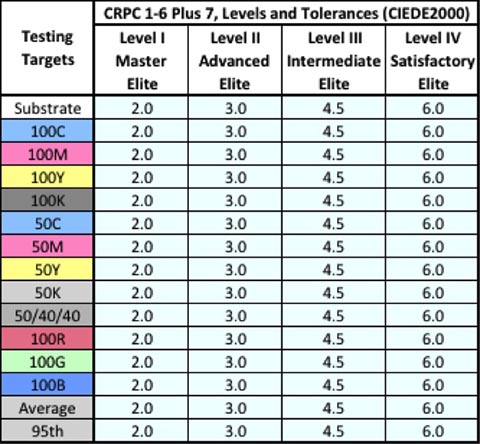 Idealliance ISO/PAS 15339 also has a number of ISO and CGATS Standards associated with it. Color measurement and data analysis are derived from specifications, either wholly or in part, found in the following standards:
CGATS 21:2013 Graphic Technology – Printing digital data across multiple technologies;
ISO 3664:2009 Graphic Technology and Photography – Viewing conditions;
ISO 12642-2:2015 Graphic Technology (IT8.7/4) – Input data for characterization of 4-color process printing – Part 2: Expanded dataset;
ISO 12647-7:2016 Graphic Technology – Process control for the production of halftone color separations, proof and production prints – Part 7: Proofing processes working directly from digital data;
ISO 13655:2017 Graphic Technology – Spectral measurement and colorimetric computation for graphic arts images;
ISO/PAS 15339 Graphic technology — Printing from digital data across multiple technologies:
Part 1: Principles
Part 2: Characterized reference printing conditions, CRPC1–CRPC7.
For more information on the Idealliance ISO/PAS 15339 Certification, please contact Timothy Baechle at (703) 837-1069 or [email protected], or Project Manager of Certification Programs Jordan Gorski at (703) 837-1096 or [email protected].