InnerWorkings' creative execution services honored by pan-industry awards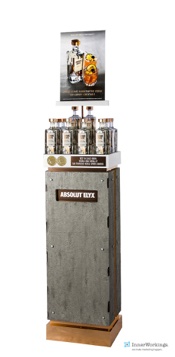 CHICAGO - InnerWorkings, Inc., the leading global marketing execution firm, has won several awards for its end-to-end creative services execution in a number of categories from multiple industry groups.
InnerWorkings' Absolut Elyx display won POPAI's 2015 Gold Medal.
InnerWorkings' five distinguished awards include:
Point of Purchase Advertising International (POPAI) Gold Medal for the Absolut Elyx 12-Bottle Display Rack. This high-end display uses unique materials that resemble copper and concrete. The display helped Pernod Ricard exceed volume distribution goals in Absolut Elyx's key launch markets.
POPAI Creative Award and Bronze Medal for Hendrick's Hot Air Balloon Bottle Glorifier, made for William Grant & Sons. This hand-painted display built brand equity for Hendrick's Gin through nationwide distribution of retail displays, at bars and restaurants, and at brand events across the U.S.
Two gold awards at the PromaxBDA's Awards Ceremony for CNN The Sixties press and 3-D sales kits. The kits include black vinyl LP records that contain DVDs of the show's first two episodes.
These awards highlight how InnerWorkings' creative execution services elevate Fortune 500 brands across formats and geographies.
"InnerWorkings has always been our trusted partner when designing, producing, and shipping award-winning merchandising," said Carol Giaconelli, Director of Marketing Operations at Pernod Ricard.
Added Harvey Purchese, Senior Vice President, Marketing, USA for William Grant & Sons, which makes Hendrick's Gin: "InnerWorkings helps us to efficiently move our projects from conception through production. They really act as a sounding board about the best way to get our ideas to market."
InnerWorkings' latest honors reinforce its commitment to creativity, quality, innovation, and flawless execution in the design and creation of marketing materials.