Editor's Note: Don't miss an exclusive article on this topic by Cary Sherburne.
Free License to Adobe's .folio File Specification Aids Expansion of Digital Publishing Industry
SAN JOSE, Calif. - Adobe today released data that shows Adobe® Digital Publishing Suite (DPS) is powering significant circulation growth and reader engagement in digital magazines. Since the launch of Adobe DPS, less than three years ago, more than 150 million digital publications have been downloaded on mobile devices. And in the last twelve months publishers have added more than three times as many unique readers to their digital editions, when compared to 2012. Data also shows readers are engaging deeply with the digital magazines, with subscribers spending an average of 50 minutes* in DPS digital issues each month. Building on this momentum Adobe today announced that, in Q1 2014, it will publish the technical specification for the .folio format for digital magazines under a free license. This will further accelerate digital publication adoption, enabling newsstands to produce their own viewing apps capable of displaying digital magazines built using DPS.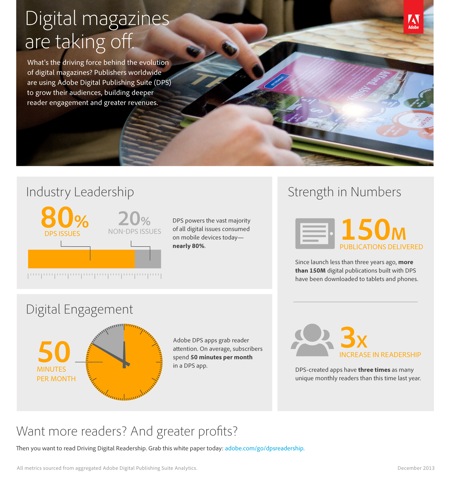 DPS Features Power Reader Engagement
Consumer marketing tools included in DPS magazine apps are helping drive readership growth and can be customized for each title. Features include social sharing of articles on major social networks, including Facebook, Twitter and Pinterest; free preview capabilities for individual articles or entire issues; and custom push notifications that alert readers to new content. These tools have engaged new readers and increased content sales for publishers by improving discovery, immediate access to content and timing/placement of purchase offers. Adobe has published a best practices guide to assist publishers in taking full advantage of DPS features to generate awareness, collect data, formulate optimal pricing and subscription offers, and ultimately maximize readership and purchase conversion. DPS is also used by companies and educational institutions to build beautiful app experiences for their employees and customers.
.folio to be Offered Under Free License
Publishers are increasingly seeking to leverage DPS as their primary digital publishing platform across operating systems and newsstands, including those where DPS magazine apps are not available. In order to maximize reach for digital magazines built using DPS, Adobe will publish, in Q1 2014, the technical specification for the .folio format for digital magazines under a free license. .folio is the format in which all DPS magazines are published and has become the de facto standard for interactive digital editions. This free license will enable any newsstand licensee to implement its own .folio viewer.
Quotes
Nick Bogaty, head of digital publishing, Adobe
"As the leading digital publishing platform, DPS powers more than three quarters of all digital issues consumed on mobile devices. Engaging reading experiences combined with in-app consumer marketing capabilities provide publishers with the tools they need to continue generating explosive growth in digital circulation. This makes DPS a powerful solution for driving sales of digital content as well as high-value advertising experiences."
"Adobe has a long tradition of creating and supporting open file formats to enable content publishing and distribution. PDF was instrumental to the advent of desktop publishing and document sharing, and our work in Web standards, including HTML5, has advanced what's possible to do on the Web and in mobile apps. We are thrilled to make .folio available for free use to accelerate the growth of digital magazines and other publications."
Bill Phillips, editor in chief, Men's Health, Rodale
"Marketing of our content is critical to our business and we trust Adobe to continually deliver innovations to DPS that make it easy for us to grow our base of digital readers. The ability to deliver free previews of each issue introduces potential subscribers to our magazine in a meaningful way and this functionality is an important key to increasing circulation and revenue."