To satisfy the growing market demand for direct printed textile output, Agfa Graphics is announcing at FESPA 2013 its state of the art, high-end printing solution for soft signage applications.
Called Ardeco, this new wide-format printer is a precision engineered solution that combines advanced sublimation capabilities with a highly accurate textile transport system. It comes in a choice of print head configurations, and features an inline cold-knife cutting system.
This fully-integrated digital textile solution is designed for volume production of all soft signage output including backlit displays, flags and general displays that benefit from being printed onto polyester based fabrics up to a maximum print width of 3.2m. Ardeco prints rich vibrant solid colors, gradients of impeccable quality and high detail rendered images utilizing high quality disperse inks.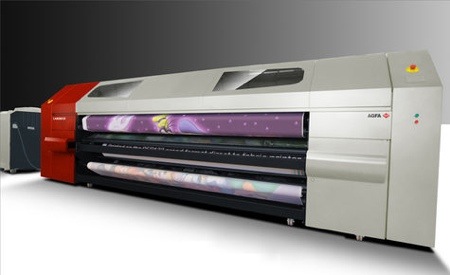 With Ardeco's calendering capability built in, this results in an end-to-end system that doesn't require any additional fixation or finishing option. In addition, the machine's ink through feature means that highly absorbent and open-weave fabrics such as meshes can be printed without any damage that can be caused by ink splash back.
"Digital textile printing is really coming of age and the Ardeco system will satisfy sign-makers and display producers wanting to benefit from the engine's high productivity and our Asanti solution," states Willy van Dromme, Director of Marketing Sign and Display at Agfa Graphics. "Ardeco itself has a compact footprint yet the complete solution incorporates all the elements needed for straightforward, high quality and reliable direct-to-fabric printing and calendering."