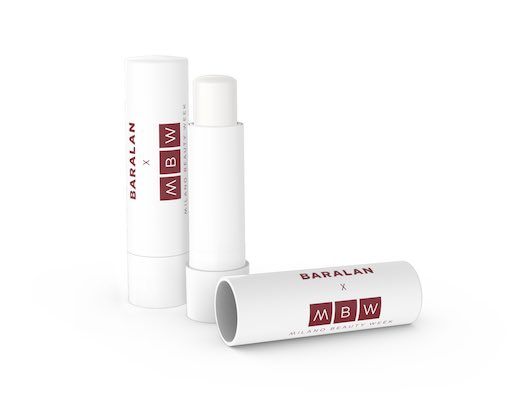 Company to support cosmetics supply chain with MBW-branded product during the event dedicated to beauty and wellbeing.
Milan (Global Headquarters) - Baralan, a consolidated player in primary packaging for the cosmetics and beauty industries, will be participating in the second annual Milano Beauty Week (MBW), September 26-October 2 in Milan. During the event, which is oriented to both industry professionals and consumers, Baralan is once again committed to giving visibility and value to the cosmetic supply chain. This year, Baralan will debut an MBW-branded lip balm, which will be distributed at a fundraising event benefiting women undergoing cancer treatments, as well as during Milano Beauty Week's social and promotional activities.
Baralan's MBW lip balm, developed in collaboration with a contract partner, exemplifies the importance and value of the whole cosmetic supply chain, along with its Made in Italy attributes. The aim of this project for Milano Beauty Week is to promote the social, scientific and economic value of cosmetics, from multinationals to small and medium-sized production and distribution companies, including packaging companies, raw materials and machinery suppliers.
Baralan's lip balm for MBW will be distributed at Milano Beauty Week's two main forums: Palazzo Castiglioni, in support of La forza e Il Sorriso Onlus during the fundraising event, Beauty Gives Back, a collective social responsibility project under the patronage of Cosmetica Italia - National Association of Cosmetic Companies - that offers free beauty workshops for women undergoing cancer treatment throughout Italy. In addition, it will be distributed in the historic Palazzo Giureconsulti, the headquarters of the MBW Beauty Village, during certain networking events and promotional activities.
Baralan has been supporting Milano Beauty Week since its origination largely because the event shares many of the same important values including innovation and sustainability. These values are also the core of Baralan's "Beautytude" 2023 project, through which the company expresses its attitude towards beauty and the most current trends and styles - clean beauty and sustainability chief among them. The project inspires the development of new products and the use of functional, ecological and sustainable materials. "Beautytude" also concentrates on design, an aspect that Baralan has always focused on and towards which further collaborations and innovations are expected.