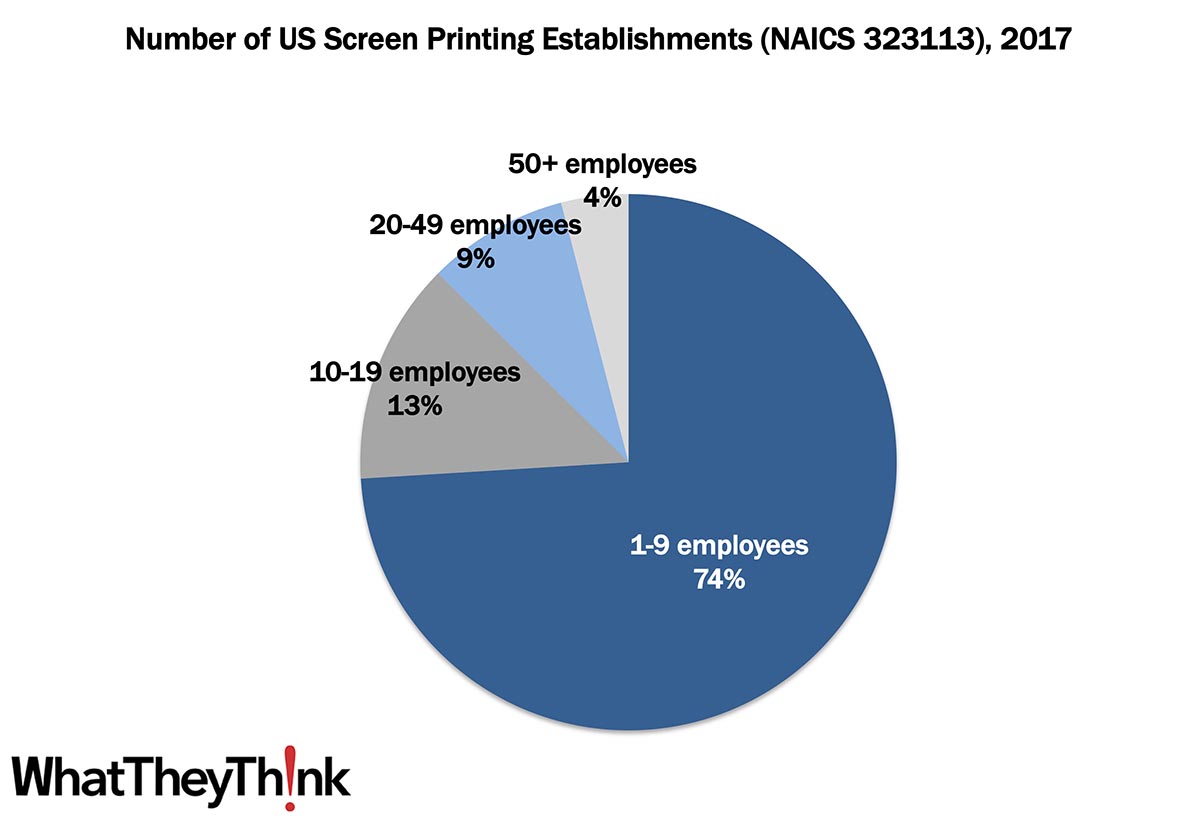 Last November, the latest edition of the Census Bureau's County Business Patterns was released, which provides establishment counts and other data up to 2017. Two weeks ago, we began updating our data series starting with 323 (Printing and Related Support Activities).
This week, we look at screen printing establishments (NAICS 323113), and in 2017 there were 5,186 total U.S. screen printers. Just about three-fourths of these establishments (74%) had fewer than 10 employees (and more than one-half—52%—had fewer than five. Screen printers tend to be smaller than other kinds of printing establishments—even smaller than commercial printers in general—as they don't need the binding and finishing options that, say, book printers do. A number of screen printers are also adopting digital printing capabilities to handle the usual digital printing hot points (smaller runs, personalization, customization) as well as to take on other kinds of print work.
In 2018, we began highlighting data from our Commercial Printing Establishments, which complements and supplements our regular tracking of printing industry shipments and other industry data. These counts are based on data from the Census Bureau's County Business Patterns. Throughout this year, we will be updating these data series with the latest CBP figures. County Business Patterns includes other data, as well, such as number of employees, payroll, etc. These counts are broken down by commercial printing business classification (based on NAICS, the North American Industrial Classification System):
323 (Printing and Related Support Activities)
32311 (Printing)
323111 (Commercial Printing, except Screen and Books)
323113 (Commercial Screen Printing)
323117 (Books Printing)
32312 (Support Activities for Printing—aka prepress and postpress services)
These data, and the overarching year-to-year trends, like other demographic data, can be used not only for business planning and forecasting, but also sales and marketing resource allocation.
In addition to establishments, we will be breaking establishment and other CBP data down in different ways.