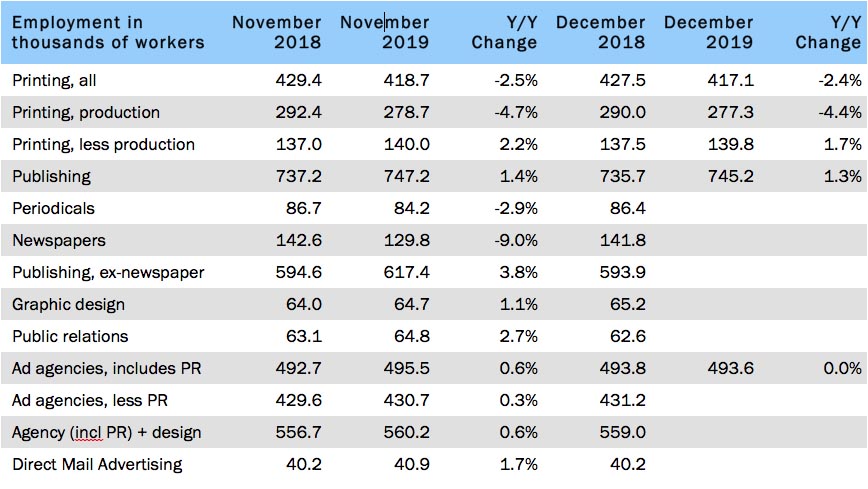 December 2019 employment numbers from the Bureau of Labor Statistics came out last month, and overall printing employment dropped -0.2% from November. On a year-over-year basis, though, it is down -2.4%. We can see where the declines are: production employment was down -0.5% from November to December—and year-over-year was down -4.4%—while non-production employment was down -0.1% from November to December—and year-over-year was actually up +1.7%. This is nothing new, and is the continuation of an ongoing trend.
Indeed, in our Printing Outlook 2020 report, the employee-related challenge surrounded finding sales people, not so much production staff, and specific hiring plans for 2020 are more sales-centric than production-centric, suggesting a few things: 1) recent historical challenges surrounding finding skilled production employees have largely resolved themselves; 2) shops are relying either on more automation and/or the ability for one production person to operate different kinds of equipment thanks to the "push-button operability of a lot of digital printing and binding equipment; or 3) pre- and postpress functions are becoming increasingly integrated into the printing process rather than as discrete steps, requiring less dedicated production staff. There is likely some combination of these factors taking place.
Elsewhere, publishing employment dropped -0.3% from November to December, but year-over-year grew +1.3%. Newspapers again continued to take a hit employment-wise: down -9.0% from November 2018 to November 2019. Periodicals were not as bad, with a -2.9% decline in employment from November to November.
The creative markets, as is the fashion, are doing better than printing and publishing, and even direct mail was up +1.7% November/November.
The traditional hotspot, public relations, is becoming less of a hotspot in recent months, and was only up +2.7% from November 2018 to November 2019. (Back in May, we reported that PR employment had been up +6.7% from March 2018 to March 2019. That level of employment growth in PR has not been repeated since.) Among agencies, employment was up +0.6%, and if we back out PR, agency employment was up +0.3%. Graphic design employment was up +1.1%.
Automation may be a solution to the problem of finding elusive employees, if indeed production employees are as elusive as we have come to believe. Sales people seem to be the challenge, at least as far as respondents to our survey are concerned, and it turns out that automation my help in that regard as well, as some top-performing print businesses have come to rely on web-to-print, online storefronts, and search engine optimization in lieu of human sales people.