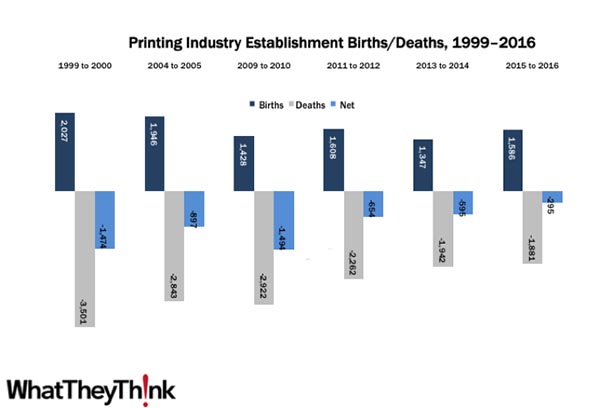 Source: US Department of Commerce, Bureau of the Census, Statistics of U.S. Businesses
From 2015 to 2016, there had been an increase of 1,586 establishments, but a decrease of -1,881 establishments, for a net loss of -295 establishments. That's a smaller percentage change than previous years, which reflects somewhat of a deceleration in industry consolidation. However, the initial number of establishments is contracting so every year's percent change represents a smaller number of establishments. Still, industry attrition looks like it is continuing to slow.
Births and deaths data don't necessarily represent brand-new businesses or pushing-up-the-daisies dead ones, or even M&As. Rather, businesses often change their corporate structure: a corporation closes, a proprietorship opens. So it is often the same people just changing their tax structure. There is also occasionally a "poor man's consolidation": two struggling print businesses decide over drinks to combine their businesses, but find it is cheaper to close each of them and then open as a single new business, without dealing with the legalities and complicated details of a merger or acquisition.
There is also the issue that has started to cause us some degree of consternation: some healthy printing businesses may classify themselves as something other than "commercial printing" (NAICS 323). Those that, for example, decided to become "marketing services providers" may have chosen to classify themselves in a services NAICS like 541 rather than a manufacturing NAICS like 323.
So there can be a lot of stuff happening beneath the surface of these birth and death data.
We will have more to say on industry establishment counts—and many other topics—in our forthcoming Printing Outlook 2020 report, coming later this month.