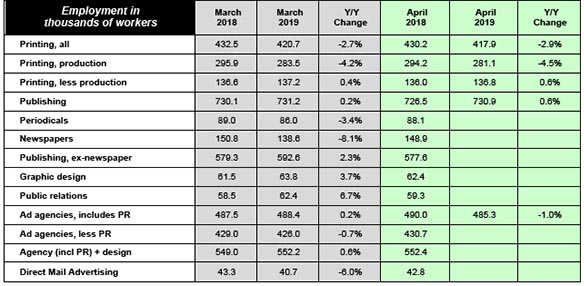 Last Friday, the April employment report from the Bureau of Labor Statistics came out, and overall printing employment dropped -0.7% from March to April 2019. On a year-over-year basis, it is down -2.9%. Production employment dropped a tad from March to April, and was down -4.5% from April 2018. Non-production employment was up +0.6% from April 2018 to April 2019.
In publishing, employment dropped slightly from 731,200 in March to 730,900 in April. Publishing employment is up slightly (+0.6%) from April 2018. Newspapers continued to take a hit employment-wise: down -8.1% from March 2018 to March 2019. (Sans newspapers, publishing employment is up +2.3% in that same period.)
The creative markets, once again, are doing better than printing and publishing, especially the traditional hotspot, public relations. From March 2018 to March 2019, PR employment was up +6.7%. Among agencies, employment was up +0.2%, but if we back out PR, agency employment was down -0.7%. Graphic design employment was up a little, but direct mail advertising was down -6.0%.
Overall, the employment situation in the economy has been very good; last Friday, the U.S. Bureau of Labor Statistics reported that total nonfarm payroll employment increased by 263,000 in April, and the unemployment rate declined to 3.6%. Also comments the BLS: "The labor force participation rate declined by 0.2 percentage point to 62.8% in April but was unchanged from a year earlier. The employment-population ratio was unchanged at 60.6% in April and has been either 60.6% or 60.7% since October 2018." Both are still a few percentage points below their pre-recession levels.
The industry has had a tough enough time attracting workers even when the labor market was not as tight as it is now, so finding workers is not going to get any easier. Automation is going to be a major solution to this problem—which will also hasten the shift to all-digital production, which use workflows that are much easier to automate than analog workflows. Those businesses that are digital holdouts may have no choice in the future, simply because they may not be able to find anyone to run their older offset (or other analog) equipment.