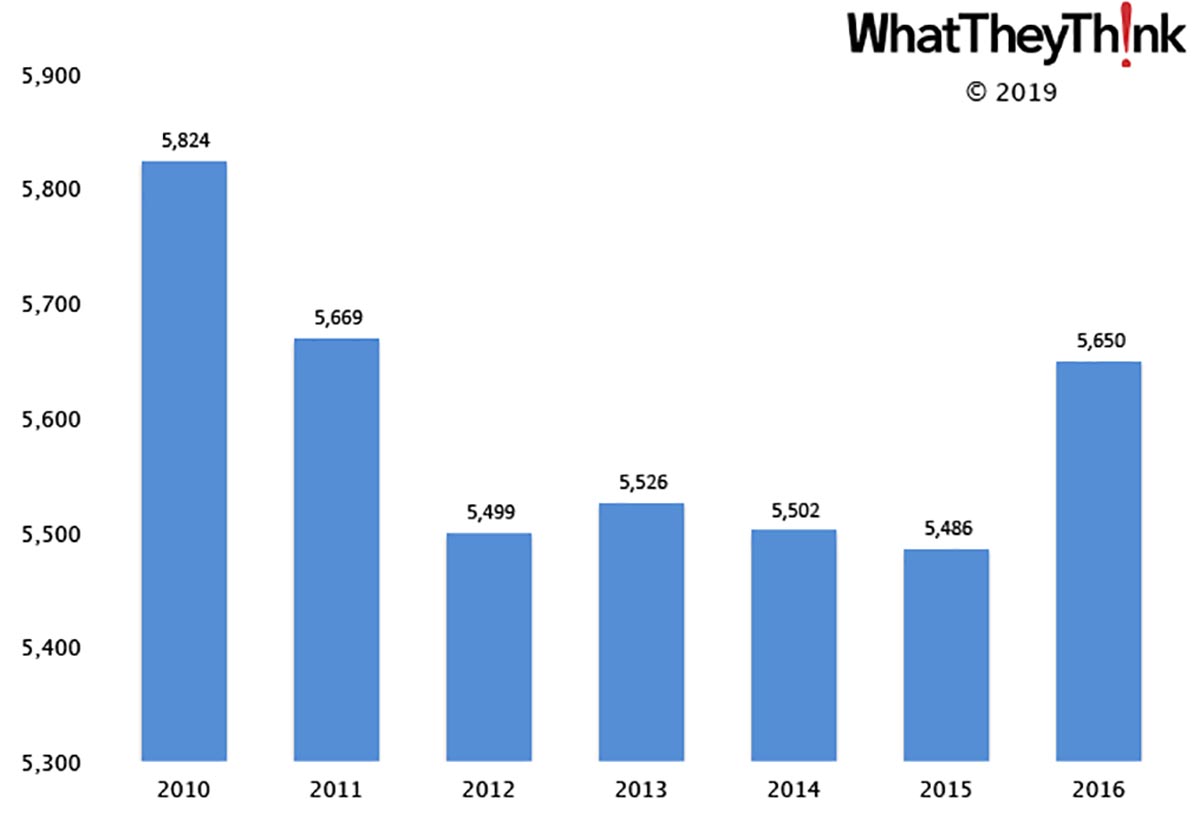 This week, the WhatTheyThink/Printing News team has been at the International Sign Association (ISA) Sign Expo, so we thought it apt to take a demographic look this week at sign manufacturing businesses. They are classified in NAICS 33995 (Sign Manufacturing). The Census Bureau defines them as:
establishments primarily engaged in manufacturing signs and related displays of all materials (except printing paper and paperboard signs, notices, displays).
They also add some helpful cross-references:
Printing advertising specialties or printing paper and paperboard signs, notices, and displays--are classified in Industry 32311, Printing;
Manufacturing and printing advertising specialties--are classified in the Manufacturing sector according to the products made;
Manufacturing die-cut paperboard displays--are classified in U.S. Industry 322299, All Other Converted Paper Product Manufacturing; and
Sign lettering and painting--are classified in Industry 541890, Other Services Related to Advertising.
When looking at these data, it's important to understand who is and who isn't included—but who mightbe included. The spike in establishments in 2016 (the most recent year for which we have data) is not surprising; wide-format printing devices have enabled more businesses to expand into sign manufacturing. But: doesn't this category specifically exclude printers (as opposed to traditional sign manufacturers)? Yes and no; the description specifically mentions printing on paper and paperboard, but as you know, today's equipment can print on lots of different materials, such as traditional signage-related substrates that are not classified as paper or paperboard. How fine a distinction do these data draw?
Are all sign printers now moving from the traditional print NAICS (323) to 339? (The three-digit NAICS 339 is "Other Manufacturing," and other categories in 339 include Medical Equipment and Supplies Manufacturing, Jewelry and Silverware Manufacturing, Doll, Toy, and Game Manufacturing, and so on.)
Some printers who have added signage may have moved to 339. Some may also classify themselves in the other cross-referenced NAICS. (Remember, it's the printers—and their tax accountants—who classify themselves and we doubt that the government goes out of its way to verify that the self-selected NAICS fits perfectly. Maybe if "Joe's Printing" selected Automobile Manufacturing someone at the Census may throw a flag, but beyond that we doubt there is too much vetting going on.)
This conversation is part of our ongoing look at "where have all the printers gone?"—323 used to be the catchall NAICS for the printing industry, but that isn't necessarily the case anymore. The printing industry has become almost a kind of diaspora, with establishments spreading themselves all over the manufacturing and marketing NAICS-scape.
These establishment counts are based on data from the Census Bureau's County Business Patterns. These data, and the overarching year-to-year trends, like other demographic data, can be used not only for business planning and forecasting, but also sales and marketing resource allocation.