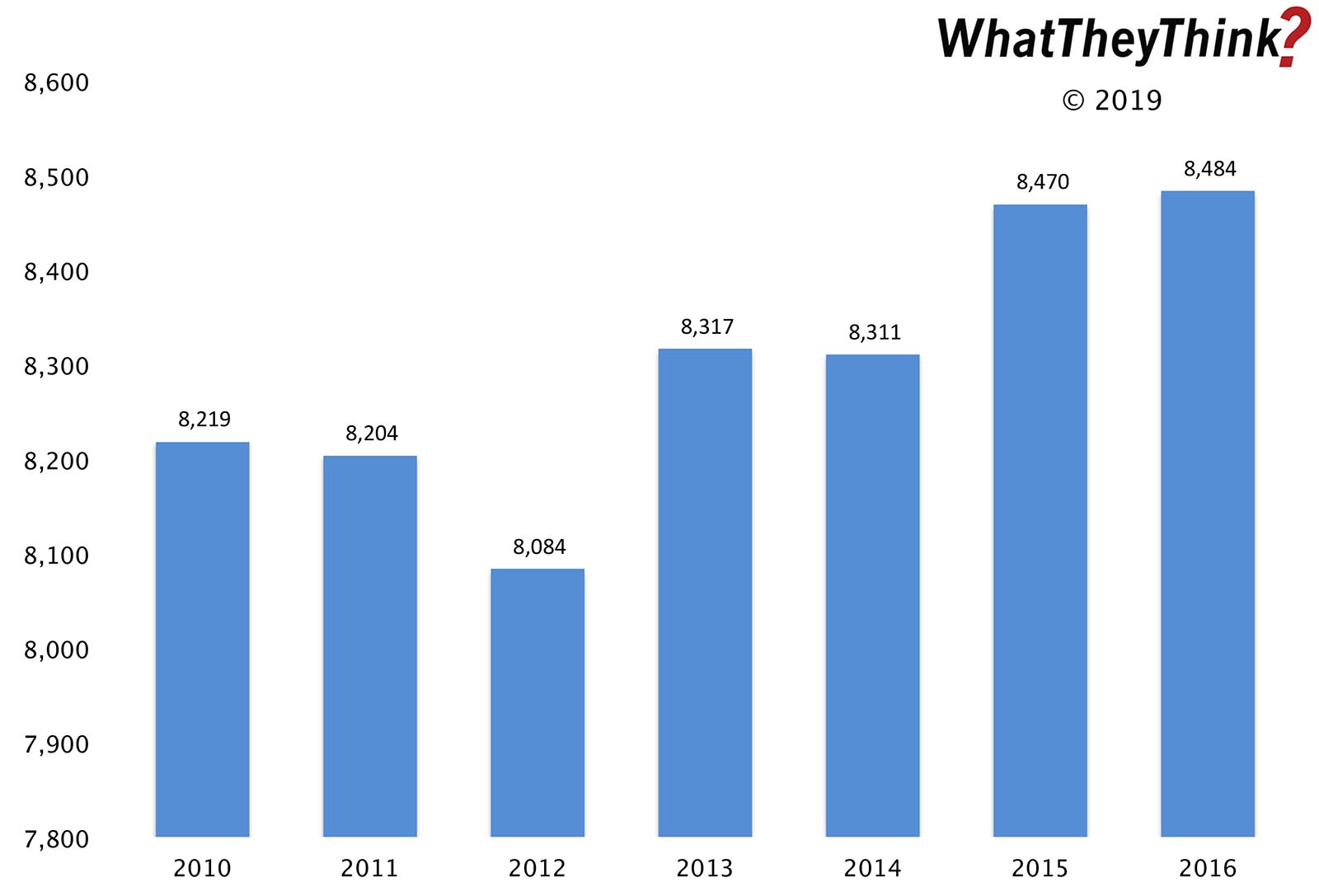 Last month, to complement our Commercial Printing Establishments tracker, we began looking at businesses on the print-/media-buying side of things, starting with NAICS 5418 (Advertising, Public Relations, and Related Services). Two weeks ago, we looked at advertising agencies, and this week we look at NAICS 54182 (Public Relations).
In 2010, there were 8,219 establishments in NAICS 54182. By 2016, they had increased to 8,484, a net gain of +3.2%. In this age of social media, the PR agency has taken on a renewed role. Not just the agency tasked with writing and sending out press releases and scheduling editorial interviews, they are now coordinating companies' social media initiatives, posting on Facebook, Instagram, and Twitter, as well as monitoring mentions on those platforms. PR agencies and agents are also playing a bigger role in their clients' overall marketing efforts—including content marketing—and in fact complementing, supplementing, or in some cases all-out replacing the traditional ad agency. If you have been following our regular tracking of graphic arts employment, you know that PR employment has been the industry hotspot.
These establishment counts are based on data from the Census Bureau's County Business Patterns. These data, and the overarching year-to-year trends, like other demographic data, can be used not only for business planning and forecasting, but also sales and marketing resource allocation.
The four-digit NAICS 5418 is divided into the following sub-categories (which we will be looking at individually in future installments of this series):
54181 Advertising Agencies
54182 Public Relations Agencies
54183 Media Buying Agencies
54184 Media Representatives
54185 Outdoor Advertising
54186 Direct Mail Advertising
54187 Advertising Material Distribution Services
54189 Other Services Related to Advertising
A substantial number of creative/media-buying establishments are freelancers, who are not tracked by County Business Patterns, but by Non-Employer Statistics. We will be looking at freelancers in future installments of this series.