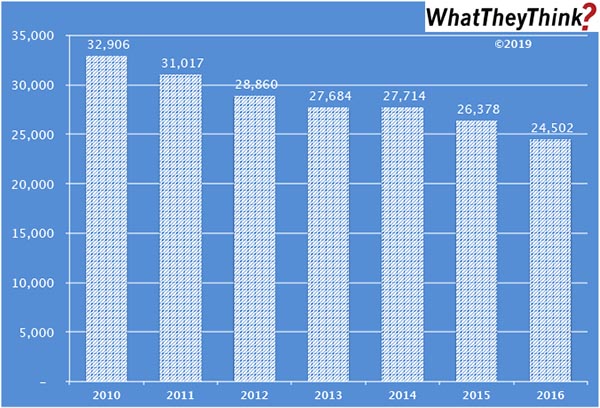 Last month in our industry "slice and dice" data series, we began looking at historical employment in the various printing industry segments.
This week, we look at employment in what the Census Bureau defines as "support services for printing"—namely, prepress and postpress. In 2010, there were a total of 32,906 employees in pre- and postpress services establishments (NAICS 32312). As of 2016 (the most recent year for which we have data), employment had decreased -26% to 24,502. County Business Patterns used to break out prepress ("prepress services") and postpress ("tradebinding and related work") separately, but combined them as of 2012. In 2011, the last year the two types of establishments were broken out, there were 15,503 employees in prepress services and 15,712 in tradebinding and related work. So employment-wise, the two are roughly equal.
As we said when we discussed prepress and postpress establishments, it's not a mystery why employees and establishments have been declining. "Prepress" as a discrete process is itself disappearing as it becomes absorbed into the printing process, and you certainly don't need a separate establishment to do it. This is especially true when it comes to digital printing.
On the other hand, finishing is a bit more complex, demographically speaking. Print businesses have been adding in-house binding and finishing to speed turnaround times, but dedicated bindery services businesses still exist, and successfully so, especially as they have shifted a lot of their focus to higher-end finishing services, such as "embellishments" and the kinds of services that print businesses may not want to add in-house.
Last year, we began highlighting data from our Commercial Printing Establishments, which complements and supplements our regular tracking of printing industry shipments and other industry data. These counts are based on data from the Census Bureau's County Business Patterns, but County Business Patterns includes other data, as well, such as number of employees. As you recall from our establishments data over the past months, these counts are broken down by commercial printing business classification (based on NAICS, the North American Industrial Classification System):
323 (Printing and Related Support Activities)
32311 (Printing)
323111 (Commercial Printing, except Screen and Books)
323113 (Commercial Screen Printing)
323117 (Books Printing)
32312 (Support Activities for Printing—aka prepress and postpress services)
These data, and the overarching year-to-year trends, like other demographic data, can be used not only for business planning and forecasting, but also sales and marketing resource allocation.
Every other week, in addition to establishments, we will be breaking these employment and other CBP data down in different ways.
Special Note on the Government Shutdown: Despite the fact that the government shutdown has ended, some government data series that WhatTheyThink tracks are still delayed. Specifically, monthly printing shipments and quarterly profits and revenues data have yet to be updated. We will have the latest data once publication resumes...whenever that may be.