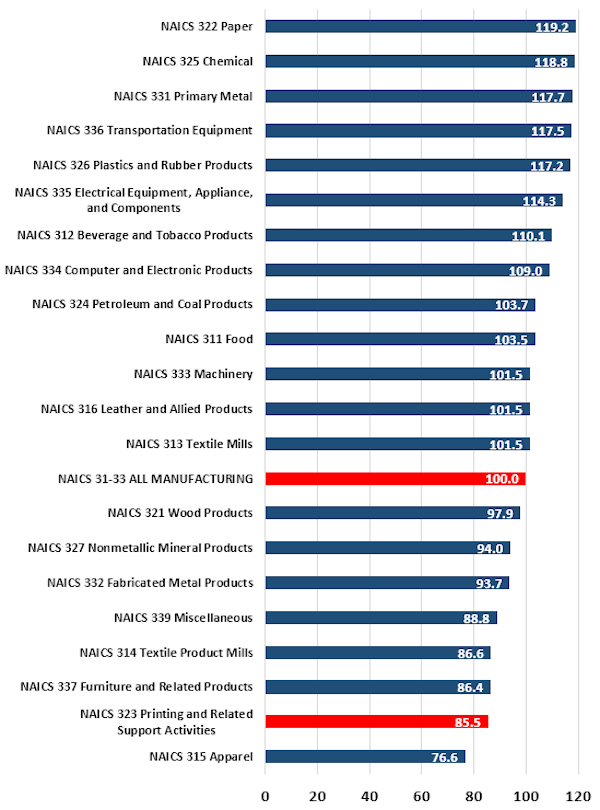 In what is not a surprise to many, the job shop operational structure of many printing businesses put the industry near the bottom of all manufacturing industries in terms of its management processes.
These data come from the Census Bureau's Management and Organizational Practices Survey. The data measure the presence and use of employee reviews, goal setting, planning, correction of problems, training, bonuses, performance indicators, and other factors.
To make the data more digestible, we converted the data to an index where 100 is the average of all manufacturing industries. There are some factors that affect the rankings that are not discussed in the report, but seem obvious.
Industries with a high cost of failure are near the top, such as transportation equipment. Building planes properly requires high measures of quality control. When planes can't complete their journeys because of improper design or construction, the costs of even one failure can be devastating.
Industries with heavy regulation are also near the top in the Census report, such as chemicals and food, where penalties for regulatory noncompliance are very high. Management planning and controls are essential in businesses where tracking and chain of custody through to the final user are important.
There are other factors in the ranking, but with our industry near the bottom it is clear that even some basic management practices elude too many printing organizations. The report and its tables make for some interesting reading.