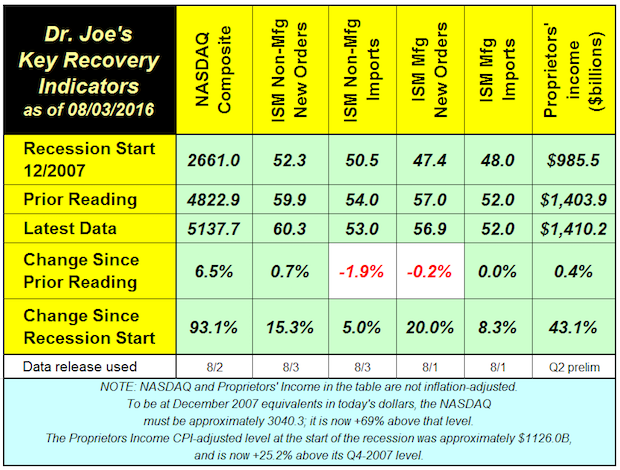 The NASDAQ had a good month, rebounding by 6.5% last month. Compared to last year at this time, the NASDAQ is up +0.6%, which is a negative return compared to inflation (less inflation it is -0.5% because the CPI is +1.1%).
The ISM manufacturing new orders was virtually the same as last month, and imports was unchanged. Separately, the manufacturing employment indicator fell below the 50 breakeven level, indicating contraction in that sector. New orders are down -5.5% compared to last year's report. ISM non-manufacturing had a mild increase in new orders since last month, and a slight slowdown in imports growth (still over 50, indicating growth).
Proprietors income was revised for the last three years in conjunction with the major GDP revisions. Q1-2016 was revised from $1412.1 billion down to $1403.9; the average revision was down -$10 billion (0.73%). Compared to last year's revised data, proprietors' income is up +3%, a strong showing compared to the other indicators. That nets to about +1.9% after inflation, which is where the trend in real GDP is.
On the whole, the economy continues its long-term sluggish performance.
* * *
Last week, the Bureau of Economic Analysis issued three years of revisions to GDP. For more details, see our analysis.