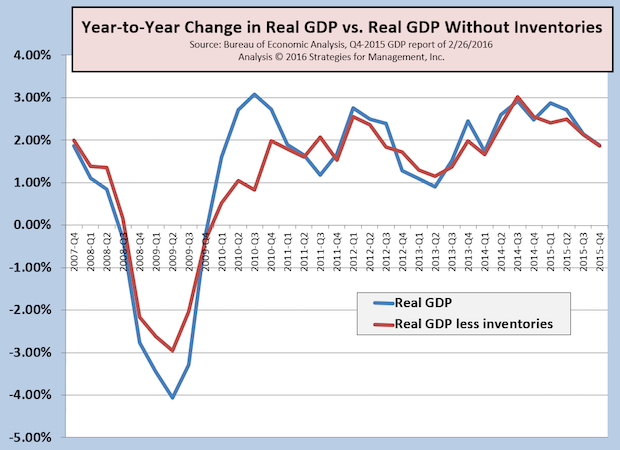 The second estimate of fourth quarter GDP was revised up from +0.7% to +1.0%, mainly from an increase in net inventories. This factor in the GDP calculation is volatile, so we track GDP with and without it to get a perspective of the underlying GDP rate from a long term perspective in a year-to-year comparison.
The growth rate of GDP with and without net inventories is virtually the same, just under +1.9%. Since the last near-term peak in third quarter of 2014, GDP growth has slowed, and remains well under the post-WW2 growth rate of +3.3%.
The prior report also had 4Q-2015 personal consumption expenditures at +2.2%, but that was revised down to +2.0%. There is concern that consumers are not reacting to the savings from lower energy prices, which has caused some analysts concern about core economic growth in 2016. Worldwide markets are calmer than they were just a few weeks ago, and we have noticed fewer "disaster scenario" headlines and discussions in the business press.
The Atlanta Fed's GDPNow is currently estimating first quarter real GDP at +2.1% (as of February 26).
This will week will be filled with economic data and revisions, including printing industry shipments on Thursday and Friday's employment report. We'll have a complete recap in next week's "Mondays with Dr. Joe" on March 7.