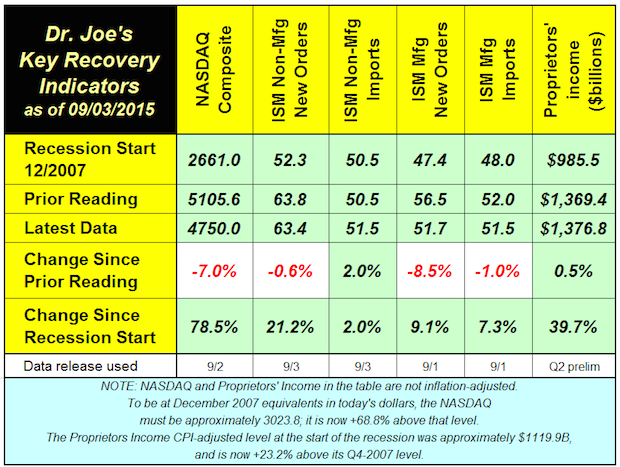 Four of the six recovery indicators fell last month, but the non-manufacturing new orders indicator remained very strong. World markets had a rocky month, and the NASDAQ fell -7% since the last indicators. The ISM manufacturing new orders fell significantly but still indicates growth but at a slower rate.
The previously mentioned non-manufacturing indicators is above 60, a very strong level; anything above 50 indicates growth. Perhaps the inventory correction which boosted Q2 GDP is underway as manufactured goods work their way through non-manufacturing sectors such as construction.
Despite Q2's large upward revision to GDP, proprietors income was revised down. This indicator of the strength of small business was originally reported as $1,379.2 billion was revised down by -$2.4 billion. As of September 1, the Atlanta Fed's GDPNow estimate of Q3-2015 is +1.4%.
The Friday, September 4 employment report will be watched carefully as it is the last data, so claimed, that the Fed needs to determine if it will raise rates. Remember, the Fed is trying to figure out if borrowing $100 will stay at zero or at 25 cents.
Canada's mild slip into recession is a concern, as are slowdowns in commodity producing markets such as oil. Worldwide economic conditions, especially China-related, will also be in their view.
Otherwise, the economy looks like it will remain in its long term uninspired sluggish trend.