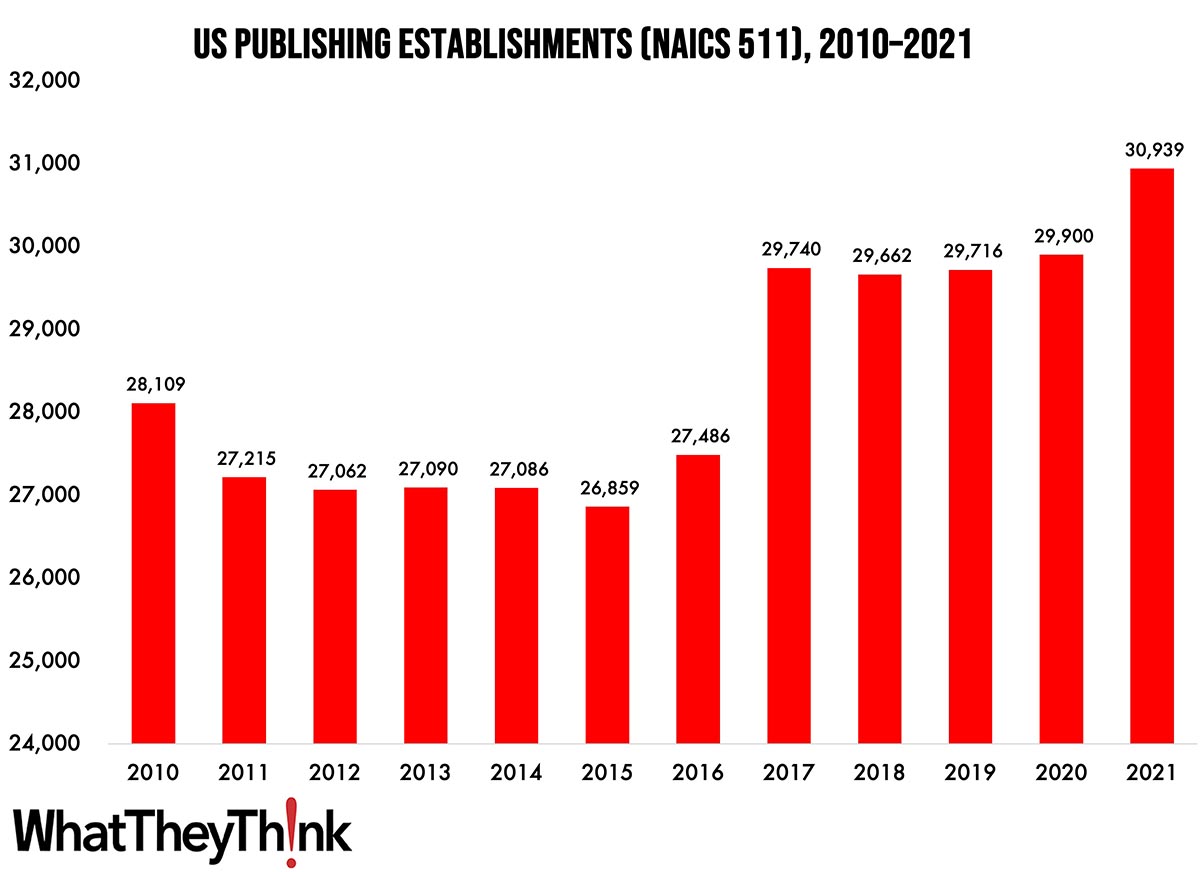 Our Friday data slice'n'dice look at the latest edition of County Business Patterns now turns to the publishing industries. As 2021 began, there were 29,900 establishments in NAICS 511 (Publishing Industries [except Internet]). This represents an increase of—wow—10% since 2010 and increase of 13% since 2016.
The U.S. Census Bureau officially designates NAICS 511 as:
Industries in the Publishing Industries (except Internet) subsector group establishments engaged in the publishing of newspapers, magazines, other periodicals, and books, as well as directory and mailing list and software publishing. In general, these establishments, which are known as publishers, issue copies of works for which they usually possess copyright. Works may be in one or more formats including traditional print form, CD-ROM, or proprietary electronic networks. Publishers may publish works originally created by others for which they have obtained the rights and/or works that they have created in-house. Software publishing is included here because the activity, creation of a copyrighted product and bringing it to market, is equivalent to the creation process for other types of intellectual products.
"CD-ROM"…
We'll have more to say when we dive into the specific publishing NAICS categories, as "Publishing" here refers to everything from books, magazines, and newspapers to greeting cards, to mailing lists and directories, and the catchall "other publishing" which can include maps and other specialty publishing products. Generally, though, the growth in establishments here is due to two basic factors: economic growth following the Great Recession, as well as lowered barriers to entry for small or self-publishers thanks to digital printing (enabling short-run on-demand publishing) and the Internet/ecommerce, easing distribution, which was always a challenge in the pre-Internet days). Spoiler alert: book and—believe it or not—greeting card publishers were the two sub-categories that drove up the average number of establishments toward the end of the decade.
As we saw in the printing categories, publishing establishments are concentrated at the lower end of the employee-count spectrum. Small publishers (1 to 9 employees) comprise the bulk of the establishments, accounting for 68% of all establishments, with the other three employee size categories equally sized at 10–12% each.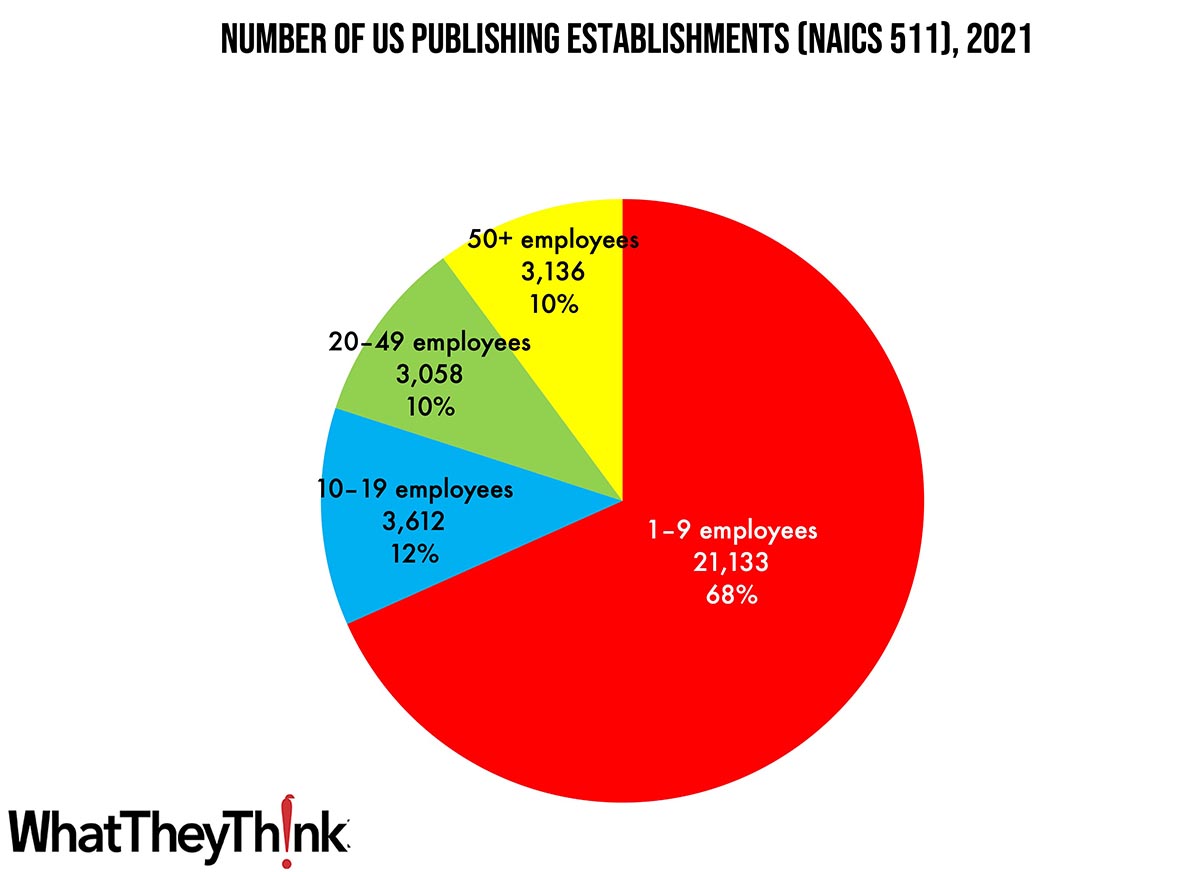 These counts are based on data from the Census Bureau's County Business Patterns. Throughout this year, we will be updating these data series with the latest CBP figures. County Business Patterns includes other data, such as number of employees, payroll, etc. These counts are broken down by commercial printing business classification (based on NAICS, the North American Industrial Classification System). Up next:
51111 Newspaper Publishers
51112 Periodical Publishers
51113 Book Publishers
51114 Directory and Mailing List Publishers
51119 Other Publishers
511191 Greeting Card Publishers
511199 All Other Publishers
These data, and the overarching year-to-year trends, like other demographic data, can be used not only for business planning and forecasting, but also sales and marketing resource allocation.
This Macro Moment
According to the Bureau of Labor Statistics on Tuesday:
The Consumer Price Index for All Urban Consumers (CPI-U) was unchanged in October on a seasonally adjusted basis, after increasing 0.4 percent in September, the U.S. Bureau of Labor Statistics reported today. Over the last 12 months, the all items index increased 3.2 percent before seasonal adjustment.
As has been the case in recent reports, housing was the biggest contributor to whatever rise there was, while falling gas prices offset increases elsewhere.
The index for all items less food and energy rose 0.2 percent in October, after rising 0.3 percent in September. Indexes which increased in October include rent, owners' equivalent rent, motor vehicle insurance, medical care, recreation, and personal care. The indexes for lodging away from home, used cars and trucks, communication, and airline fares were among those that decreased over the month.
This seems to have taken economists by surprise, but we'll take it!