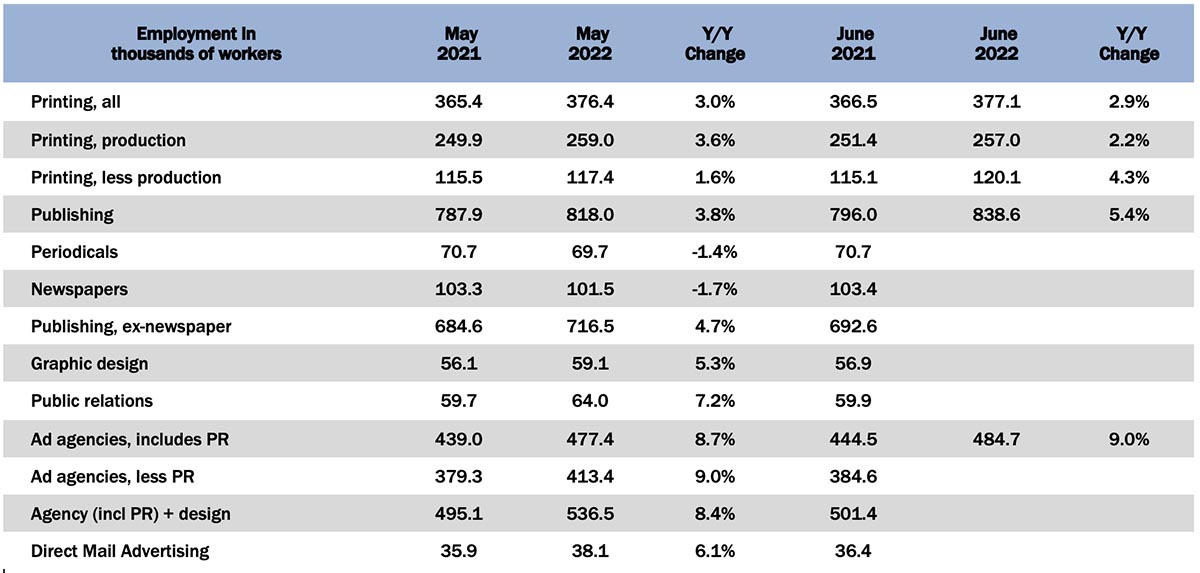 One continues to get the sense that the industry's attempts at recruiting production staff are succeeding: in June 2022, all printing employment was up +0.2% from May, with non-production employment up +2.3% and production employment down -0.8%.
Publishing employment had been improving slightly over last summer, took a turn for the worse in the fall, and started to plateau at the end of the year. It was up modestly through the spring but is up a strong +2.5% in June.
Digging into the specific publishing segments (the reporting of which lags a month), things continue to continue to stay in a bit of a holding pattern: from April to May, periodical publishing employment was up +1.9%, while newspaper publishing employment was down -1.0%.
The creative markets were doing about the same. Graphic design employment was up +1.7% from April to May, ad agencies were up +0.1%, and public relations—usually a standout segment—was down -0.6%. Direct mail advertising employment see-sawing for the past year but in May 2022 was up +0.3%.
As for June employment in general, said the BLS in their July 8 report:
Total nonfarm payroll employment rose by 372,000 in June, and the unemployment rate remained at 3.6 percent, the U.S. Bureau of Labor Statistics reported today. Notable job gains occurred in professional and business services, leisure and hospitality, and health care.
Employment for April was revised down by—yikes—68,000 and May was revised down by 6,000, for a total downward revision in April and May of 74,000.
The labor force participation rate ticked down from 62.3% in May to 62.2% in June, and the employment-to-population ratio also decreased from 60.1% to 59.9%. The labor force participation rate for 24–54-year-olds also decreased from 82.6% to 82.3%.
Despite these declines, this report exceeded economists' expectations. Calculated Risk identifies some other highlights:
U-6 is below pre-recession levels, and the lowest level on record (started in 1994).
There are now fewer permanent job losers than prior to the recession.
There are fewer part time workers, for economic reasons, than prior to the recession.
However:
[T]here are still 524 thousand fewer jobs than prior to the recession.
The July employment report comes out later this morning. We'll see what happens…