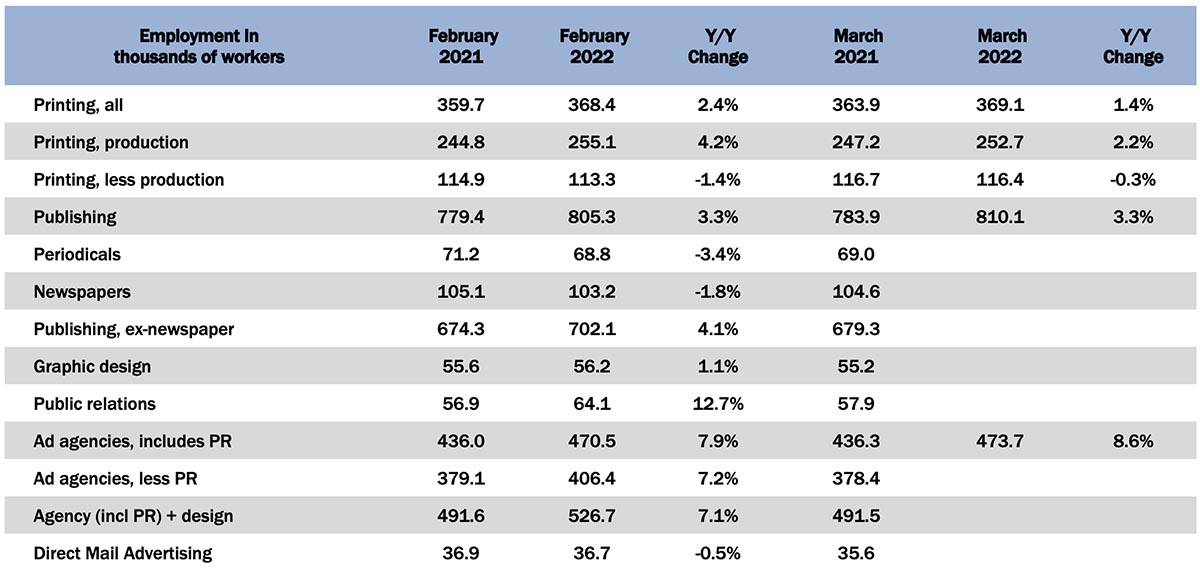 As we mentioned before, when we have reported low employment numbers for the industry in the past, we've typically interpreted it as the industry simply not hiring. Since 2020, however, it's clear that the low rates we have been seeing throughout 2021 and now 2022 are simply due to print businesses not being able to find employees. Although we have been seeing record low unemployment rates in the economy in general, not all industries are recovering from the pandemic at the same rate.
In March 2022, all printing employment was up a scosh (+0.2%) from February, with production employment down -0.9%. The problem is predominantly in production, as non-production printing employment was up +2.7%.
Publishing employment had been improving slightly over last summer, took a turn for the worse in the fall, and started to plateau at the end of the year. It was up a modest +0.6% in March, but up +3.3% from March 2021.
Digging into the specific publishing segments (the reporting of which lags a month), things have also been in a bit of a holding pattern: from January to February, periodical publishing employment was down -0.7%, while newspaper publishing employment was up +0.1%.
The creative markets were doing about the same. Graphic design employment was down -0.2% from January to February, but ad agencies were up +2.8% and with public relations—usually a standout segment—was only up +0.9%. Direct mail advertising employment was up and down all last year but in February 2022 was up +0.8%.
In the general January employment report, said the BLS in their April 1 report (no fooling):
Total nonfarm payroll employment rose by 431,000 in March, and the unemployment rate declined to 3.6 percent, the U.S. Bureau of Labor Statistics reported today. Notable job gains continued in leisure and hospitality, professional and business services, retail trade, and manufacturing.
The labor force participation rate increased from 62.3% in February to 62.4% in March, and the employment-to-population ratio increased from 59.9% to 60.1%. The labor force participation rate for 24–54-year-olds rose from 82.2% to 82.5%, the highest it's been since January 2020, when it was 83.1%, which in turn had been the highest since January 2007 (83.4%), so it looks like prime-age workers have returned to their pre-pandemic level.
At the same time, January and February payrolls were revised up by 95,000 combined.
Overall, the employment situation in general continues to be exceptional, but, as we said earlier, not all industries and segments are faring equally well.