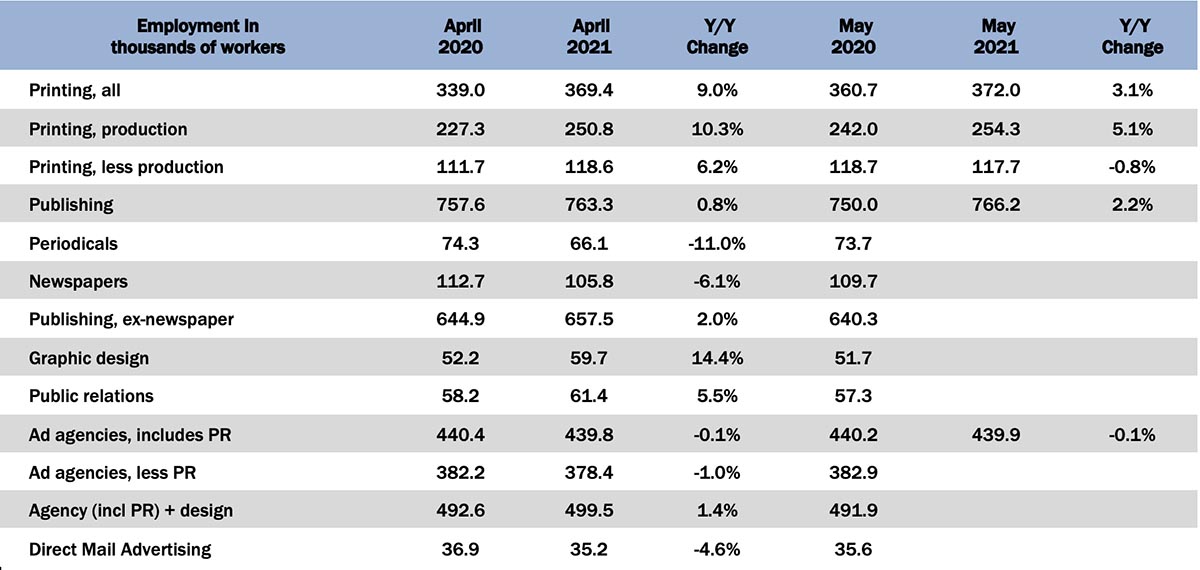 May continues the upward trend in employment—overall printing employment was up +0.7% from April, production employment up +1.4%, and non-production printing employment down -0.8%.
Publishing continues to languish employment-wise: general publishing employment was up +0.4% from April. Digging into the specific publishing segments (reporting lags a month), we're still in the winter stasis: from March to April, periodical publishing employment dipped -1.8% and newspaper publishing employment dropped -0.8%.
The creative markets are faring a bit better: graphic design employment was up +1.4% from March to April, ad agencies up +0.4%, and PR was up +2.7%—looks like they might be returning to the employment leadership position, which hasn't been the case since early 2019. Direct mail advertising employment was down -1.9% from March to April, so they're returning to close to normal.
As for the overall US employment picture, said the BLS in their June 4 report:
Total nonfarm payroll employment rose by 559,000 in May, and the unemployment rate declined by 0.3 percentage point to 5.8 percent, the U.S. Bureau of Labor Statistics reported today. Notable job gains occurred in leisure and hospitality, in public and private education, and in health care and social assistance.
The unemployment rate in April had been 6.1%. Remarked Calculated Risk: "[L]eisure and hospitality has now added back almost 70% of the jobs lost in March and April 2020."
Some other bits of mixed news in the May employment report:
The labor force participation rate decreased from 61.7% in April to 61.6% in May.
The employment-to-population ratio increased from 57.9% to 58.0%.
The 25-to-54 participation rate was unchanged at 81.3%, while the 25-to-54 employment population ratio increased from 76.9% to 77.1%.
Employment numbers for March and April were revised up.
Like the song says, getting better all the time (can't get any worse).