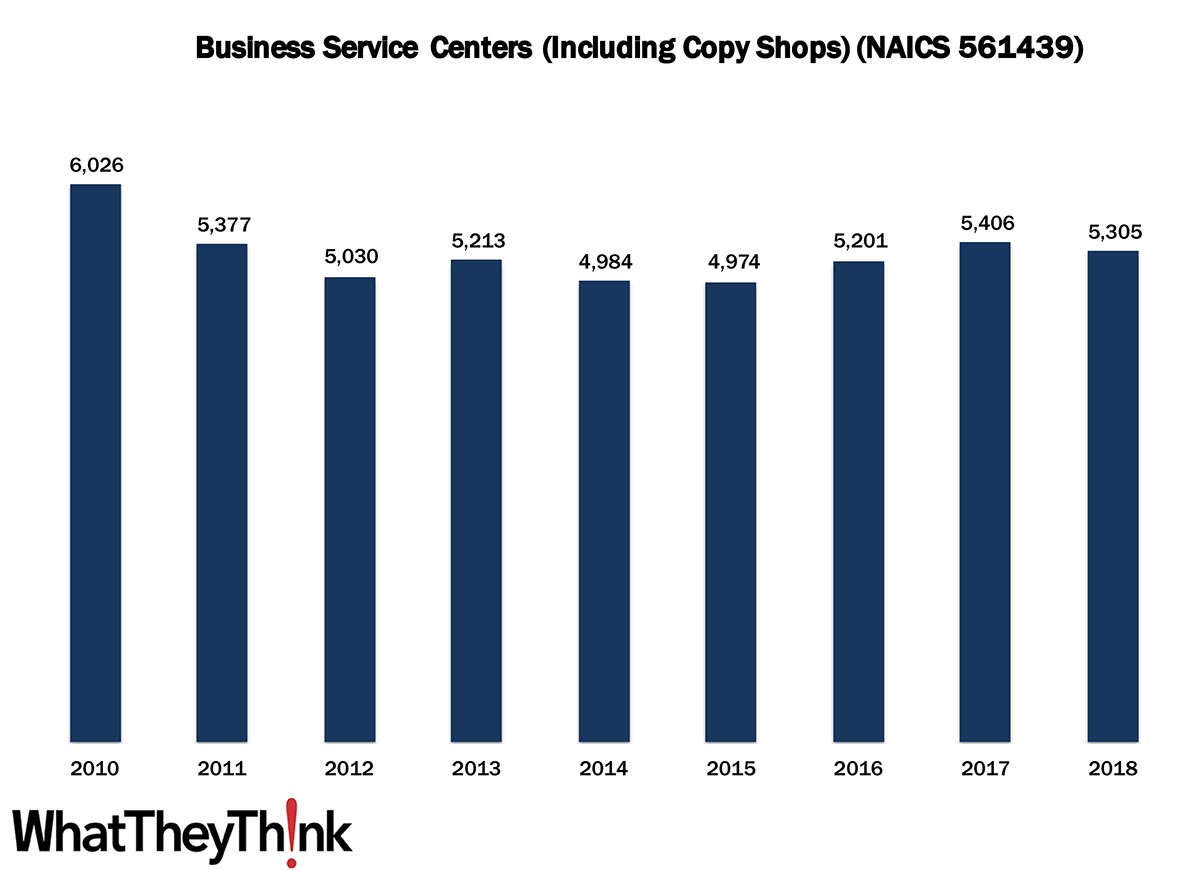 In our ongoing, semi-weekly look at establishment and employee counts of graphic arts and related businesses, we now turn to a peripheral business category: copy shops.
The Bureau of the Census definition for this business classification:
This U.S. industry comprises (1) establishments generally known as copy centers or shops primarily engaged in providing photocopying, duplicating, blueprinting, and other document copying services, without also providing printing services (e.g., offset printing, quick printing, digital printing, prepress services) and (2) establishments (except private mail centers) engaged in providing a range of office support services (except printing services), such as document copying services, facsimile services, word processing services, on-site PC rental services, and office product sales.
Specific business types included in NAICS 561439 are:
Blueprinting services
Business service centers (except private mail centers) providing range of office support services (except printing)
Copy shops/centers (except combined with printing services)
Document duplicating/copying services (except combined with printing services)
Internet cafes (i.e., not serving food and beverages)
Reprographic services
Actually, the full name of this NAICS category is "Other Business Service Centers (Including Copy Shops)." The four-digit NAICS 5614 goes like this:
5614 Business support services
56141 Document preparation services
561410 Document preparation services
56142 Telephone call centers
561421 Telephone answering services
561422 Telemarketing bureaus and other contact centers
56143 Business service centers
561431 Private mail centers
561439 Other business service centers (including copy shops)
NAICS 561439 is the only sub-category in NAICS 5614 that we will look at in this data series.
That all established, this category closed out the 1990s with 6,026 establishments in 2010, and started to decline during the Great Recession, dropping to a low of 4,974 in 2015. By 2018, establishments had recovered to 5,305.
Home/small office technology like desktop/network printers adversely impacted businesses in this category, as did email, cloud computing, and digital documents. (They still do whatever residual faxing needs to be done, as end users ditched their fax machines ages ago.) Photocopying services, both color and black-and-white, also remain relatively robust. Many of these businesses also offer shipping/mailing services, and may also sell office supplies and related products. At the same time, wide-format and mid-volume digital printing, as well as modest finishing services, are driving this category. Competitors in this segment are storefront shipping businesses such as The UPS Store and FedEx Office that offer some copying and printing services.
These businesses don't necessarily compete with mainstream commercial printers, except for very short-run work and maybe some very basic wide-format printing. (Some may actually be former quick printers who ditched their duplicators.) What had been a growing base of home office workers often took advantage of these kinds of establishments and it will be interesting to eventually see what impact the COVID-induced work-from-home trend will have on these establishment counts.
This Macro Moment
Yesterday, the Department of Labor released weekly unemployment claims, and initial claims shot up again:
In the week ending January 9, the advance figure for seasonally adjusted initial claims was 965,000, an increase of 181,000 from the previous week's revised level. The previous week's level was revised down by 3,000 from 787,000 to 784,000. The 4-week moving average was 834,250, an increase of 18,250 from the previous week's revised average.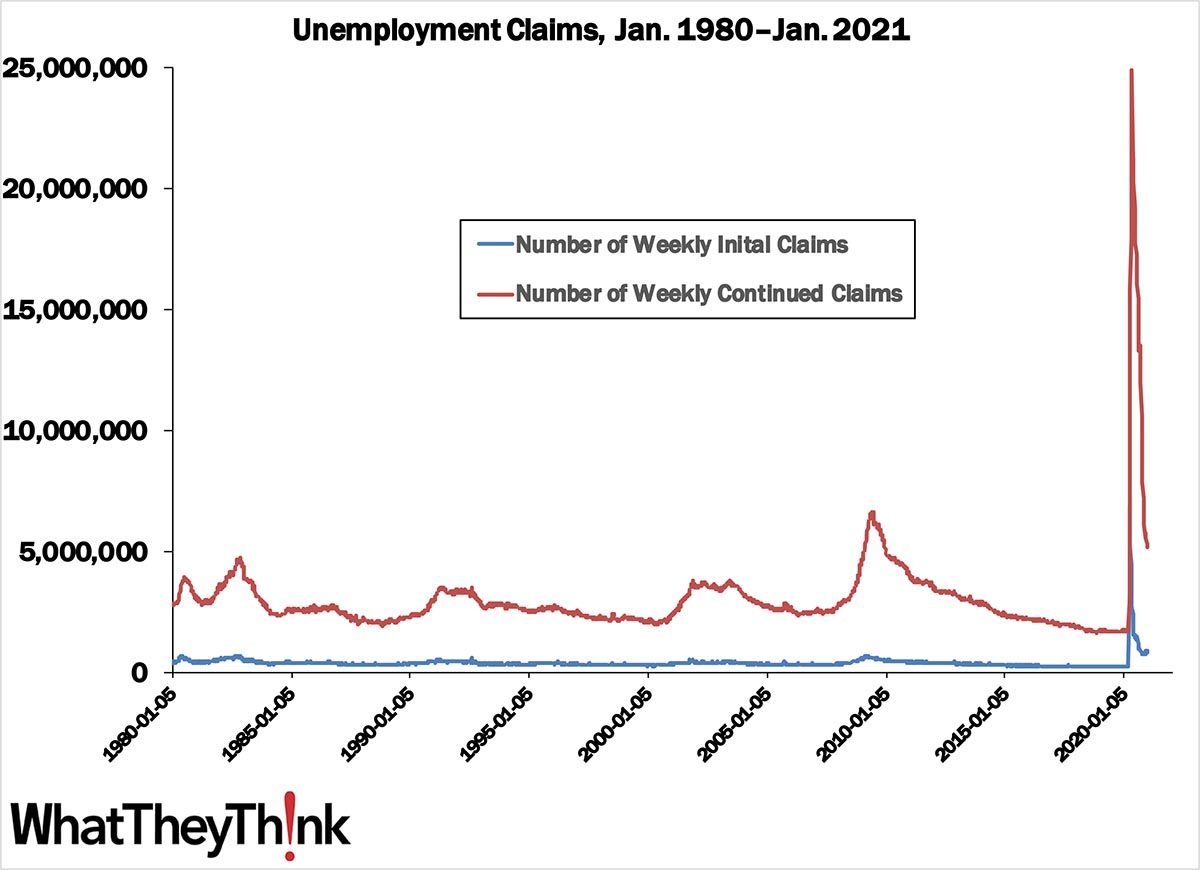 This does not include initial claims for Pandemic Unemployment Assistance (PUA) that was up to 284,470 from 161,159 the previous week. And seasonally adjusted continued claims for the week ending January 2 (continued claims lag initial claims by one week) increased from 5,072,000 the previous week to 5,271,000. By comparison, at the nadir of the Great Recession, continued claims peaked at 6,635,000.
It's been tempting to get distracted by other things in the news, but the economic landscape is still pretty bleak, and the virus is nowhere even close to under control.