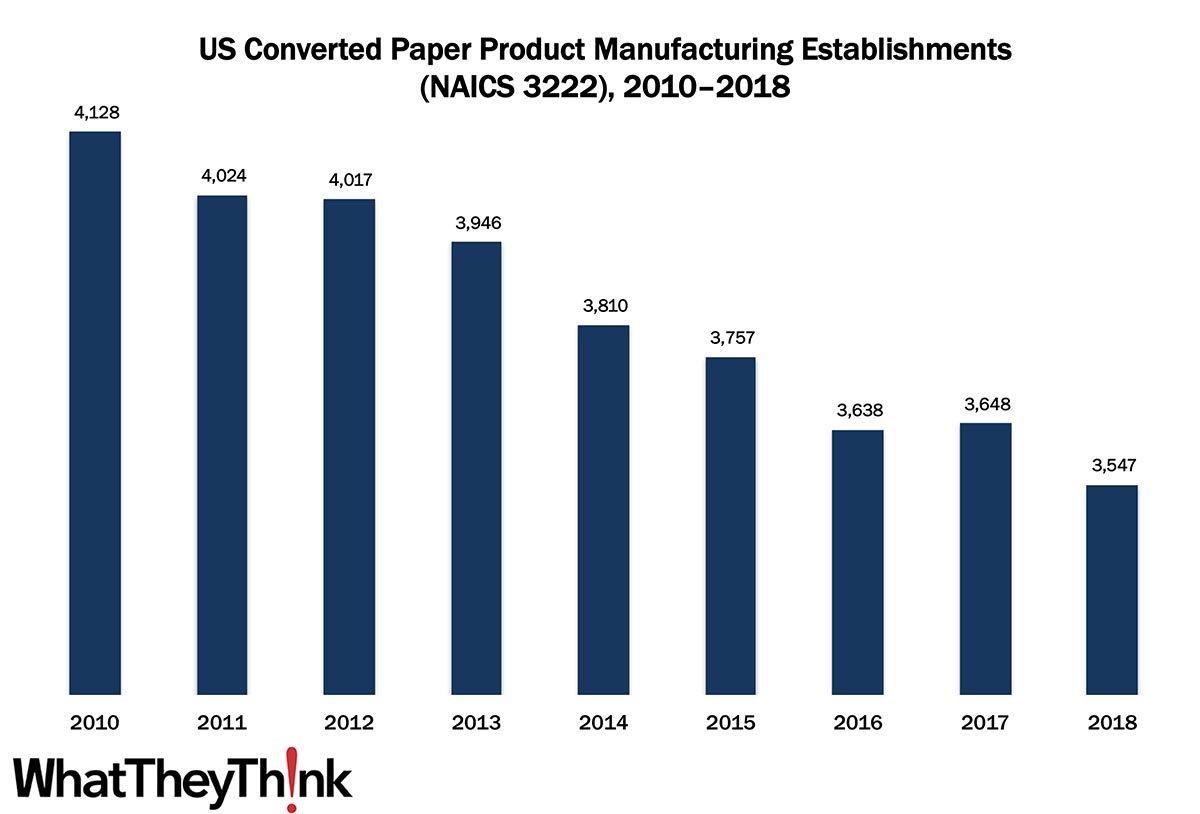 In our ongoing, semi-weekly look at establishment and employee counts of graphic arts businesses, we now turn to packaging/paper converting establishments. In 2010, there were 4,128 establishments in NAICS 3222 (Converted Paper Product Manufacturing), but by 2018, that number had declined to 3,547, although there was a slight increase of 10 establishments in 2017.
This four-digit NAICS comprises a variety of different converted packaging types, and over the next several months, we will be looking at them in turn, including:
32221 Paperboard Container Manufacturing
322211 Corrugated and Solid Fiber Box Manufacturing
322212 Folding Paperboard Box Manufacturing
322219 Other Paperboard Container Manufacturing
32222 Paper Bag and Coated and Treated Paper Manufacturing
32223 Stationery Product Manufacturing
These counts are based on data from the Census Bureau's County Business Patterns. Every other week, we update these data series with the latest figures. Census Bureau reports include other data, as well, such as number of employees, payroll, etc. These counts are broken down by publishing business classification (based on NAICS, the North American Industrial Classification System).
These data, and the overarching year-to-year trends, like other demographic data, can be used not only for business planning and forecasting, but also sales and marketing resource allocation.
Over time, we will be adding additional data from County Business Patterns, such as number of employees, payroll, and similar information for additional business classification of relevance to the graphic communications industry.
This Macro Moment
Last week, the BLS released the employment report for September and it came in below expectations: "Total nonfarm payroll employment rose by 661,000 in September, and the unemployment rate declined to 7.9 percent." And while a decrease in the unemployment rate is seemingly good news, it isn't when it's for the wrong reason, namely, a decline in the labor participation rate, especially among "prime" (25 to 54 years old) workers. The labor participation rate for 25- to 54-year-old employees declined from 81.4% in August to 80.9% in September, while the employment-to-population ratio among 25- to 54-year-olds decreased from 75.3% to 75.0%. Unfortunately, women seem to be dropping out of the workforce at a disproportionate rate to men.