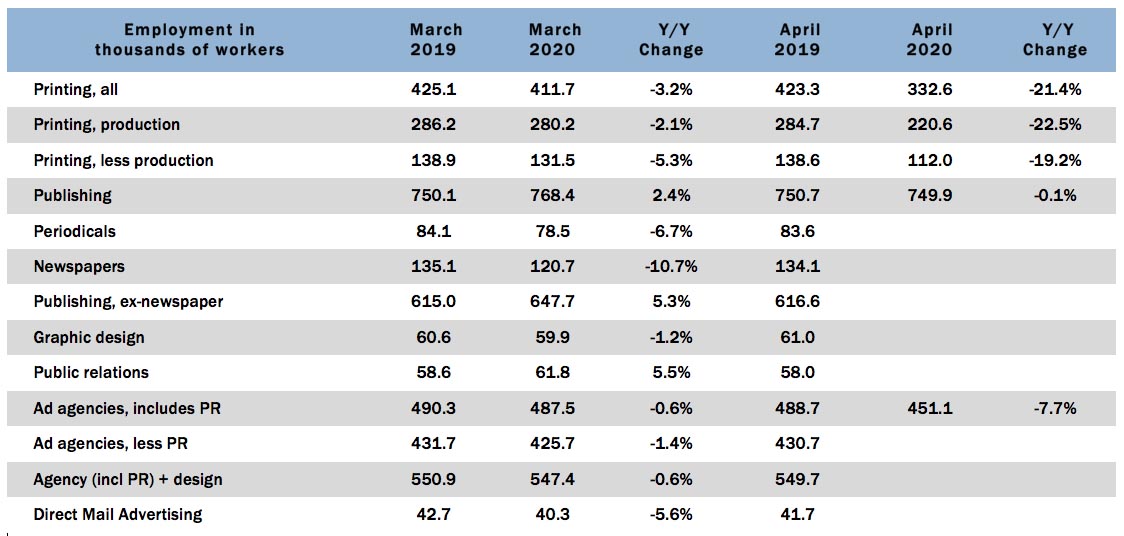 In March, we saw the employment numbers from the Bureau of Labor Statistics reflect the calm before the storm—now, April figures show the storm making landfall.
Overall printing employment in April was down -19.2% from March, and on a year-over-year basis, it was down (gulp!) -21.4%. Production employment was down -21.3% from March to April, and year-over-year was down -22.5%, while non-production employment was down -14.8% from March to April and year-over-year was down -19.2%.
The storm hasn't quite hit the publishing and creative markets yet; overall publishing employment was down -2.4% from March to April, and down -0.1 year-over year. Among ad agencies, March–April employment was down -7.5% and year-over-year employment was down -7.7%. (Some of the publishing and creative markets are reported a month later than the others, so we have yet to see the specific impact on newspapers, periodicals, designers, and PR agencies.)
May employment figures come out today, and we expect that will be the really bad one—via Calculated Risk, the consensus is for a decrease of 8,250,000 jobs, and am increase in the unemployment rate to 19.7%.
As the country starts to open up again in June, perhaps June numbers will start to reflect an improvement. Hope springs eternal.
UPDATE: Well, well, well, would you look at that: "Total nonfarm payroll employment rose by 2.5 million in May, and the unemployment rate declined to 13.3 percent," the BLS just announced, adding "These improvements in the labor market reflected a limited resumption of economic activity that had been curtailed in March and April due to the coronavirus (COVID-19) pandemic and efforts to contain it. In May, employment rose sharply in leisure and hospitality, construction, education and health services, and retail trade. By contrast, employment in government continued to decline sharply." We're obviously not out of the woods yet, but maybe things won't be as bad as we thought after all. Sometimes we're very happy to be wrong.