(Watch Cary Sherburne's recent video interview with Shimmy founder Sarah Krasley.)
In 2018, McKinsey Apparel, Fashion & Luxury Group surveyed U.S. apparel executives and international procurement officers and projected that simple garment production will be fully automated by 2025, resulting in an 80% reduction in the labor force. Although 2025 sounds like it is a long way off, it isn't. Six years is not a lot of time to transition an estimated 65 million workers to new career paths!
Enter Shimmy, founded in 2017 by Sarah Krasley, who had been working in product design and manufacturing for about a decade, primarily in the automotive, furniture and electronics segments. "I got excited about the apparel sector," she says, "because it is an industry that is just beginning its digital transformation. People are just starting to use 3D design tools for full digital product creation. I felt it was a great place for someone with my skill set to help accelerate that transformation. It seemed like a good opportunity to come in and fill the workforce development gap."
The result is Shimmy Upskill, a gamified, AI-based training application that teaches digital patternmaking and 3D modeling fundamentals to garment workers. Since May 2018, the company has completed five pilots of the software in Bangladesh, Indonesia, and the United States.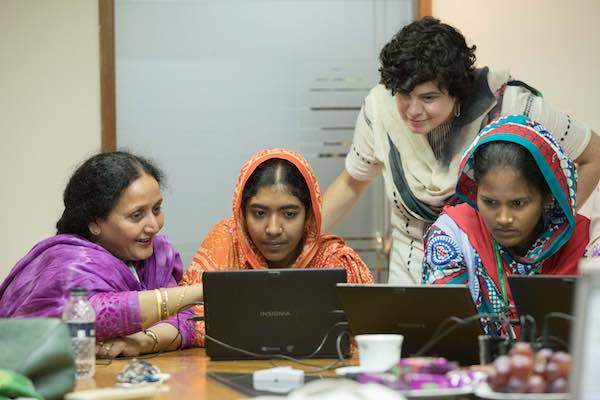 Krasley worked with Bangladeshi sewists in the software development process.
Prior to committing to Shimmy full time, Krasley admittedly needed to gain more insight into the dynamics of fashion design, product development, and manufacturing, so she started the company by launching a women's custom swimwear line. "I know the cast of characters across the supply chain in automotive and consumer electronics," she says, "but in apparel it's a different workflow with different job and task definitions. I learn by doing, so the easiest way for me to ground myself in the industry was to build a small apparel line. And I wanted to choose an area where fit was challenging. No category is harder in terms of fit than women's swimwear. So we built a set of five different styles using existing CAD platforms and other technology tools. It helped us understand what pieces of technology were needed on top of this workflow to make the process more efficient. We got some good press out of that effort, including Cosmopolitan, Shape, and Refinery 29. It turns out that women don't like trying on swimsuits! From there, we got the attention of brands who wanted to grow from their existing manual workflows. We met a lot of folks, and we listened a lot."
What became clear to Krasley as a result of this early engagement is the amount of time it takes to build a 3D model of a garment, and that there was really no technology that automates that process as of now. "In order for us to get to the point where we have more inclusive sizing, the paving stones to get us to custom clothing, we needed more people building and using 3D models. And even though it can be time consuming, there is evidence that it saves significant time and cost over a predominantly manual product development process."
Krasley cites a story from last month, wherein Tommy Hilfiger CEO Daniel Grieder stated that the PVH-owned brand will only use 3D design to create, develop, and sell samples from its Spring 2022 apparel collections onward. The company notes:
The promise of the all-digital process is that it will decrease waste, save money and increase the speed at which products can go to market. If we have at once this digital design, we can use it for the digital showroom, use it for marketing—we don't have to photograph it—because it is all there. Everything will be possible, and so much faster.
"Others will follow suit," Krasley explains, "and they will look for ways to make the process more efficient and less expensive and to mandate that their vendors begin building digital models. We want the people doing that work to be ready for it and skilled for it and have the pathways to those jobs of the future to be exciting and fair."
Krasley targeted Asia first, as factories there face demands to move product cycles from six months to six weeks. "There is a clear need to speed up the process, work smarter in terms of development of new styles, and produce faster with greater accuracy for faster time to market," she says.
Krasley has been working in Bangladesh and Indonesia with training designed to upskill sewists; and Shimmy just formed a partnership with the Urban Manufacturing Alliance to examine how they can help American factories. She is also discussing her training strategy and tools with a number of equipment companies as well as some groups that are developing new factories. Initially, she received a grant from the New York Workforce Development Institute and connected with Bangladeshi sewists in the City to get Shimmy Upskill ready for prime time before traveling to Bangladesh. Shimmy has built an AI engine with natural language processing into the solution that can help translate the training into the myriad of languages spoken throughout Asia. Krasley shared that she recently received funding that will allow her to continue her work in Bangladesh for the next two years, with a focus on scaling the software in the right ways with implementation partners. In the U.S., she is looking to form relationships with companies to do some applied research and pilot projects as well.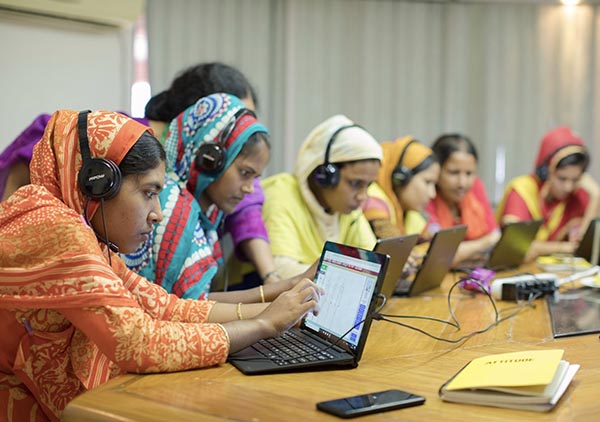 Bangladeshi workers participate in Shimmy's second pilot project.
"We are excited to help U.S. factories bolster their workers so they can ready themselves for reshored production. It's been great to learn alongside the Urban Manufacturing Alliance's Sewn Trades Coalition about what's appropriate and needed for U.S. production—markedly different than the factors in the Asian countries where we operate," she says. "Skills that are in really high demand in the US, for example, are more in terms of machine maintenance and operation of new automated equipment. US factories are typically getting orders on one side, from small direct-to-consumer brands who feel strongly about producing locally (like we did when we had our swimwear line) and on the other side, items like curtains and uniforms without a whole lot of design changes and variance in sizing."
For more information on Shimmy Upskill, download this informative white paper or visit www.shimmy.io.