This article is sponsored by Konica Minolta as part of WhatTheyThink's Product Spotlight series. In preparing this article, WhatTheyThink conducted an interview with Hummel Integrated Marketing Solutions about its experience with the Konica Minolta AccurioJet KM-1 digital press. This Product Spotlight highlights how this press has benefited the company. Konica Minolta reviewed the final article for accuracy but had no editorial control over the content.
Hummel Integrated Marketing Solutions was founded in 1884 (under Hummel Distributing Corporation and, subsequently, Hummel Printing, Inc.) and is now in its fourth generation of family operation. Since the time when John Hummel's great-grandfather made the rounds in a horse and buggy delivering printed flyers, there have been many advancements to this commercial print and mailing house. One of its most recent changes was the investment in March 2019 of a brand-new Konica Minolta AccurioJet KM-1 UV inkjet press. "I had been operating my digital shop with toner-based digital presses from another vendor," Hummel states, "but became increasingly dissatisfied with both performance and pricing model. I've had my eye on the AccurioJet KM-1 since it first came to market and felt that the time was now right to make the switch to UV-curable inkjet."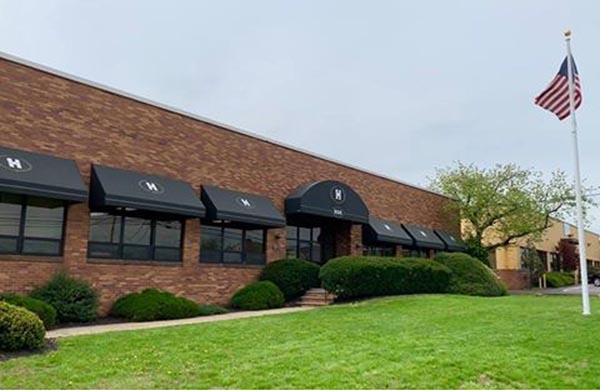 Hummel Integrated Marketing Solutions is located in Union, N.J.
Hummel notes that anytime a new technology comes to market, it can take time to stabilize. "Konica Minolta has gone through a lot of work getting to the point where they are now with the AccurioJet KM-1," he says. "And the results are amazing. It just runs. I don't have to deal with complicated paper paths, paper drawers running out of paper, or click charges. I've got 85% uptime compared to 60%with my previous digital press. Not only have I tripled output speed, but I have reduced my consumables charges by one-third. I have better control over ink usage, and with one sheet out of the press, I know exactly what the job will cost in ink. And the quality is fabulous at 1200 dpi."
Hummel likes the larger 23x29-inch sheet size as well. "It's in my wheelhouse," he says, "since I also have two 40-inch offset presses, I chose to go with a sheetfed solution—running rollfed requires taking up too much warehouse space storing rolls of paper. I also appreciate being able to auto-perfect in a single pass, with printed output that is dry and ready to finish when it exits the press. It's also scuff- and scratch-resistant without the need for aqueous or UV coating, which is crucial since much of what I print goes in the mail." Another factor for Hummel in making this investment decision was the reliability of the offset press platform upon which the Konica Minolta AccurioJet KM-1 is built. "It's extremely reliable, and if there are any issues, we can fix it just as we would an offset press," he says. "Combine that with Konica Minolta's inkjet expertise, and it's a win/win solution. Plus, there are no click charges. We just pay for the ink we use. We spend about 2.5 hours on startup on Monday, and then about 15 minutes at the beginning of each additional weekday. Other than that, it just runs!"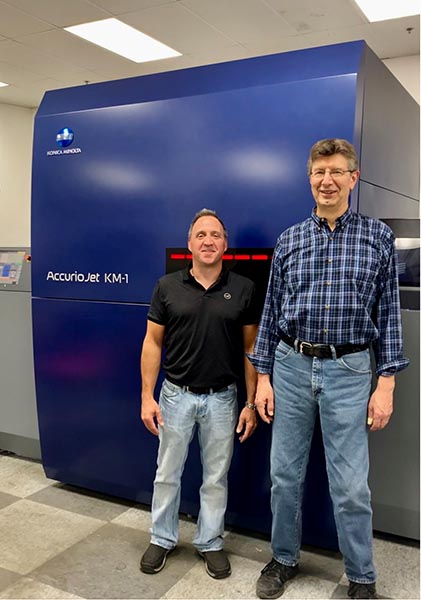 John Hummel (left) and KM-1 operator Fred Wittjohann.
Hummel's primary client base consists of other printers, agencies, brokers, universities, and non-profit organizations. The initial intent for the investment was to better accommodate the need for shorter runs, but, Hummel says, "It turns out that we can profitably do much longer digital runs than before. As an example, I recently produced a job consisting of 50,000 coupons, each with name, address and a barcode, with another 130,000 to be produced in a second batch. With the AccurioJet KM-1, I get very consistent color – it comes up to color in register right away – and doesn't require plates or result in makeready waste. I was able to give the client a three-day turn on the first 50,000! In another case, I received a request for 72,000 11x14-inch full variable postcards at the end of the day on a Thursday, ran them Thursday night, and mailed them Friday. The quality and reliability of the AccurioJet KM-1 has really changed my opinion on the types of work I can run digitally versus offset, and the turn times I can offer my clients."
Other applications Hummel has had success with are 6x9 postcards, ready to go to the cutter right out of the press; posters printed on 24-point stock; and a recent job producing 16,000 pocket folders. "That one was tricky," he said. "Normally I would have run that job on one of my 40-inch presses, but it had a solid blue on the outside and a solid light green on the inside, both difficult colors to achieve on press with CMYK. It would have required two PMS colors, which also means more plates, and color adjustments every time the press stopped and started back up again, with more makeready waste. The first sheet out on the AccurioJet KM-1 was right on color, and it held that color throughout the entire run."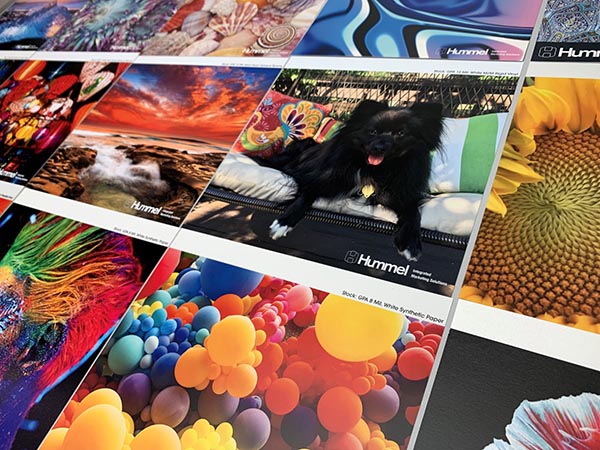 Vibrant, consistent color delivered by the Konica Minolta AccurioJet KM-1.
Hummel has also been able to experiment with a wide range of substrates, including 18- and 24-point stock, styrene, and PVC. "This has opened many new doors for us," he says. "With the AccurioJet KM-1, I can go after more profitable work, such as packaging and highly variable pieces. With my previous digital press, I had hoped to transition to 50/50, offset/digital, but was never able to get there. Now with the AccurioJet KM-1, that has come to fruition."
Hummel also reports that his company has typically not run more than one shift. "I believe that will change with the AccurioJet KM-1," he says, "because I just need one operator to run it, and when the bindery crew comes to work in the morning, they'll have plenty of work lined up. While I haven't done a complete ROI analysis, the revenue from one shift will more than cover my equipment overhead, and second—or even third—shift work is pretty much all profit." Hummel was particularly impressed when, on a visit to an AccurioJet KM-1 owner during the sales process, the shop ran the press continuously for four hours. "I looked around at some point," he says, "and didn't see the main press operator. The owner told me he had gone home! Once the job started running, it was mostly replacing the paper stack and unloading output. I could never have left my previous digital press unattended like that. There was always something that needed to be done – fill paper trays, clear jams, etc. That level of reliability with the AccurioJet KM-1 has held true in my operation as well."
Another advantage for Hummel is the ability to print samples on the AccurioJet KM-1 using the exact stock and technology that will be used in the final production run. "That's something you can't do with offset," he says. "I'm able to immediately show customers exactly what the final job will look like, which offers a huge competitive advantage.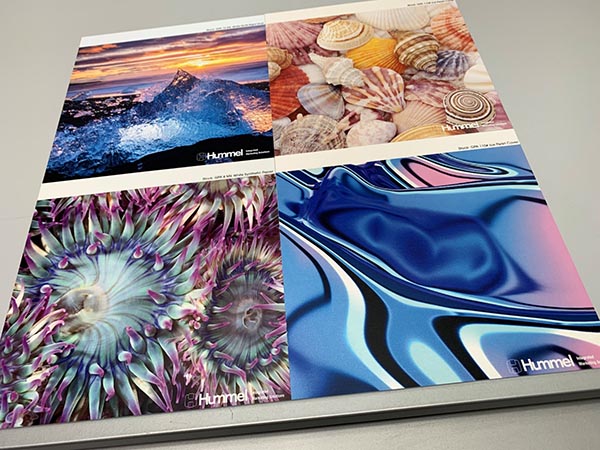 Print samples on the AccurioJet KM-1 using the exact stock and technology that will be used in the final production run.
Hummel is excited about the new doors being opened for his business with the acquisition of the AccurioJet KM-1. "It is definitely responsible for further expansion of our business," he said. "It was one of the best investments I have ever made."