As part of its ongoing analog-to-digital transformation, the apparel industry is struggling with some of the same challenges faced by other industries—like commercial printing—as they underwent their own analog-to-digital transformations. That is, how to create an automated, end-to-end workflow that enables profitable on-demand manufacturing of garments, even in quantities as small as one. ShareCloth CEO Sergey Moliavko believes he has an answer.
WhatTheyThink: Sergey, first give us a little background on ShareCloth.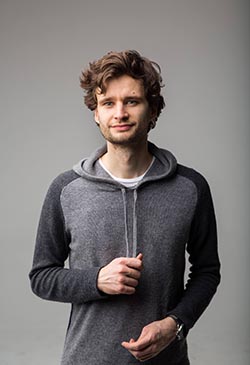 Sergey Moliavko: ShareCloth is a software company that helps fashion labels start producing clothing on-demand, thereby becoming more flexible, sustainable, and financially stable. The current model for a fashion brand is simply not sustainable over the long term. We look to help them address the challenges associated with this market shift.
WTT: Tell us how it works.
SM: Once a brand has created a design or collection, they can upload that design to ShareCloth and connect ShareCloth to an ecommerce system. When an order is received, we process the order and deliver all the necessary information to a local on-demand manufacturer, who produces the item and ships it directly to the customer. In effect, it automates the process from initial order to final delivery, optimizing the process and providing transparent status information along the way, enabling brands to control their businesses from an online dashboard. The fashion business has a huge problem with returns and over-manufacturing. This approach helps fashion labels to minimize that because we can validate the fit of the garment to the end customer to produce an exact fit and reduce the chance of returns.
WTT: Does this require the brands to use any particular design software?
SM: No. We work with DXF, the most standard format which is supported by every single major CAD software. They simply export the file into DXF from any CAD system and submit it to ShareCloth.
WTT: Aside from the DXF design file, what else is needed?
SM: We also accept patterns, and they need to upload a bill of materials and TechPack for the design. Then we are able to connect them to a local on-demand manufacturer so they can start with sample production and preparing the style for commercial launch.
WTT: You mentioned the issue of fit. How does ShareCloth handle that?
SM: There are three different options for fit. The consumer can choose a standard size, in which case we cannot validate fit. Or the consumer can enter body measurements manually. Or the consumer can take two photos of herself, and we will export body measurements from those photos, entering those measurements into our system.
WTT: Is there a particular app for the photos?
SM: We use a service provider called 3DLook. There also could be other sources of body measurement, such as 3D scanning, or other service providers that are out there.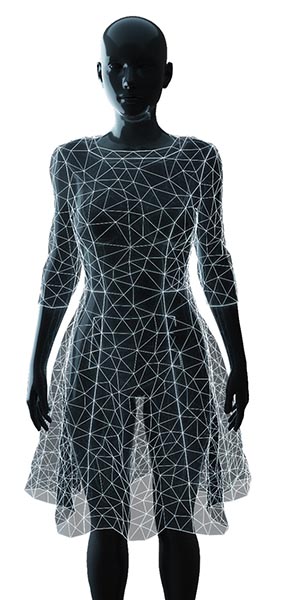 3D rendering.
WTT: When you say "local on-demand manufacturers," what geographies are you talking about?
SM: Right now, we are focused on the United States. The system is scalable globally, but the U.S. market is plenty large for the next few years, although 25% of our inquiries do come from outside the States. For example, I have been speaking with a few Italian manufacturers because some of our fashion brand customers want to manufacture in Italy. We are a small company, and we can't tackle the whole world at once.
WTT: Do you have any manufacturers signed up?
SM: We have a collaboration with Hello World Fashion in L.A. We have also been working with OnPoint Manufacturing in the Southeast, and we are close to finalizing another East Coast manufacturer as well as a couple more on the West Coast.
WTT: What's the benefit to the manufacturers of working with you, and what challenges do you face in getting those manufacturers on board?
SM: The challenge is to connect more manufacturers, to convert regular manufacturers to on-demand manufacturers. We provide a set of tools for manufacturers to help them convert their business model, step-by-step, from small-batch into a true on-demand business model, where they may produce less but earn more money. There is more margin in every single unit compared to the typical manufacturing model.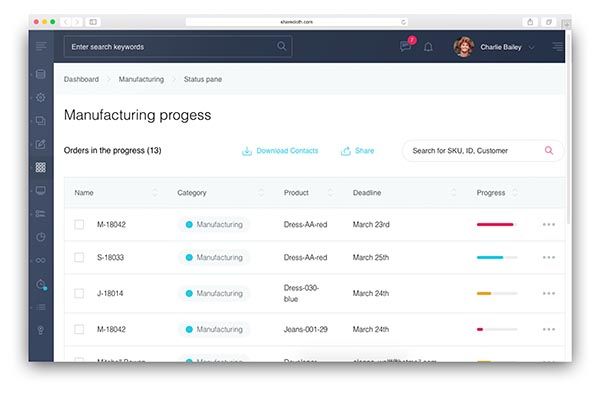 Manufacturing Dashboard.
WTT: How do you ensure consistent color across multiple manufacturers using different digital textile print engines?
SM: To be honest, color management and the printing hardware are the least of our worries. Once you can support a base set of printers, you can scale the solution. Once we connect a new manufacturer, we can support any hardware they have. The biggest problem in the industry is the human factor, execution by humans. I wish our only problem was supporting the hardware!
WTT: So what are the challenges on the manufacturer side, then?
SM: First is education; and second, you have to understand the curious and strategic fact that after more than 100 years, we still don't have standard TechPacks, even for garments as common as T-shirts. So standardization for information transparency is a big issue. Our goal is to provide information that is clear, that is in some standard form that is easy to read and analyze and use. And, of course, we are betting on increased automation in hardware over the next five years, particularly in sewing. There are a few companies, like Softwear, for example, that are working on automated sewing, and we expect that will grow dramatically over the next five years.
WTT: What about the TechPacks? There are some initiatives out there, like PAAT, that are working to build Smart TechPacks. Are you engaged with any of them?
SM: We would like to get to a Smart TechPack model. Right now we are using our own format, but in the future we would like to support initiatives like PAAT (Purchase Activated Apparel Technologies). There is also the 3D Retail Coalition, a collaborative group of global retailers and brands, working together to advance 3D technology for apparel, accessories, and footwear designers, retailers, manufacturers, and supply chains. They are working to develop the 3D technology requirements, including body scanning, from the brand and retailer side.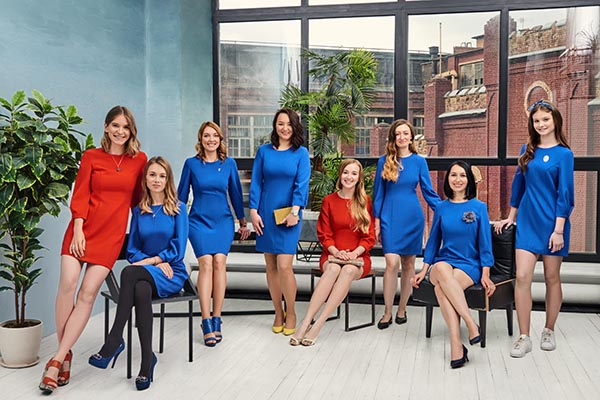 Forty dresses delivered in three days during pilot test of ShareCloth app.