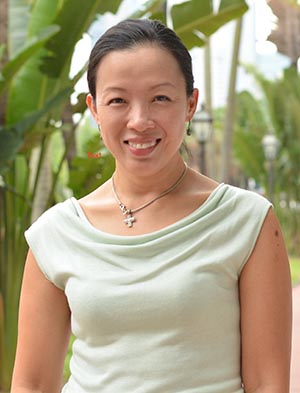 Browzwear, founded in 1999, was the first to market with a virtual dressing room and 2D to 3D garment simulation solution. "We believed the world would be buying online and needed to be able to fit online," said Lena Lim, Browzwear's Chief Commercial Officer. "While this has proven to be true, we might have been a little ahead of our time. We pivoted to building solutions that make 3D fashion design easier and more realistic, enabling designers to produce digital garments that look, drape, fit, and move almost exactly like real physical garments.
Browzwear's latest software releases, including VStitcher 8.0 and Lotta 4.0, are designed to enhance end-to-end workflow from cutline design to manufacture, helping to close the digital workflow loop for more effective operations. "VStitcher is our 3D software for apparel design and development," Lim explained. "It enables garment design from the silhouette through size ranges, graphics, fabrics, trims, colorways, styling, and photorealistic 3D rendering. With Lotta, designers can use any VStitcher 3D garment for rapid design and styling without the need for pattern-making skills. And it syncs in real time with Adobe Illustrator, Photoshop, and more." The image below shows a variety of laces in 3D and how they appear on the fabric.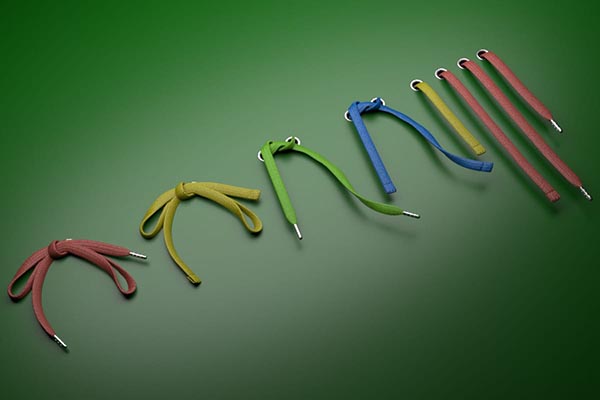 As brands and retailers continue to seek ways to get to market faster with more collections, 3D design technologies like Browzwear's are playing an increasingly critical role. What can often be an 18-month development cycle for fashion can be significantly reduced by using 3D technologies. "Eighteen months is too long in today's market," Lim notes. "Trends shift quickly, and brands want to keep up with that pace. 3D technologies also allow better collaboration during the product development and prototyping process, less need for physical samples, and can create realistic images that can be used in ecommerce and in other ways, with a more robust customer experience than a 2D image."
Lim points out that another goal is to shift the process from develop/manufacture/hope-to-sell, to an on-demand, more customized process of order-pay-manufacture. This eliminates significant cost, time, and waste, including reducing the need for inventories that might go unsold and end up in landfills. "The conversion rate for ecommerce is about 2.5%," she says, "and the return rates can be as high as 44%. Increasing conversions and reducing return rates is a huge potential for brands and retailers to go after. It changes the paradigm, makes us faster and more agile, and helps us rethink how we can make the industry more sustainable."
Browzwear also believes it is important for systems to be as open as possible. "Openness will drive faster change," Lim says. "We worked with Vizoo to output the U3M digital format, and we have an open API platform that makes it easy to connect other tools so that the workflow can be configured for different stakeholders, including designers, technical designers, pattern makers, product developers, etc. Our policy is to enable a best-in-class workflow for our customers. No single company can do it all, and there will always be people out there doing new and innovative things. We also have changed the user interface to work completely contextually instead of being menu driven, minimizing the need to upskill people and reducing the need to search for the needed functionality."
Browzwear offers an avatar library, as well as the ability for users to edit avatars or create their own, from scratch or from body scans. The new releases also enable real-life visualization of materials being increasingly used in fashion, including fur-like materials, leather, heathers and more. Zippers and buttons is another area of innovation—instead of using images, these are smart objects in the software. "When you assign zippers and buttons," Lim explains, "the system does the stitching automatically, reducing steps for the users. Zippers are smart by separating out all of the parts so you can even virtually zip and unzip them to better evaluate fit in motion. And when you select and place buttons, the system will automatically place the buttonhole."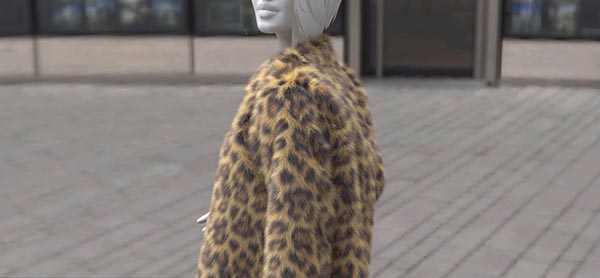 3D rendering of leopard fur.
These are just a few of the cool new features in VStitcher and Lotta that will help advance the analog-to-digital transformation underway in the fashion industry.
To see detail about smart zippers, view this video: