Ariel Swedroe says she has always had a passion for fashion. "When I was in first grade," she says, "I came across a flyer for a fashion summer camp at DesignLab Miami. I was able to attend, and I fell in love. I've been working in fashion ever since. And that's where I met my mentor, Angie Cohen."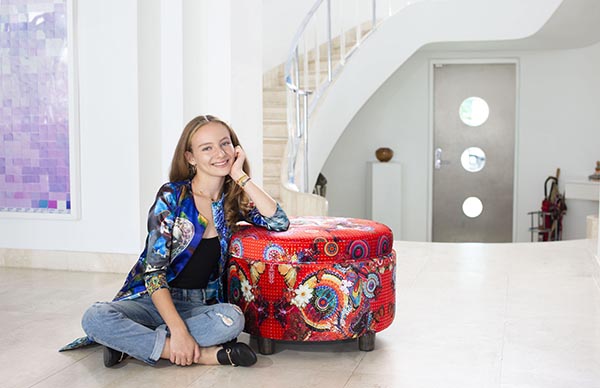 Cohen founded DesignLab Miami in 2010 with a creative studio in North Miami specializing in teaching and promoting all aspects of the fashion industry, including sewing, textile design, fashion technology, 3D printing, laser cutting, and biocouture.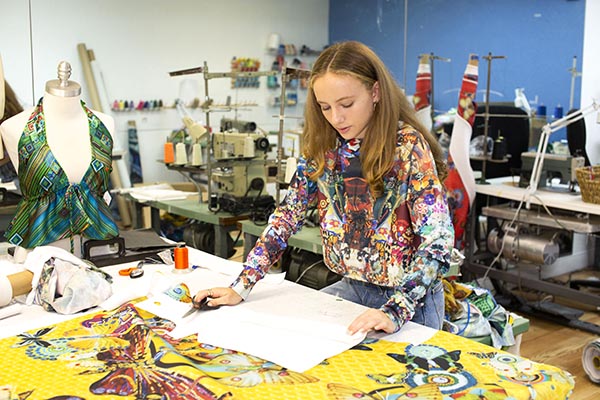 "We believe in cultivating young, creative minds," Cohen says, "which was the primary motivation for opening the design studio. We have programs for both children and adults, geared to both short- and long-term goals. We also have several in-school programs in the Miami area. DesignLab also offers sewing parties, custom workshops, and sewing camps, all of which have contributed to the growth, reach, and success of the business."
Cohen states that when she opened the business, she was told she wouldn't be able to teach a child. Her response? "What? OK, I will show you. Kids are smart. You just have to give them an opportunity, It's about potential and belief. We empower them." And that's exactly what she has done for Ariel and innumerable other children (and adults!).
I asked Ariel how she balances her passion for fashion and her business, Swedroe by Ariel, with school. "I'm not going to lie. When I first started, it was actually easy, no big deal. Just go to the studio after school every day. But I now go to a really demanding magnet school that has a fashion program. It's the number three school in Miami-Dade County. I'm taking college classes in high school, and it is hard to keep my grades up, and at the same time go to my studio every day, which is 30 minutes from school. But I know what I want to do. I love fashion, love working with my grandfather. It's hard work but worth it."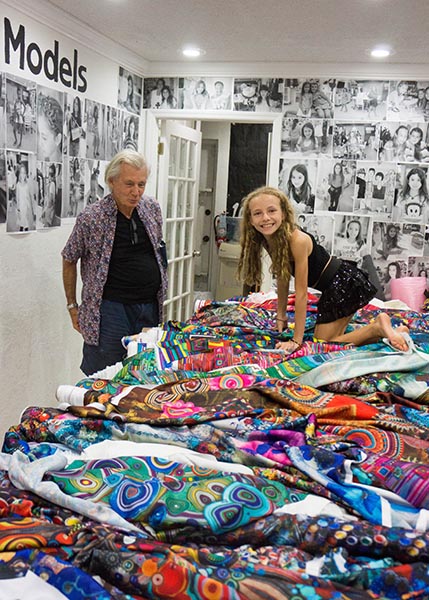 Ariel explains that her 84-year-old grandfather, Robert Swedroe, lives nearby. He's an architect and an artist. She says, "I always watched him create his artwork. He's created more than 900 collages and he is still making them. When I learned about digital printing of fabrics in the fifth grade, I knew I wanted to digitally print his collages onto fabrics. I made a little collection for myself and showed it to him. He was in shock, but he loved it, thought it was a great idea. So we decided to collaborate, and that's how Swedroe by Ariel came to be."
In recent years, Ariel has been using design software, AccuMark from Gerber Technologies, to translate designs into fabric patterns. "I can mirror, make the image smaller, or overlay designs onto the fabric so I can manipulate the artwork for each component. Funny story: before I started using Gerber, I put a red butterfly on the crotch of a bathing suit. I didn't know how the ultimate product would look. I just asked the program I was using to make a pattern. We had to do it over again. Now I can see what the finished garment looks like and manipulate it. If I want a butterfly to take up a whole panel, I can do that."
All of Ariel's products are manufactured in Miami. Most of her fabrics are printed by American Sublimation using heat transfer dye sublimation on polyester-based fabrics such as neoprene and Lycra. American Sublimation uses ESS printers from China, according to William Montoya, its owner. Fabrics are then sent to House of Llull Atelier for cut-and sew. House of Llull specializes in swimwear and athletic wear and uses Gerber AccuMark to produce paper markers. One cutter and seven stitchers work there. House of Llull's founder, Carla Llull, reports that it can be difficult to find stitchers who have a hand for sewing on stretchy fabrics.
Ariel also uses Spoonflower for some of her production, including cotton and silk.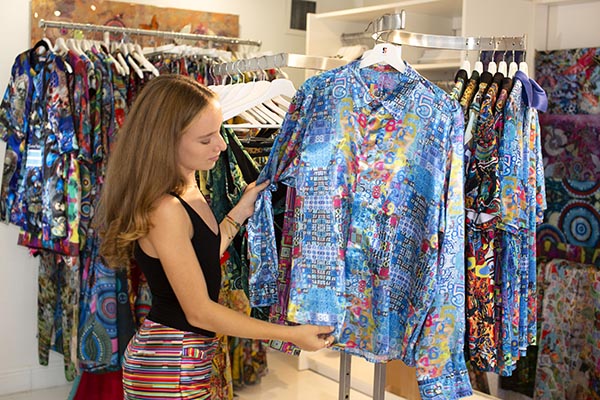 As if this isn't enough, Ariel also helps DesignLab Miami with some of its non-profit work. "Last year we went to Colombia to teach girls ranging in age from 13 to 17," Cohen explains. "Ariel had just turned 14 and they were inspired by her story. We were there for a whole week in a workshop with no air conditioning, and Ariel worked really hard. My partner and I provided the machines, tables, and other materials. By giving these girls the skills to create their own businesses, we helped them start believing in themselves. Now those girls are standing up for themselves. They are sewing and selling what they are making. And hopefully it will help end the cycle of poverty."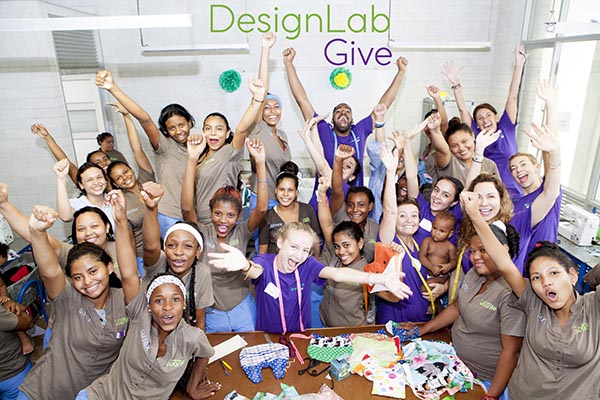 The machines are now traveling to Bogotá for a project to train 30 women who are coming out of jail, teaching them to sew, make things, and sell them. "This will be a continuing effort," Cohen says. "We are planning a similar project in Mexico."
Once Swedroe graduates from high school, she plans to continue her education. "My dream school is Central Saint Martins in London," she says. "I really hope I will be able to go. I'm already working on building a portfolio. I definitely want to continue my education in Europe."
I think she'll make it happen, don't you?