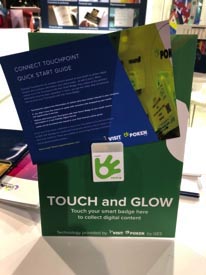 I have always found Labelexpo to be a very interesting and exciting event, and this year is no different. While not as big as the event last year in Brussels, this one has plenty of new and interesting technology to see.
It all started with the badge to enter the show. I know, how is that interesting? I received an email last week with an invitation and a barcode. Upon entering the expo facility, I just scanned the bar code and my badge was printed with no other human intervention. That was pretty cool, but the badge also has NFC (Near Field Communications): "You are now identified for any future correspondence, etc."
Since smart labels and packaging are starting to use this technology for security and tracking, I considered it a very relevant way to do the same with attendees!
Speaking of printed electronics, I also ran into an old colleague, Dr. William (Bill) Ray. Bill has been in and around the industry for decades and many of you may know him. If you don't, I won't go into history but his latest endeavour is in printed electronics. His company, NthDegree, has developed some amazing technology that will undoubtedly find its way into packaging security and even design.
As for the more label-centric stories, the continuation of hybrid technologies was the big story. Whether inkjet and flexo or a variety of new finishing technologies, the hybridization of print packaging technology is happening in a very big way. Can't wait to see how it migrates to industrial and even more mainstream commercial print.
One of those new relationships is with Durst and Omet, who have engaged in a strategic partnership to develop and market hybrid label presses that use Durst digital inkjet technology (currently the Tau 330 RSC) along with Omet flexo transport, imaging, and finishing. The current offering is the Omet XJet. It can operate as a flexo press of up to 12 units at 200 m/min, and/or as a hybrid with inkjet imaging at about 80 m/min. Since this arrangement was just recently consummated, we can expect to see a lot more coming out of it in the future.
Heidelberg and Gallus have further integrated their relationship. While Gallus has been wholly owned by Heidelberg for a number of years now, they are integrating their service, sales, and even R&D teams to maximize the relationship. One of the newest products from Gallus is the Smartfire. This new product is targeted at the lower range of the label market. They are looking to service the small business manufacturer that needs small amounts of labels on demand. This new press uses the Memjet Aspen printhead technology, and includes printing and die cutting at about $150K. This is probably one of the lowest-price presses Heidelberg has ever sold. It can be installed in a matter of hours and has a small footprint. They may be on to something here.
Bobst along with their younger brother Mouvent had some interesting things to share as well. While Mouvent may not be on their original release schedule, they have been shipping their textile printers and expect to go to beta with their UV label press in October with a full launch in March 2019. They expect to be in North America also during Q1 of 2019. At this point, they are also targeting the beta of their water based label press about the same time.
Kodak introduced their new Flexcel NX Ultra plate, with solvent free water-based processing. This has been in development for the last three years and is currently being used at three beta sites. All of them have completely switched over to the new plate system.
OK...now it is time to catch my breath and get ready for another day at Labelexpo. Expect lots of new announcements and much more detailed coverage in future articles.
More to Come…
I would like to address your interests and concerns in future articles as it relates to the manufacturing of Print, Packaging and Labels, and how if at all it drives Industry 4.0. If you have any interesting examples of hybrid and bespoke manufacturing, I am anxious to hear about them. Please feel free to contact me at [email protected] with any questions, suggestions or examples of interesting applications.