Last month, I had the opportunity to join in the Xeikon Café festivities. While I have covered Xeikon for many years and was able to visit its facility prior to drupa last year, it was my first visit to the Xeikon Café, and I found it quite impressive. These types of users groups are increasingly attractive to both suppliers and their customers as a focused environment for learning and networking.
Xeikon invited a group of press and analysts to its headquarters the day before Xeikon Café opened, and we were thrilled to be present for the first global announcement of Xeikon's entry into production inkjet, after a long history of a fairly defensive posture in favor of toner printing technologies. This announcement comes after the company's acquisition by the Flint Group, giving it access to more resources, both financial and technological, and makes a great deal of sense. Xeikon's first entry into this market is based on what the company is calling Panther technology (staying the cat family after its Cheetah technology for toner-based label printing!). Panther is UV inkjet with PantherCure ink, and the first implementation is the Xeikon PX3000 UV inkjet digital label press in the trademark Xeikon red and black. The sleek press features a web width of 330 mm (13"), and a maximum speed of 50 m/min (164 ft/min). Color configuration is CMYK plus white, with a print quality of 600x600 dpi. Substrates can range from self-adhesive media with facestocks including paper, PVC, PP, PET and PE. It uses Kyocera print heads and the same X-800 DFE Xeikon has used successfully with its other digital presses. While initially the press will feature a roll-to-roll workflow with offline finishing, the inclusion of the X-800 DFE intimates that there is a pretty high probability of inline finishing in the future, including, perhaps, Xeikon's Fusion Technology for inline embellishment. You can see David Zwang's interview with Xeikon's VP of Marketing Philip Weymans here.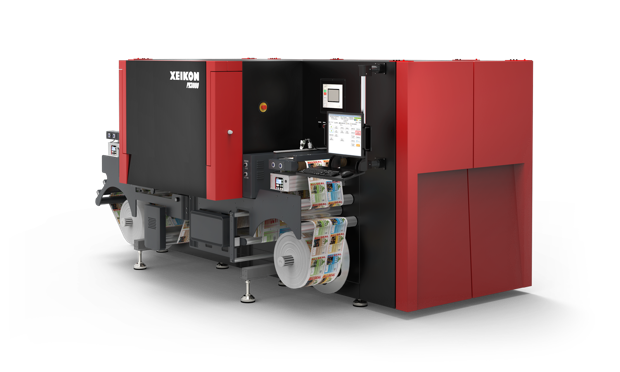 Xeikon has many years of experience in digital label printing and reports an installed base of 463 presses for labels and packaging worldwide, so it makes sense that the company focused on this market for its first inkjet offering, to build on its already-existing expertise and penetration into the label converter market. Because the technology is UV-curable, the first target market for the press will be industrial labels. The company reports this encompasses about 20% of the label market between industrial durables and industrial chemicals, so a fairly substantial total addressable market. In addition to picking off some of the existing digital label volume and some new applications, Xeikon also hopes to encourage more transfer of flexographic labels to UV inket for an estimated 19% of label jobs that are still being produced traditionally in environments where there are more than an average of 14 jobs produced per day – an ideal target for digital. The company is relying on its label expertise, its Xeikon Café educational platform and its aXelerate program that helps teach customers how to sell digital as unique resources that can help spur this migration. Xeikon made it clear, however, that it is not backing away from ongoing development of toner technologies, for both its document and packaging businesses – believing there is plenty of room for both.
Visitors to Labelexpo Europe 25-28 September in Brussels will also have the opportunity to see live demonstrations of Xeikon's new UV inkjet label press in hall 5 on stand C29. Commercial availability of the new Xeikon PX3000 UV inkjet press is scheduled for October 2017.
Xeikon Café 2017 extended over four days and attracted more than 800 unique international visitors. Educational sessions included both business and technology tracks, and live production of more than 30 digital print applications in partnership with about 40 industry suppliers where a big draw for the audience. Both attendees and partners were enthusiastic about the quality of the event, as were my press/analyst colleagues. The company is already preparing for next year, and we'll look forward to seeing what exciting announcements we might see there.
On an organizational note, we were sad to learn that Xeikon President Wim Maes has moved on, becoming an Executive Member of the Board for Summa, a provider of cutting tables that has about 60% market share in the roll-to-roll business in Europe. Maes will be responsible for growing the company's business in North America, which also includes flatbed cutters. He began his new job on April 3rd. Former head of Production Printing for Ricoh Europe Benoit Chatelard will become President & CEO of Flint Group's Digital Solutions division effective May 8th, in a surprising announcement. Chatelard was on hand the first day of the Xeikon Café to meet the press and to mingle with Xeikon customers. Maes worked hard over the past eight years to grow Xeikon's business, manage through the Flint acquisition, and integrate the company into the Flint Groups' Digital Solutions division. Flint Group CEO Antoine Fady thanked Maes for his service, and stated that he had tried to change his mind, but respects Maes' decision to join a smaller company with a more entrepreneurial culture where he can again make a difference. At least he's still in the industry! For more on this transition, read here.
In a final piece of news from the event, the Xeikon Trillium technology was notably absent. We have learned that development of this product is taking longer than expected due to the fact that the company decided to make a change from an oil-based carrier fluid to a different carrier. This has required some significant engineering changes. Xeikon was clear that the product is not being abandoned, and we should be hearing more in the not-too-distant future.