At drupa 2016, there was a great deal of discussion about Industry 4.0 and how it was affecting the print and packaging industries. In fact, I identified Industry 4.0 as one of six key trends at the show. As described in Wikipedia, Industry 4.0, or the fourth industrial revolution, is the current trend of automation and data exchange in manufacturing technologies. It includes cyber-physical systems, the Internet of Things and cloud computing. In short, Industry 4.0 creates a smart factory. And drupa clearly demonstrated that it is well underway for print and packaging. Many of the vendors, including formerly hardware-intensive Heidelberg, were talking about the need to go beyond the press for a total solution, and that trend has continued.
Sometimes I think we, as an industry, get a little insular in terms of our perception of the rest of the world. That's why it was a pleasure to speak with Antoine Preisig, General Manager EMEA for X-Rite Pantone, who came to the company about a year ago with a diverse background in the dental, IT and consumer electronics industries. He shared insights that will be of interest to forward-thinking printers and packaging converters as they think about the future of their businesses.
While it may seem that Industry 4.0 touches other industries more than ours, I always like to keep in mind that printing and packaging touch just about every industry, and it behooves us to keep up with what executives from other industries are thinking in order to keep our offerings and our messaging relevant.
WTT: How do Industry 4.0 and the Internet of Things relate to each other?
AP: The basis of the Internet of Things is the cloud; more things are going to the cloud. When we talk about Industry 4.0, we are talking about machine design and development and machines talking to the cloud. The cloud is the driving force behind both. So the Internet of Things is one axis of Industry 4.0; the other is the increased level of automation, often through small inexpensive robots.
If you think about manufacturing today, we are usually producing huge volumes in centralized locations. You spend millions on the manufacturing infrastructure and it operates forever. But with Industry 4.0, we have a new dimension of automation that allows more flexibility, faster adaptation to small batches and a significantly reduced changeover cost. This is what has been happening in the printing industry for some time, with efficiencies and digital technologies that allow the cost-effective manufacturing of a unit of one. And it is becoming more prevalent in the larger manufacturing world as well.
What we are starting to see emerge is a blended environment that includes both small and large robots in manufacturing and other aspects of the supply chain. Amazon is a great example. In January, the company reported it has more than 45,000 robots across 20 fulfillment centers. That's a 50% increase over the previous year when it had 30,000 robots working alongside 230,000 people. The robots are a big part of what allows Amazon to get just about any product to your doorstep in a day or two, or even same day in some cases.
Editor's Note: View this video showing Amazon's automated fulfillment center.
WTT: So what does this mean for manufacturing in general?
AP: Globalization is pushing manufacturing from centralized to distributed models. The consequence is that companies will walk away from doing huge factories with huge production runs, bringing manufacturing and configuration or customization of products close to the point of need in a combination of build to order and just-in-time manufacturing. We'll also see more mass customization and the virtualization of complete production workflows. Industry 4.0 will yield so much in productivity gains that manufacturing jobs will begin to come back to the Western Hemisphere.
WTT: What implications does this have for X-Rite?
AP: It's one thing when you have one huge manufacturing line to make sure products have consistent color. But when you have 2,000 different sites that do hundreds of units each, how do you ensure brand color consistency? You need the cloud and the ability to specify, communicate, measure and manage color across a distributed network. It starts with specifying color using spectral data stored in a cloud-based database such as PantoneLIVE that is easily accessible by all authorized stakeholders and always delivers the most current specifications. With our ColorCert Suite of color process control solutions in print and packaging, Color iQC for industrial applications, and of course our color measurement instruments, we believe we can provide the platform for brand owners and manufacturers to be able to effectively manage color consistency across hundreds or thousands of sites around the globe. And there are two aspects to this. First, determining what is the industrial process to achieve the desired results; and second, how do you get it right every time. So both achievability and consistency are important.
WTT: So the first part represents the design and specification process. Today, that often means shipping a lot of physical samples around, and that gets costly, both in time and money. Do you see a more digital approach becoming available?
AP: Absolutely. We have been working closely with companies in the automotive, sportswear, industrial design and entertainment industries to be able to use a digital model, to be able to move data, not physical samples, in the design, specification and QC process. You need to be able to digitize all of the appearance characteristics of a physical sample, not just color but also texture, gloss, etc. This is especially important for the increasingly complex materials available to designers today – from special effect paints used on automotive exteriors to synthetics and meshes used in sportswear. Our Total Appearance Capture (TAC) ecosystem makes that possible with a very high quality scanner that can capture both color and appearance data, and then render that into a physically correct virtual material that can be used by most 3D rendering solutions or viewed in our Virtual Light Booth. Over time, this will expand into other industries, including print and packaging, especially as packaging materials and form factors become even more sophisticated than they are today. Our ultimate vision is to give companies the ability to digitize any existing material, apply it on any wire frame and achieve a perfect virtual appearance for design prototypes without the need to create physical samples. This would also allow designers to vary colors and materials as they are thinking through the design process in a much faster and less expensive manner. You can either create a material or scan it, articulate its characteristics, and have the right formulation throughout all steps in the design-to-production workflow.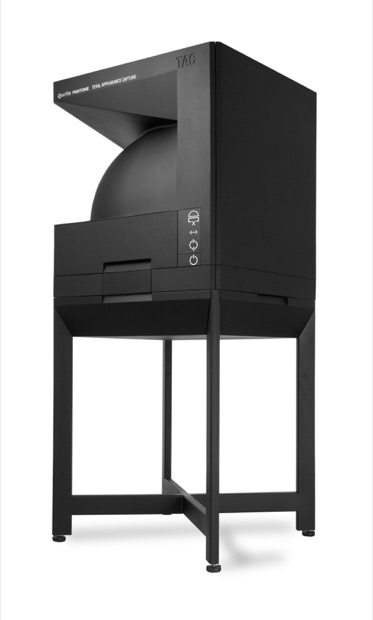 X-Rite TAC7 Scanner
WTT: In printing and packaging, we are doing more digital proofing. But how do you do that with something like an automobile?
AP: Your readers can watch a brief video about the BLACKBIRD and see how that is actually being done today in the film industry. You can imagine how something like this can be used in the product design process as well. So you can use something like the TAC ecosystem to digitize all the materials you'd want to consider as options in your design prototyping process; then use that data in downstream processes to produce the physical truth that exactly matches the digital design. This will work for just about any object, from new can or bottle designs for beverages, to thermoformed packages for consumer goods, to autos and planes.
TAC technology is still new and is evolving rapidly. The future goal is to continue to simplify and improve the process so that capturing color and appearance data is just as easy as taking a color measurement today. The goal is to have a small investment that allows you to quickly produce customized goods with instant global information sharing. This will accelerate the development of new things that will completely surprise us tomorrow. It's a very exciting time, and Industry 4.0 is revolutionizing the way we think and work.