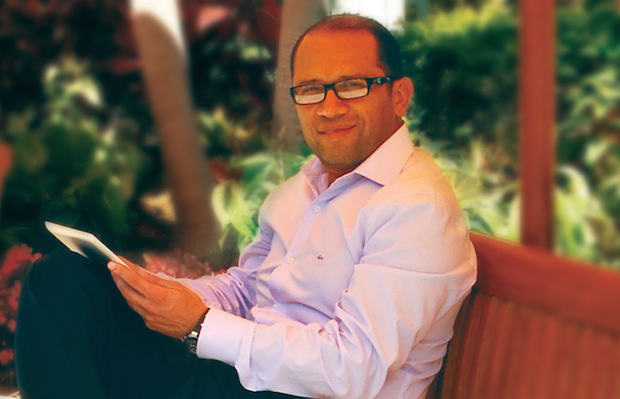 Douglas Fajardo, CEO of Mirum Miami
When we first started writing about digital publishing and the opportunities it provides for print service providers to expand both client base and revenue streams, we initially focused on the publishing world – more specifically, the ability to publish interactive magazines. Then we saw a spike in interest in using these applications as sales enablement tools, with great stories about how sales enablement apps can deliver big rewards. The Stryker Orthopaedics story is a great example.
I recently spoke with Douglas Fajardo, CEO of Mirum Miami, a JWT/WPP company. Mirum Miami is the mobile center of excellence within Mirum. Fajardo states that a high percentage of the mobile projects done under the brand are done in Miami, many of them using Adobe Digital Publishing Suite (DPS), creating fully integrated platforms for education, event management and more.
For nearly four years, Mirum has been working with Sony Latin America doing a lot of innovative work around mobile and digital, and Douglas explained the outstanding employee on-boarding app his firm developed for them. Employee-oriented mobile apps are the next wave in digital publishing opportunity and can benefit companies of all sizes. But especially for a complex organization such as Sony Latin America, the app delivers value on many different levels.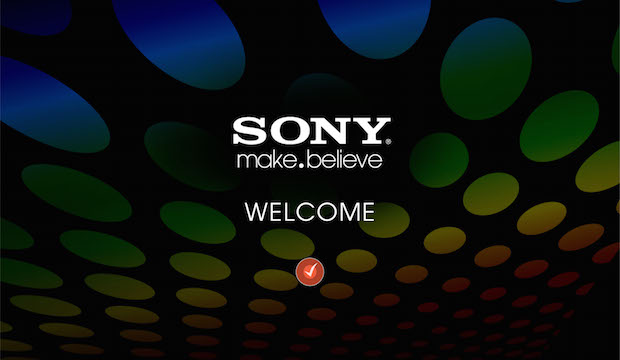 Splash Screen, Employee On-Boarding App, Sony Latin America
Identifying Pain Points
The Sony/Mirum project began with a discussion with Sony's HR team in Miami who explained that on-boarding employees efficiently and effectively was a challenge. Fajardo says, "Every time a new employee came into the Latin American division of Sony, including its Miami headquarters, the on-boarding process was not consolidated, and all of the information new employees needed to understand the culture of the company and the framework within which they needed to do their jobs was scattered in a lot of different places: SharePoint; PowerPoint; Word documents with policies, company background, product information and more. Often new employees were sent to the web for pieces of information because there was no single place where it was consolidated, let alone a process for filtering that information so it was a seamless on-boarding process relevant to each individual."
Fajardo and his team believed they could create a cool experience for employees and, at the same time, consolidate all of the scattered information and content, making the experience richer. "We put together a proof of concept and some comps using DPS," he says, "and they loved it. A key driver was the fact that it was an offline experience that could be accessed from anywhere. People don't have a lot of time for on-boarding in the office. This was an experience that wouldn't take away from work time. The other benefit was the ability to deliver the app on Sony's own technology, its Xperia tablets (Android-based). When employees join the organization, they are given an Xperia tablet and that is a great first point of contact with Sony's technologies."
Welcome Aboard
When employees tap the welcome screen, the first thing they see is a welcome letter from the President of Sony Latin America and two videos on Sony's history. The employee selects their country, and the app then gives them a very localized experience.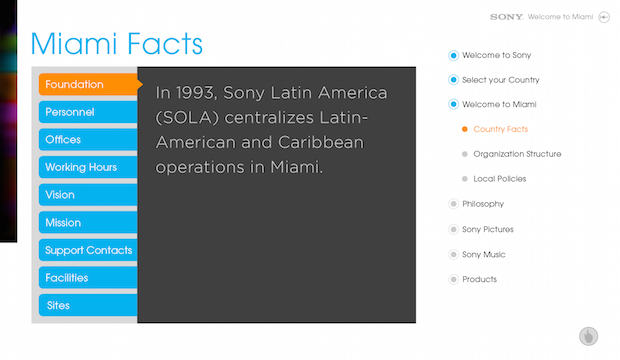 Example screen for a Miami-based employee
The other piece that was hard to maintain, according to Fajardo, was the org chart. "They get outdated quickly as executives move from one place to another," he says. "We built a small content management system with all org chart information based on function. It is a very visual org chart that is always current.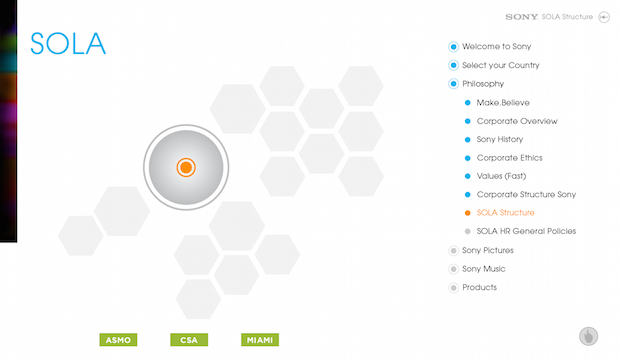 Unique interactive presentation of Sony org chart
The app includes information about all of Sony's divisions, including entertainment. All products for the consumer division, for example, are listed in one place with key features of each product by category. "This makes it so much faster and easier for employees to get their hands on vital product information," Fajardo adds.
Positive Response
According to Fajardo, the feedback is that the Sony Latin America HR team and its employees are thrilled with the app, saying, "They can go through a rich on-boarding experience, and can do so using Sony technology. They find it unique and inspiring; not many companies have yet implemented this type of on-boarding process or even think about how mobile impacts the HR environment."
Existing employees are also using the app, sometimes as a refresher, when looking for specific information, or when a policy or other document has been updated. The app is enabled for push notifications so that all employees are notified when updates have been made.
Not a Static Environment
Fajardo and his team are working with Sony Latin America on an ongoing basis to keep the app fresh. "It's been live for 2.5 years," he says, "and we've done a refresh about every seven to nine months."
Beyond Sony
Mirum is taking this concept to other clients and industries, as well as other functions within Sony, having built a similar app for recruiting in the automotive industry as well as an employee onboarding app that it's under development for its parent company. "The biggest opportunity is in training," he says. "We are working with a university where course materials are delivered through a DPS-based online training system, and we are pushing that model into corporate training as well. We can ensure security and compliance; based on the individual user's credentials, they only have access to certain courses and their progress through those courses is tracked. DPS is a very rich solution that can solve many challenges and add new capabilities, especially in the HR arena."
What About Your Customers?
As we have written before, digital publishing tools like Adobe DPS are a natural add-on for print and marketing services providers. It allows them to add unique customer value, deepen customer relationships and add incremental—and recurring—revenue streams. What's not to like about that?
And even better, now we have proof points that this type of offering extends into a very wide range of disciplines, from digital magazine or catalog publishing to sales enablement, training, and employee on-boarding and engagement. I'm sure our creative readers will find lots more areas where this technology can be applied. If you do, let us know!