In recent years, Adobe has been criticized from certain quarters that it has taken its eye off the ball with respect to print in favor of digital media, market research and other endeavors. The recent launch of APPE3 proves otherwise. Behind the scenes, Adobe has quietly been working on the next generation of RIP architecture and workflow to ensure that its OEM partners have access to the latest and greatest technology to enable digital printing capabilities to continue to move forward.
Sherburne and Zwang have spent time with Adobe reviewing this announcement and discussing its potential impact on the market. And it is an important topic considering that, according to Adobe, and cited in an IDC white paper provided to WhatTheyThink by Adobe, more than 90,000 systems around the globe are based on the Adobe PDF Print Engine and are used in live production. IDC states, "This latest release demonstrates Adobe's ongoing innovation and leadership in print, which goes back to its founding in 1984." APPE has been implemented across various industry segments, including CTP, digital presses and large format printers.
APPE3 can be deployed with what Adobe is calling the Mercury RIP Architecture. Adobe users will recognize the Mercury brand as denoting performance in the world of Adobe branding. According to Mark Lewiecki, Sr. Product Manager for PDF Print Engine, The Mercury RIP Architecture is a new scalability framework. The core libraries in APPE3 are in alignment with Acrobat XI and those used in the Adobe Creative Cloud applications. This ensures a predictable end-to-end Adobe workflow where all elements—create, manage, print—share the same common core technologies. The Mercury RIP Architecture uses 64-bit processing and parallel page/surface rendering across multiple instances of the Adobe PDF Print Engine. It dynamically coordinates and manages those processes in real time. "No CPU cores should ever sit idle while there is work to be done," Lewiecki adds.
There are two driving factors behind why Adobe OEM partners are anxious to implement APPE3. First, it is designed to excel with graphically complex jobs. As capabilities of print engines continue to grow and designers increasingly take advantage of the creative tools at their fingertips, files submitted for digital printing are growing larger and more complex. APPE3 ensures that RIPs will be able to keep up with this growing complexity, ensuring optimum utilization of APPE-driven print engines. Adobe claims that APPE3 is the fastest RIP on the market for complex graphics. More about that later.
Secondly, there is a growing amount of variable data printing taking place, and that is another cycle-consumer in the RIP workflow. The Mercury RIP Architecture, with its support for PDF/VT, which is emerging as a leading PDL for variable data printing, ensures that heavy-duty variable data projects will also not bring costly digital presses to their knees. The Mercury RIP Architecture enables shared caching across multiple instances of the RIP for VDP jobs, further speeding them on their way to completion. It allows for an "OPI"-like handling of assets that allows printers to maintain common pre-RIP elements across and within jobs for faster performance and greater consistency. In addition, support for "streaming" with PDF/VT-2s means that rendering can begin while the variable data job is still being composed, resulting in a fast time to first page out (a.k.a. "gallop" or "click to clunk"), and greater overall throughput.
Mercury is also unique in its ability to support multiple presses, as compared to today's one-RIP-to-one-press model. Lewiecki adds, the Mercury RIP Architecture can go beyond the model of a dedicated front end for each device. In the future, you could augment the system resources in your "RIP farm," if needed, to support new devices you may add."
Load balancing features have also been enhanced. The system is smart enough to reallocate system resources to balance short rush jobs with longer jobs, on the fly, as they come in, making the best possible utilization of appropriate and available output devices.
Printing Industries of America Testing
Adobe recently commissioned a set of test suites from the Printing Industries of America for performance testing of APPE3 and the Mercury RIP Architecture. The testing was overseen by IDC, and the results are reported in an IDC White Paper published today, available on the APPE product page. The test suites are comprised of a blend of job types covering publication, commercial, and VDP.
The testing configuration included APPE3 with the Mercury RIP Architecture running Windows 2008 Server R2 (64 bit) on an HP Proliant DL360 G7 with 2x6 core Intel Xeon X5670 3.07 GHz processors and 12 GB RAM. It was RIPed at a resolution of 600 dpi.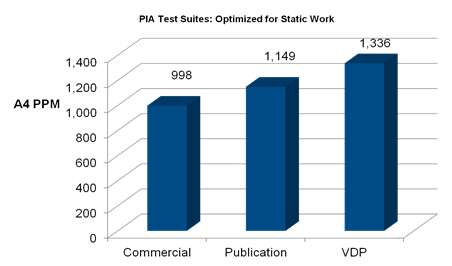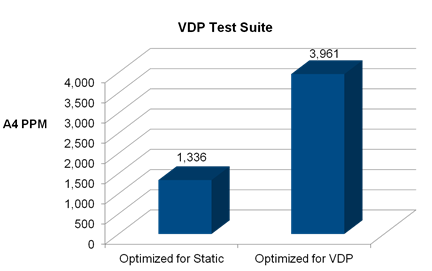 Source: IDC
As you can see in the graph above, in preliminary testing APPE3 performed impressively throughout the work mix. The graphically rich and complex Commercial pages ran at an impressive rate. And there shouldn't be any question about keeping up with high performance digital presses running variable data jobs.
Our Take
It will take some time for Adobe APPE3 to begin appearing in Adobe OEM partner offerings, perhaps in the 6- to 18-month range, although we will be watching for potential earlier announcements. Manufacturers who have already signed up to implement APPE3 include EFI, Kodak (NexPress), Screen and Xeikon.
The Mercury RIP Architecture adds another dimension to APPE capabilities. We expect to see most, if not all, Adobe digital press partners incorporate APPE3 into future products. This will benefit digital printers and their customers for the reasons stated above, and allow them to take their productivity to new levels. It is especially interesting that, where print service provides run several digital presses side-by-side, Mercury's "RIP farm" model may eclipse the familiar one-RIP-to-one-press model, and it will be interesting to see how the various OEM partners choose to implement in this regard. This functionality has the potential to help streamline the disparate equipment workflows that exist in most production plants.
While clearly Adobe—and most of the world—has its eye on the mobile/digital communications world, the company is certainly not abandoning its print heritage, and in fact, has taken a major step forward with this announcement.
For more information, visit Adobe's blog discussing these developments.