At Dscoop7, I ran into an old friend of mine, Bob Raus, now working for HP as the Americas Category Manager for HP SmartStream Workflow and Solution Partner Programs. He shared this great story with me and I thought our readers would enjoy it.
The story really starts today and loops us back to 1987 with a series of serendipitous events. Shai Lior, long-time HP Indigo employee, was recently appointed as an HP Fellow, one of only a handful of people that have achieved that recognition and the first from HP Indigo. Bob Raus sent Lior a congratulatory note and learned that they had both been affiliated with DX Imaging, a DuPont/Xerox joint venture, back in the late 1980s—Raus as a new college graduate and Lior as the technical liaison to DX Imaging from 1987 to 1991. So what was DX Imaging?
Comprised of nearly300 DuPont, Xerox and new hire employees, DX Imaging was a DuPont/Xerox joint venture that existed from 1987-1991. The company was formed to create an Electrostatic Master Proofing (EMP) offset proof press utilizing electrostatic imaging and liquid-ink technology based upon technology developed by Benny Landa. This same technology is the foundation of HP Indigo digital printing presses today. Keep in mind that this occurred six years before Landa announced the Indigo press at IPEX 1993.
The EMP machine developed by DX Imaging produced "proof prints" of offset plate color separations. Printed within 10 minutes versus several hours on an offset press – and at the equivalent of 2400 dpi - the prints were high quality, accurate, full-color printed proofs of offset jobs. The proof was typically reviewed and approved by the end-customer (advertising agency, etc.) before a full offset press-run was sent to production.
What was really amazing is that Raus still has sample prints from the pre-production product, which he and his father (also a DX Imaging employee) have kept over the years (and through five moves!). Bob brought several of the prints to Dscoop7 at the request of HP Indigo GM Alon Bar-Shany. I was able to see these prints, and the quality was absolutely amazing, especially considering their age. They are still vibrant and beautiful, no fading or yellowing or any signs of aging.
At the closing Dscoop7 cocktail reception, Raus caught up with Bar-Shany to show him the prints. Bar-Shany looked at the images and heard the story about DX Imaging from Raus, and then said, "Wait here." The HP Tech Con conference had serendipitously started earlier that day – at the same hotel as Dscoop7! There are only two ways to attend Tech Con. 1) be chosen to present a paper, and 2) be a research fellow. As HP's newest research fellow, Shai Lior had arrived at Tech Con a few hours earlier that same day. . After a few minutes, Bar-Shany returned with Lior, and a quarter-century loop was closed, as you can see in the image below, with Raus and Lior holding up one of several sample prints.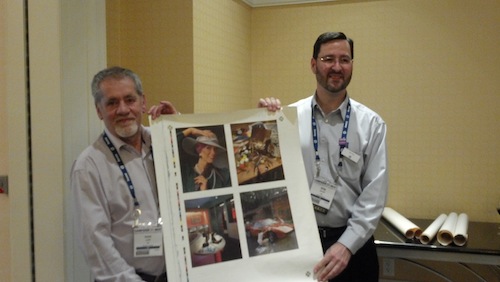 I did a little research on DX Imaging (whatever would we do without Google?) and found a few things:
On the Xerox site, there is a bio of Dr. James Larson, who was a founding member of DX Imaging. That fact is just mentioned in the bio, with no particular significance attached to it.
A 1987 news article from the Philadelphia Inquirer touting the fact that this JV was looking at locations in Chester County, Pennsylvania, and expected to employ 200 people within a year (as Raus points out, it grew to nearly 300).
James E. Shapiro, former President and CEO of DX-Imaging has written several books about joint-ventures, including "And Then the Vulture Eats You" from 1991.
Ultimately, the project was abandoned. The companies were reluctant to spend an estimated $30 million to build the production plant that would be required to bring the product to market.
Now circle back to today. What do you suppose might have happened had DuPont and Xerox brought EMP to market back then? There are so many possibilities … HP Indigo may never have seen the light of day; Xerox may have brought liquid toner to a broader market and along with it the first "digital offset press." Kodak Approval and MatchPrint, along with some of the other early digital proofing solutions might not have reached the level of market share they ultimately did. Is this a case of lost opportunities or is it something that really doesn't matter? It's all speculation, of course, but it is a fascinating story, and the dated print samples validate the story—and the quality of the imaging, which could probably not have been achieved by any other digital technology back in its time, is amazing. Perhaps the outcome of DX Imaging, even though it never brought a product to market, spurred Landa on to ultimately bring Indigo presses to market.
And now, of course, Landa is back. We hope to speak with him at drupa 2012. We will be attending his pre-show press conference on May 2nd, where he will unveil yet another new technology, the Landa NanoGraphic Printing process, which he claims is a game-changing technology for mainstream commercial, packaging and publishing markets. Will it be? I guess we'll find out.
I hope Raus and HP find a place to preserve this little piece of history so that it can be more widely available and not lost to time!