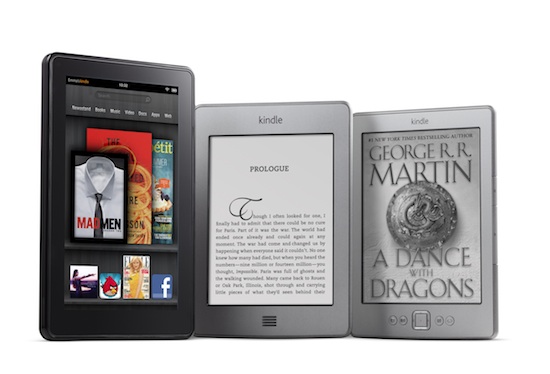 The new Kindle family, from left: Kindle Fire, Kindle Touch (available in two versions), and Kindle.
"Let the fervor begin." With those encouraging words, Amazon founder and CEO Jeff Bezos unveiled four aggressively priced content delivery devices: one, a multimedia tablet aimed squarely at Apple's market-dominating iPad; the other three, the latest iterations of Amazon's popular Kindle e-reader.

Also new from Amazon was a software product no less technically impressive than the devices: Silk, a dedicated web browser said to speed page delivery by splitting off parts of its work for processing in Amazon's mighty computing cloud.

Bezos and other Amazon executives demonstrated the new offerings before several hundred journalists and analysts at a press conference in New York City on Wednesday (9-28). They emphasized that the new items, set to ship in time for the year-end holiday rush, demonstrated Amazon's commitment to delivering "premium products at non-premium prices."

Amazon also treats the sale of every device as an opportunity to provide, Bezos said, "end-to-end service" with automatic archiving and other customer-pleasing features.
A Bite at Apple
At the top of the line is a first-of-its-kind product for Amazon: Kindle Fire, a $199 tablet with a 7", full-color LCD screen, a 1-GHz, dual-core processor, and access, the company says, to 18 million pieces of purchasable content in the form of movies, TV programs, music, books, periodicals, games, and apps.

Amazon says that the IPS (in-plane switching) technology of Kindle Fire's LCD display delivers a rich viewing experience in 16 million colors at a screen resolution of 169 pixels per inch. A cable-less feature called Whispersync lets users coordinate their viewing of video content on Kindle Fire and other devices such as large-screen TV sets. Subscribers to the Amazon Prime delivery service will be able to stream 11,000 movies and TV programs, according to the company.

Like the Kindle e-readers, the 14.6-oz. tablet is personalized via pre-registration to the owner's account at Amazon, enabling the user to access content previously purchased there. This material, along with new content, is automatically backed up to the Amazon cloud so that it can be retrieved even if deleted from the device.

At $199-a price $300 below that of Apple's least expensive iPad-Kindle Fire is "an unbelievable value," Bezos said.

In certain technical respects, however, the Kindle Fire falls short of the Apple product. Unlike the iPad, the Kindle Fire doesn't come with a built-in camera or a microphone. It has a smaller screen (7" vs. the iPad's 9.7") and is limited to 8GB of on-board memory.

Available to order now, the Kindle Fire is scheduled to begin shipping on November 15.
The Book, Reinvented
"Four years ago, we set out to reinvent the book," said Bezos of Amazon's signature consumer electronic device, the Kindle e-reader. The company has paid close attention, he added, to the market's eagerness for a Kindle with a $99 price point-a wish that has been granted with the launch of the $99 Kindle Touch and exceeded with the release of a new, basic Kindle for $79. A 3G version of the Kindle Touch has gone on sale for $149.

With their monochrome e-ink screens, Kindles are for perusing and storing books, magazines, newspapers, and documents that do not have rich multimedia content. The advertised selling points of the new versions, besides their lower prices, are compactness, convenience, and ease of use.

The EasyReach feature of the "tap zones" in the screens of the Kindle Touch permits buttonless, one-handed navigation by lefties as well as righties, Bezos said. Another enhancement, called X-Ray, adds volumes of searchable reference materials to each book purchased-historical data, character sketches, and other cloud-stored tidbits that let readers, as Bezos put it, "look at the bones of a book" via links to pre-selected words and phrases.

November 21 is the planned shipping date for the $99 Kindle Touch, with Wi-Fi connectivity; and for the $149 version, which also bundles a free 3G connection that will work, according to Amazon, in 100 countries around the world.

$79 now buys a pocket-sized Kindle without the touch-screen interface but with an ultra-lightweight (5.98-oz.), ultra-compact (18% smaller than Kindle Touch) design that Amazon hopes will appeal to book lovers on the go. It features the same 6" screen as the Kindle Touch and is said to turn pages 10% faster than previous models.

At $79, $99, and $149, said Bezos of the e-ink Kindles' new pricing structure, "we're going to sell many millions of these."
Browser with a "Back End"
Free of charge to buyers of Kindle Fire is an unusual new browsing technology called Silk, which works only on that platform. Bezos introduced it by showing a screen shot of Amazon's first Web page from 15 years ago-a bare-bones, 10-kb layout containing only a sliver of the content delivered by most Web pages today.

Recognizing that this burden of data tends to slow down page rendering on mobile devices, Amazon has designed Silk to split the processing overhead between Kindle Fire and Amazon EC2, its "Elastic Compute Cloud." In this arrangement, EC2 acts as a back end to the portion of Silk that operates as a front end in the device.

EC2 thus serves, Bezos said, as a "virtually limitless cache" where powerful cloud servers can take care of the heavy-duty chores of page building and delivery as requested by Silk from the Kindle Fire. Page content then is optimized for what Amazon says will be accelerated delivery to and display on the device.

Silk's story is told in more detail at http://amazonsilk.wordpress.com. Complete specifications for the Kindle devices can be found at www.amazon.com/kindle.