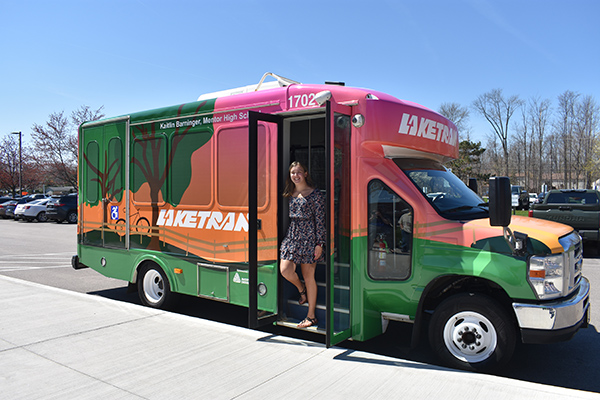 For a teenager who loves to draw and paint, seeing one's work displayed prominently in public is exciting enough—but when it's displayed on the side of a bus, that's something else entirely. Such was the excitement felt by Kaitlin Barninger, a senior at Mentor High School in Mentor, Ohio, who won this year's Design-a-Bus-Wrap student art contest held last spring by Laketran, Lake County, Ohio's public transportation agency and sponsored by Avery Dennison. Lake County is located in the northeast part of the state on Lake Erie.
Laketran launched the contest three years ago, which is open to middle and high school students living and/or going to school in Lake County. One of the aims of the contest was to use county buses as a way to make public spaces more visually appealing.
"There are a lot of public spaces that have the opportunity to showcase artwork, so that was something that Laketran wanted to do with the public spaces on their buses," said Julia Schick, Director of Communications for Laketran. "It was also a way that we could reach high school-aged students and provide an opportunity for them to engage with public transportation." Lake County is predominantly a car-centric, suburban community, "but we want high school kids to think about transit as an option to get around."
The contest has been growing in popularity. "The first year, we got about 40 entries, then 75 last year," said Schick. "This year, we got 147 entries. We work with all of our local schools to get entries and we have a panel of judges."
"When [the contest] first started, I thought it was pretty cool that you could put your artwork on a bus, but then I found out that we were going to do a similar a project in my art class," said Barninger. "That really motivated me to want to try even harder and actually get my design to win."
The theme of the contest is "A Greener Lake County," which Kaitlin associated with bike rides and sunsets. "I've always liked riding bikes and have biked through many of the metro parks like Veterans Park, so I thought what's a better way to promote a greener Lake County than riding a bike," said Barninger. And, she added, "I've always loved sunsets and I have thousands of pictures of sunsets on my phone, so I thought I'd use one of them and took the idea off of that. Then on the back of the bus I have a row of flowers to connect both sides of the bus because on the other side I have the lighthouse and the lake." She also hoped that the color palette of a sunset would also help her entry stand out from the others. "I figured a lot of people would stick with a traditional blue sky background, but my idea to stand out was to include the sunset and bright colors," Barninger added.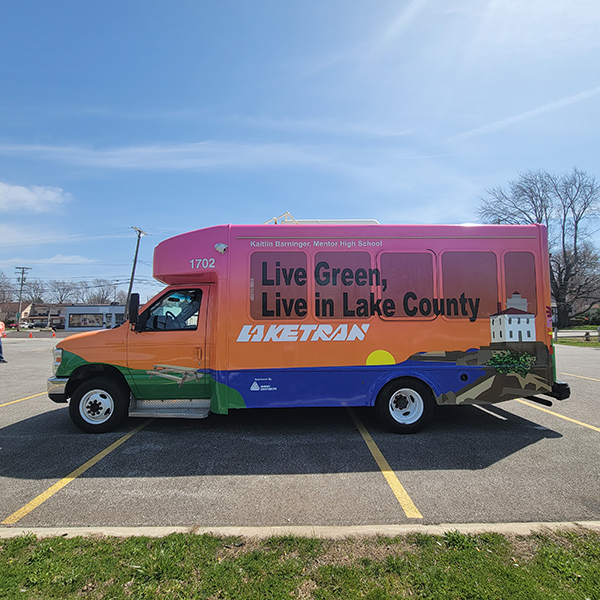 Her gambit paid off. "We're a suburb that's located along Lake Erie and a lot of the entries do involve the lake, especially when you're talking about places that are iconic in our community," said Schick. "What was unique about hers is we usually see blue skies and she did it at sunset, which definitely brought out some vibrant colors, some pinks and oranges, and that really is what made her design stand out."
One bus in Laketran's fleet is wrapped with the winning design, which stays on the bus for a year.
Avery Dennison Graphics Solutions, which is itself based in Mentor, Ohio, has sponsored the contest from the beginning and provides the wrapping material—specifically, Premium MPI 1105 Easy Apply RS wrapping film with DOL 1360Z optically clear overlaminate. Avery Dennison has a long relationship with Laketran and the county at large. "We've been quite involved in the community given that we are based in Lake County, so [the contest] was something that we've engaged in over the years and it's a really great, wonderful cause to support for us," said Abby Monnot, Sr. Business Director/GM, Avery Dennison Graphics Solutions. "We impact other things throughout the year like United Way and other activities that we do for downtown Cleveland. We've done projects for school safety using our window films materials. So there are a lot of things we do for the surrounding community outside of the bus project."
"Laketran has wrapped other buses and we always try to shop local as we're funded by local sales tax dollars and we try to use Avery Dennison vinyl on our buses as well," said Schick. "We put out a call for entries the first year we held the contest and [Avery Dennison] reached out to us. They said 'We want to support this,' and they provide all the vinyl free of charge."
The company that output the final bus wrap is also an Avery Dennison customer: Akron-based Repros Color, which donates its services each year for the Design-a-Bus contest. Repros started as a blueprint shop and expanded into wide-format printing and display graphics, including vehicle graphics. For the output of the Design-a-Bus wrap, they used an HP Latex 3000. Installation was performed by Repros' installation team at its Broadview Heights install facility.
Repros was also part of the judging panel, and (as you would expect from a print provider!) had a different set of criteria in addition to aesthetics. "We got 10 entries to select and we reviewed which was the best one," said Carlos Caudillo, Repros Customer Support Representative, who oversaw this year's contest. "We were considering if the file was print-ready or how the layout will work with the different areas of the bus, like the gate or the windows." No worries there, said Caudillo. "She did a great job setting up the file." Barninger had created the design in Illustrator—which she had just started learning—using bus templates provided by Avery Dennison.
Barninger's installed design was unveiled in a public ceremony last April. "I was looking forward to that," she said. "I was counting down the days!"
By all accounts, the Design-a-Bus wrap contest will continue next year.
"Every year, it's really nice to work on this project and we look forward to doing one of these projects again," said Caudillo.
"We thought it would be a great opportunity to not only engage future transit riders or younger students, but we're always also looking at ways that we can put artwork on our assets to make public spaces look prettier," said Schick.
It also opened Barninger's eyes to vehicle graphics. "Now that I actually see that my design is on the bus, I look at all their buses or other trucks and I'm like, that's kind of cool—now I see how they're designed," she said.
Although she has always loved art and drawing, her career aspirations are in STEM disciplines, and she is off to University of Cincinnati where she plans to major in engineering. "I like the CAD aspect of engineering, which is like that design work," she said.