Your Friday Border Collie Trying to Play Frisbee with Abraham Lincoln
FIT to Be Tied
Says Behind the Seams:
When MIT and the Fashion Institute of Technology (FIT) joined forces to advance textile research and to develop and employ sustainable fabrics of the future, they found that their work was so synergistic that they were compelled to write an instruction manual about their multi-year partnership so that other organizations could replicate their process and benefit from their work.
Faster Fashion
We've all heard of "fast fashion," cheap trendy clothing that gets discarded almost immediately and is largely responsible for the textiles and apparel industry's terrible environmental record. However, we now have "faster fashion," which is a good thing.
This informative PlatformE blog post highlights the ways in which on-demand production of fashion is taking hold. Faster Fashion is different from Fast Fashion. The former is sustainable; the latter is not!
When "fastest fashion" comes out, it's going to be incredible.
Cool Shoes
Was it a good week for graphene news? It's always a good week for graphene news! Startup company SensFit Technologies has developed a "smart shoe" with graphene-enhanced inbuilt sensors, which is designed to, says Graphene-Info, "improve the quality of life of older people through the early detection of dementia, diabetic ulcers and other physical activity issues."
The unique technology is based on 87 smart sensors bonded with an innovative graphene ink that is embedded in the soles of a shoe….The innovative sensor technology picks up the pattern of movement imprinted in the shoe. Proprietary AI algorithms analyze the data. In doing so, the shoe conducts a neurological assessment, helping users to understand and respond to the onset of health problems such as dementia, diabetic ulcers or the likelihood of a fall. This can lead to early treatment for conditions that may not have been detected otherwise.
The Door of Perception
wtf our fridge just emailed us to say we opened its door too many times in the past month pic.twitter.com/MPa2cPHhCC

— Dan Hon (@hondanhon) September 9, 2021
The Rate that Refreshes
We frequently mention—here at Around the Web as well as in proper stories—E Ink, the original electrophoretic e-paper technology used in the first-generation Kindles and e-readers. The technology took a hit when LCD-based tablets like the iPad hit the market, but E Ink technology not been sitting still. Color was added to E Ink displays some time ago, and the size has increased such that "e-paper" can be used in some digital signage applications. One of the sticking points for E Ink displays, however, has been video, as the screen refresh rate has typically been far too slow to support video.
Until now (perhaps).
Via Gizmodo, TCL this week announced a new technology, NXTPAPER, which could be a solution.
TCL's press release is a little confusing,
So, like any press release. (And the above link is dead already.) We continue.
As it appears to compare NXTPAPER both to E Ink's displays and to traditional LCD displays that you find in most tablets and phones today. But by all accounts, the technology used in NXTPAPER sounds like e ink technology. The press release claims it will be 36% thinner than LCD displays and 65% more power-efficient—which lines up with the gains you get from e ink.
No further mention of video in the article, but they did offer an update on what E Ink itself has been up to, which has been continually improving its own color displays. "E Ink promised to at least double the resolution to 200 PPI by 2021, with a goal of hitting 300 PPI—the resolution of high-end LCD and monochrome E Ink displays—at a later date."
Unless the TCL technology wildly boosts refresh rates, electrophoretic display technology will not be able to support video. Not that it needs to…it's a perfectly fine technology for more or less static applications like books and even signage.
Big Screen
LG now makes a 2,000 pound TV that costs $1.7 million https://t.co/DG5sfsj0v3 pic.twitter.com/JVAhnW3wnd

— The Verge (@verge) September 15, 2021
Keeping Packaging in the Loop
There was a time—and this may still exist in some places (like the UK, at least as of 10 years ago)—when product packaging was owned by the vendor of the product, and the customer would return the packaging when it was empty. Milk and soda bottles were the emblematic example of this. Every week (or however often) the milkman would deliver fresh milk in glass bottles and take away the empties to be cleaned and reused. Alternately, there were shops that sold soda in glass bottles. The customer would then return the empties, which would then be cleaned. This idea flew the coop when plastic, single-use packaging became popular (and the milkman went extinct).
Now, via Core 77, a startup called Loop is trying to revive this idea of vendor-owned, reusable packaging by providing a service that manufactures, cleans, and restocks packaging—and more than just bottles.
Loop has partnered up with large chains like Kroger and Walgreens in the U.S., and ten Tesco supermarket stores in the UK. To use the latter as an example, here's how it works: Customers in the store can select from a range of over 100 products—including staples like pasta, rice, oil and sugar, as well as name-brand products like Heinz ketchup, Tetley tea and Coca-Cola soda—and purchase it in Loop-designed packaging right off the shelf.
Customers pay an additional refundable deposit of £0.20 (USD $0.28) for each package. Once they've consumed the product and emptied the packaging at home, they bring it back to the supermarket and deposit them in a Loop collection kiosk. Their deposits are refunded a few days later, via an app. And for those who don't feel like loading containers into the box one-at-a-time, they can also grab a Loop Returns Bag (also for a deposit), fill it with used Loop containers, and drop the bag into the box.
Those dirty containers, meanwhile, go to Loop partner Ecolab, a cleaning and hygiene services company. Once cleaned they're sent to a Loop warehouse and refilling facility. DHL handles the trucking in between.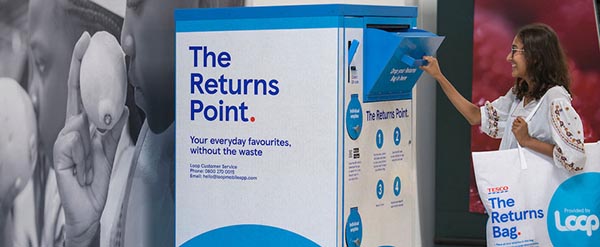 Brilliant!
It's a Cookbook!
Atlas Obscura had an interesting story about Morris Press, a Kearney, Neb.-based printer/publisher that specializes in "community cookbooks."
According to Don Lindgren—an antiquarian bookseller currently editing a multi-volume encyclopedia on the genre—community cookbooks are usually recipes collected by groups, such as churches, schools, and social clubs, organized into a book, and sold to raise money. They're also known as fundraising cookbooks, charitable cookbooks, church cookbooks, or, simply, "those spiral-bound books," Lindgren says.
…[T]he history of American community cookbooks stretches back into the 19th century. Lindgren cites Nantucket Receipts, a Boston cookbook published in the 1870s to raise funds for a local hospital, as the country's first community cookbook. He attributes the birth of these hyper-local publications to advancements in printing technologies and kitchen tools that expanded the range of what cooks could make at home.
Morris Press was founded in the 1930s as a small printer and office-supply store and is today run by Ryan Morris, the fourth generation of his family to run the business. They're a pay-to-publish business, with a vast and diverse catalog.
At more than 60 million books printed and 150,000 unique titles published, "you name it, I've seen it," Morris laughs. They've published cookbooks by soap opera stars, the Chicago Bulls, and even a collective of gay clowns in San Francisco.
…[N]early every social group in the United States has published a community cookbook. In her 24 years working as a proofreader and running the Morris Press in-house bookstore, Cindy Schneider has seen, and sold, books by everyone from cemetery associations to quilting clubs. "I have a warped sense of humor," she laughs as she shows me From Our Solid Waste Family to Yours, a cookbook published by a Texas sanitation department.
It's an interesting story of changing printing technology and the evolution of the community cookbook.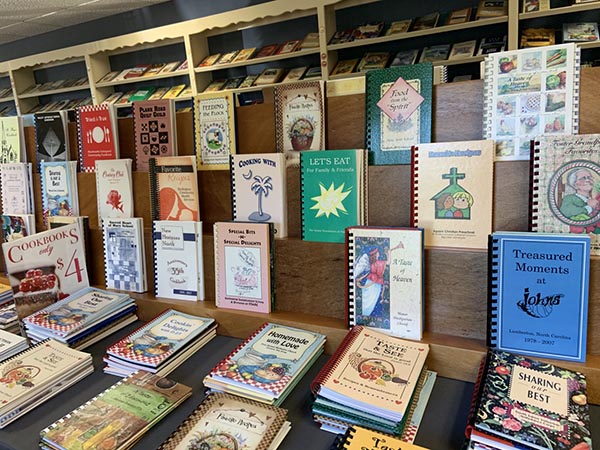 Photo by Sam O'Brien for Gastro Obscura.
Common Denominator
Creativity. https://t.co/X4juVI1zQe

— (((Joshua Malina))) (@JoshMalina) September 15, 2021
Bean…Oh!
Apparently, via Boing Boing, in Yorkshire in the UK, there is another new social media challenge making the rounds of apparently bored teenagers. Called "beaning," it apparently involves dumping a can of baked beans on people's doorsteps. Of course, it has to be video recorded and uploaded to social media. Adds the Yorkshire Post, "Officers have urged shop workers to be aware of youths buying large quantities of cans of beans, and for parents to watch out for their children removing cans from the kitchen."
Boing Boing also adds, "Like the decades-old practices of toilet-papering and egging houses, the trend seems to accomplish little more than waste perfectly good things and inconvenience neighbors."
Boing Boing also cites some other even more ridiculous social media challenges, such as the cinnamon challenge (record yourself eating a spoonful of ground cinnamon in less than 60 seconds without drinking anything), the Tide Pod challenge (record yourself eating a Tide Pod), the Kylie Jenner Lip Challenge (frankly, we don't even understand this one), and the inexplicable condom challenge ("inserting a latex condom into a nostril and snorting it into the nasal cavity and back through the throat to be pulled out of the mouth"—we need better sex ed in this country, because that's not how they work). Then of course there is Beezin' (apply Burt's Bees lip balm—often menthol or peppermint flavored—to one's eyelids) and the latest thing, the milk crate challenge, finding new and creative ways to injure oneself for the amusement of one's peers.
Monkey Business
Not a million miles removed from teenage social media challenges is the whole NFT phenomenon—think of it perhaps as teenagers with money. From The Verge: "a bundle of 101 NFTs from Bored Ape Yacht Club just sold at Sotheby's for $24.4 million. A second bundle of 101 Bored Ape Kennel Club NFTs sold for $1.8 million."
The initial collection contained 10,000 apes, semi-randomly generated in unique arrangements of sailor hats, eye patches, bone necklaces, stud earrings, and other accessories to dress them up. Ape owners get to be members of the titular club, which is supposed to provide various benefits (so far, that's mostly been access to exclusive merch drops, bonus NFTs, and use of an online graffiti board).
OK, then.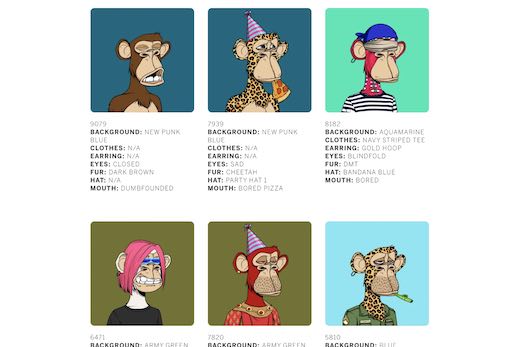 Writer's Block
Show us your writing process with one image. https://t.co/0QqwYctWfy pic.twitter.com/jmdxcC57sE

— Marc Bernardin (@marcbernardin) September 10, 2021
Torquemada
If you have ever had the experience of trying to remove an old corroded screw—a process which usually starts with WD-40 and a screwdriver and quickly devolves into getting out the drill and attacking and destroying the screw with extreme prejudice—you may be interested in the new Screw Biter Impact Extraction Screwdriver from Crescent Tools. Says Gizmodo:
When the screwdriver is aligned with the problematic screw, all you need to do is strike its steel endcap with a hammer. The force of the blow activates the Screw Biter's internal mechanism with turns the shank 12-degrees with more torque than could ever be produced by turning the screwdriver by hand. It's a small amount of rotation, but with a tremendous amount of force that should be more than enough to break a screw free, allowing it to then be easily unscrewed the rest of the way by hand.
Pricing and availability haven't been announced but the Screw Biter (Googling that wasn't as disturbing as we were expecting) will be available in both Phillips #2 and quarter-inch slotted styles.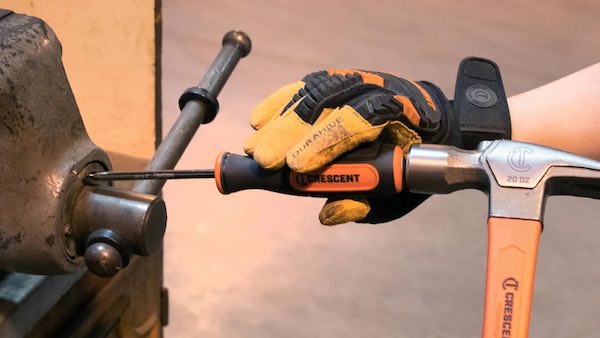 Resistance Is Futile
"We are going to make this happen whether you like it or not" https://t.co/1yKGMy2ngZ

— Internet of Shit (@internetofshit) September 10, 2021
Shed Tears
Have you been abruptly forced to work from home thanks to the pandemic (or other reason, perhaps)? And do you lack the space for an office? A Japanese homebuilder is attempting to solve this problem by developing a small, exterior home-office structure that can be built in two days. Says The Guardian:
The so-called Hanare Zen is a 91cm-wide and 1.8 metre-long building equipped with power sockets, a counter-type desk and very little else.
KI Star Real Estate, a popular housebuilder, began taking orders for the Hanare Zen on 6 September, hoping to find a market among those struggling to work in cramped homes.
Hanare means separate or detached in Japanese, while Zenzen is written in both the Chinese character for Zen Buddhism and the alphabet.
One look at the structure and it's obvious that the Hanare building had originally been designed as a storage shed (if not an outhouse).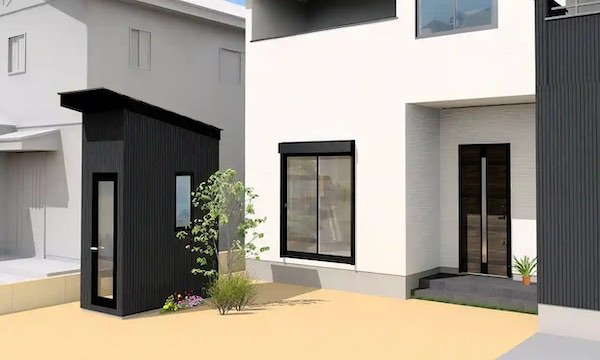 It would be even better if they were modular, so if you needed a bigger office space (or room to breathe) you could connect more than one together. Although, since one goes for 547,800 yen ($4,994.23), maybe more than one would be a bit much.
Panic
Every room is a panic room if you're in the right mood.

— A.R. Moxon (@JuliusGoat) September 13, 2021
"Warriors…Come Out and Ru-u-u-un!"
Are you an avid distance runner? And are you a fan of the 1979 cult movie The Warriors? Well, in a recent road race, you could combine them. Via The New York Times, last month was the Third Annual Warriors UltraRun, which consists of a 28-mile overnight, underground run that recreates the "escape route" depicted in the movie. There was a 1am "conclave" in The Bronx, and then runners—dressed as gang members—race to Coney Island, passing some of the iconic locations seen in the movie. This year's event drew 90 runners, some from as far away as California.
These 90 runners were either fans of "The Warriors" or acolytes of Todd Aydelotte, who calls himself the world's only "historical ultrarunner." Mr. Aydelotte, who works in public relations and is originally from Rochester, N.Y., first staged this quasi-legal marathon in 2019 with about 30 participants. In doing so, he became a hero among the East Coast subset of ultrarunners, a subculture that primarily exists on the other side of the country.
We love this:
His first themed run was a homage to Edgar Allan Poe that he did by himself. Mr. Aydelotte loves history, and his idea grew out of a Poe binge. "I studied his wife," he said. "I read a biography. He had a horrible relationship with his dad and was a terrible alcoholic. I filled my brain." He pored over old newspaper clippings and topographical maps, eventually planning a 23-mile route tracing the poet's life in New York. Then came races themed around P.T. Barnum, the inventor Nikola Tesla and Theodore Roosevelt, to name a few.
Most of the long runs Mr. Aydelotte did in the past were intensely personal and akin to religious experiences, but he decided to open up the "Warriors" run to anyone. This one was intended to be fun. Participants had to sign waivers acknowledging the inherent risk involved in running through New York City in the middle of the night while dressed as a gang member, but that was mostly a formality. The idea of drunk 20-somethings spilling out of Bowery bars at closing time and into a scene from a B-movie was hilarious to him.
There will be a 2022 race, although the date has not been announced yet.
A Touch of Frost
Two roads diverged in a yellow wood
Each accessible for a monthly fee of $6.99
But for a mere $10.99 you can bundle both roads
And enjoy unlimited access
To all your favorite yellow wood content

— Joseph Scrimshaw (@JosephScrimshaw) September 10, 2021
The Toy Job
This has all the makings of a potential Pixar animated heist film, torn from today's headlines: "Van Rams Into Toy Store In Dramatic Pokémon and Lego Heist," says Vice.
At 9:30 on a Friday night, a white van crashed into the Voorburg branch of Dutch toy store chain Intertoys. Thieves successfully made off with…" an unspecified number of Lego and Pokémon products." OK…
The manager of the store told Dutch media that the thieves were out for the store's Pokémon and Lego collection. In April, Motherboard reported on how the surging Pokémon market has led to absurdly high prices, especially in the "graded" card market. Since Lego only manufactures sets for two years, its products are popular on second-hand and collectors markets where rare sets can sell for thousands.
The story just gets better.
It is unclear whether the attack has any connection to the so-called "Polish Lego Gang," a group of international toy thieves who French police have been on the hunt for since 2019. In 2021, two members of the gang were arrested and later told police they were part of a group that specialized in stealing sets that would fetch high prices on the collectors market, according to The Guardian.
Someone's got to make a movie of this. Screenwriters, to the keyboards!
We Are Not Here
Did you know that the Internet is dead, and has been for the past five years? Yep, the joke's on you, because all of us here at WhatTheyThink do not exist. We are just bots and bits of AI. It kinds of seems obvious in retrospect, though, doesn't it?
Anyway, that is apparently the latest conspiracy theory, as identified in this recent Atlantic feature. "Dead-internet theory"—which is apparently growing—posits that the internet has been almost entirely taken over by artificial intelligence. The latest iteration of the theory is spelled out (well, spelled out by someone who can't spell) in an Agora Road post called "Dead Internet Theory: Most of the Internet is Fake" by a user named IlluminatiPirate.
the post suggests that the internet died in 2016 or early 2017, and that now it is "empty and devoid of people," as well as "entirely sterile." Much of the "supposedly human-produced content" you see online was actually created using AI, IlluminatiPirate claims, and was propagated by bots, possibly aided by a group of "influencers" on the payroll of various corporations that are in cahoots with the government. The conspiring group's intention is, of course, to control our thoughts and get us to purchase stuff.
The way ecommerce has been taking off, does anyone need to control anyone else's thoughts to get them to purchase stuff? (Actually, it just sounds like "advertising.")
As evidence, IlluminatiPirate offers, "I've seen the same threads, the same pics, and the same replies reposted over and over across the years." He argues that all modern entertainment is generated and recommended by an algorithm; gestures at the existence of deepfakes, which suggest that anything at all may be an illusion; and links to a New York story from 2018 titled "How Much of the Internet Is Fake? Turns Out, a Lot of It, Actually." "I think it's entirely obvious what I'm subtly suggesting here given this setup," the post continues. "The U.S. government is engaging in an artificial intelligence powered gaslighting of the entire world population." So far, the original post has been viewed more than 73,000 times.
Anyway, it's not a rabbit hole worth going down. —WTT Editbot #716
Squeaking By
This message stamped on the squeaker inside the stuffed animal my dog just destroyed pic.twitter.com/mvwH0TaALU

— Mildly Interesting (@interest_mild) September 14, 2021
This Week in Printing, Publishing, and Media History
September 13
1898: Hannibal Goodwin patents celluloid photographic film.
September 14
1321: Italian writer Dante Alighieri dies (b. 1265).
1814: The poem Defence of Fort McHenry is written by Francis Scott Key. The poem would later be used as the lyrics of The Star-Spangled Banner.
September 15
1835: HMS Beagle, with Charles Darwin aboard, reaches the Galápagos Islands.
1889: American humorist, newspaper columnist, and actor Robert Benchley born.
1890: English crime novelist, short story writer, and playwright Agatha Christie born.
September 16
1880: The Cornell Daily Sun, the U.S.'s oldest, continuously-independent college daily, prints its first issue in Ithaca, N.Y.
1959: The Xerox 914, the first successful photocopier, is introduced in a demonstration on live television from New York City.
1959: The Xerox 914, the first successful photocopier, is introduced in a demonstration on live television from New York City.
2016: American director and playwright Edward Albee dies (b. 1928).
September 17
1787: The United States Constitution is signed in Philadelphia.
1877: English photographer, developer of the Calotype Process Henry Fox Talbot dies (b. 1800).
1920: The National Football League is organized as the American Professional Football Association in Canton, Ohio.
September 18
1709: English lexicographer and poet Samuel Johnson born.
1851: First publication of The New-York Daily Times, which later becomes The New York Times.
1927: The Columbia Broadcasting System (CBS) goes on the air.
1970: American singer-songwriter, guitarist, and producer Jimi Hendrix dies (b. 1942).
September 19
1796: George Washington's Farewell Address is printed across America as an open letter to the public.
1985: Italian novelist, short story writer, and journalist Italo Calvino dies (b. 1923).