Koenig & Bauer Durst Welcomes Over 100 AICC Packaging Representatives to Dallas
Friday, February 21, 2020
Press release from the issuing company
Pre-event reception displays its diversified digital portfolio
AICC, The Independent Packaging Association E-Commerce Xperience from February 18-20 highlights growing packaging segment
Digital direct printing on corrugated board products such as SGIA 2019 Product of the Year Delta SPC 130 as well as CorruJet 170 were discussed and unique samples on display
All were welcomed at Koenig & Bauer's North American corporate office
Dallas, Tex. – "Welcome to Texas, y'all," was the message sent by members of the Koenig & Bauer Durst team to kick off The Independent Packaging Association AICC E-Commerce Xperience. Over 100 attendees arrived in Dallas for the three-day event. The firm, which hosted the pre-reception event on February 18 at its corporate headquarters from 6-8 p.m., provided a lavish spread of authentic Texas fare; the opportunity to network between corrugated converters, staff, and suppliers; and a host of technical experts to answer questions.
After Koenig & Bauer received an appreciation plaque from AICC president Mike D'Angelo, the group was welcomed by Robert Stabler, managing director of Koenig & Bauer Durst. "On behalf of the Koenig & Bauer Durst joint venture we are very pleased to present our new product portfolio and provide a glimpse into our unique corrugated ink jet solutions," he said. "We congratulate you on joining this important seminar where you'll learn more about the newest trends in e-commerce and see how our company is responding to changing demands in the corrugated board market that require rapid and flexible solutions. There is so much at stake in our quickly developing digital packaging market."
"It was a pleasure to welcome everyone to our corporate office in Dallas and extend some genuine Texas hospitality," said Jeff Dietz, vice president of the Web & Specialty Press Division at Koenig & Bauer (US). "This intimate setting allowed attendees to learn about our new applications and see actual print samples that will further demonstrate our unique capabilities."
Managing director Stabler addressed attendees during the conference in which he talked about the impact of e-commerce on the corrugated value chain. He provided insight into how converters should prepare for the industry transformation.
"We thank Koenig & Bauer Durst for hosting and welcoming our attendees in Dallas," said Michael D'Angelo, AICC president. "The goal of the AICC E-Commerce Xperience was to bring together subject matter experts, brand owners, converters and suppliers to go in-depth on how best to be successful in this dynamic market. Entrepreneurial AICC members met and learned from the disrupters and challengers of retail, design, and box business status quo."
AICC, The Independent Packaging Association, is the largest organization of corporate members in the corrugated, folding carton, and rigid box industries. Founded in 1974 for independent corrugated converters, it has since evolved to include independent packaging manufacturers in folding carton, rigid box, and other diverse segments of packaging. AICC offers free online education to all members to help the individual maximize their potential and the member company maximize its profit. When companies invest and engage, AICC delivers success.

Interesting website: www.aiccbox.org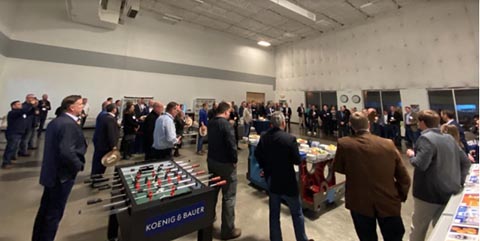 Koenig & Bauer Durst welcomed more than 100 attendees on February 18 to a pre-event reception at its Dallas headquarters prior to the AICC, The Independent Packaging Association E-Commerce Xperience.
To post a comment Log In or Become a Member, doing so is simple and free