Lamp Express Launches Innovative Hand-held UV Meter
Wednesday, February 12, 2020
Press release from the issuing company
UV monitoring is now easier than ever thanks to the LEXTRACTOR.
Lamp Express took customer feedback and made it easy for anyone to read a UV meter. No longer do you need to decipher cryptic numbers that deal with milliwatts, millijoules, and other complex scientific lingo. Instead, the LEXTRACTOR simply shows you the health of your lamp.
All you need to do is install the fiber optic coupling on your compatible UV equipment, connect that fiber optic to the LEXTRACTOR, and that's it. You'll get accurate UV readings right there on your hand-held device.
Check your LEXTRACTOR weekly, and as long as you see green bars, your device is good to go. If you see orange, it's time to order replacement bulbs from Lamp Express or an authorized retailer to keep your production running smoothly.
Who's the LEXTRACTOR for?
Anyone in the manufacturing industry such as:
Bottling Plants
Hardwood Flooring Manufacturers
Commercial Printing Firms
3D Printers
And/or those who use UV equipment in their processes like:
Offset Presses
Flexo Presses
Wood Finishing Equipment
UV Adhesives Equipment
The LEXTRACTOR will retail for $795 but is available now for a limited time at just $595. That's a $200 savings! Product ships by March 16, 2020.
Visit http://www.lexusa.com/instruments/uv-instruments/hand-held/uvs/lextractor-1-channel/ to order yours today.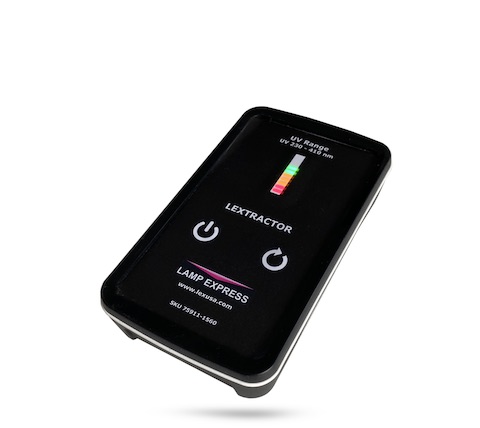 To post a comment Log In or Become a Member, doing so is simple and free