Springfield, Mass. – To welcome a new decade and a new year, the Paperboard Packaging Council (PPC) has announced exciting 2020 membership incentives for both current and new members. Known as the "20% in 2020" campaign, the program offers a 20% discount off annual membership dues for new boxmaker members and a $500 referral bonus to current members. PPC, an association for the converters of paperboard packaging and their suppliers, launched the effort to grow their community of folding carton and rigid box makers across the country. The membership drive is currently underway.

"If you've been thinking about joining the association, there's no better time than now," said Ben Markens, PPC president. "Our strength is our membership and we are your voice. Our members represent about 80% of the $10 billion industry in the United States. And with PPC, they get valuable insight into the latest converting solutions, advice from our expert speakers, and the opportunity to network and grow with a welcoming community of industry peers."

Seeing increased value for his company, Todd Zimmerman, president of Ohio-based Coburn Carton Solutions, was the first to join with the new incentive. "As an independent folding carton company, I'm eager to take full advantage of the association's myriad of valuable benefits," said Zimmerman. "In today's competitive environment, it's important to gain an edge and avail yourself to valuable new information about your market. We believe the association's analytics and benchmarking data will be a critical resource for our company. We also look forward to interacting with our peers, tapping the valuable knowledge from industry experts, and sending our employees to crucial seminars. There's nowhere else to get this information on national and global markets."

Zimmerman became intrigued with joining the association after speaking to a current PPC member who relayed its benefits and explained how his firm met the new membership criteria and incentive. Existing PPC members who successfully refer a new converter member in 2020 receive a $500 bonus, redeemable toward a future meeting registration.

PPC members receive access to the only folding carton exclusive data reporting program in the industry, webinars, white papers and legislative updates. They get opportunities to attend informative biannual conferences, discounted registration to key training sessions like Folding Carton Boot Camp and can also participate in publicity-generating programs such as TICCIT and the North American Paperboard Packaging Competition. PPC also facilitates several communities of interest, including the Rigid Box Committee, the Canadian Converters Committee, the Women's Leadership Committee and the New Generation Leaders group.

"We look forward to welcoming new members throughout 2020 during this campaign," said Markens. "Together we can learn, grow, and promote our dynamic industry."

To learn more about PPC and the new incentive, visit paperbox.org/join.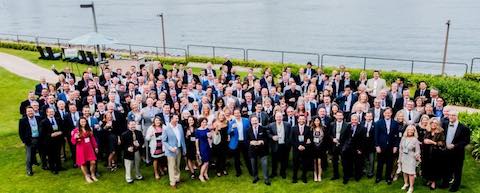 A look at the PPC community: attendees at PPC's Spring Meeting last year in Coronado, California.