Greenwash Success: Adobe Removes "Save the Trees" from E-Card Campaign
Monday, December 09, 2019
Press release from the issuing company
Many of you may have seen on social media yesterday that Adobe - whose products have supported the graphics and print industry for decades - had resorted to misguided claims about "saving trees" to promote an e-card campaign.
Two Sides contacted Adobe immediately after one of our own team first saw the Adobe ad on Facebook. The industry was also quick to share its disappointment with Adobe on social media, which really helped to get the software giant's attention.
We are pleased to announce that Adobe has now removed the statement. Two Sides have offered to train Adobe's marketing team and wider staff about print and paper's great environmental story. We hope they accept our offer.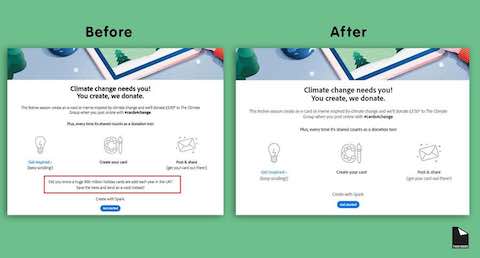 Nearly 500 organisations have so far removed or changed misleading environmental statements about paper following engagement by Two Sides. If you see examples of greenwash, please send them to greenwash@twosides.info.
To post a comment Log In or Become a Member, doing so is simple and free