Company recognized for solutions developed for LALA LEAF's CBD Skincare Line; Beauty Blender's 'Queen Blender' and 'Joy Blender' products; and Ulta Beauty's Frida Kahlo Signature Box.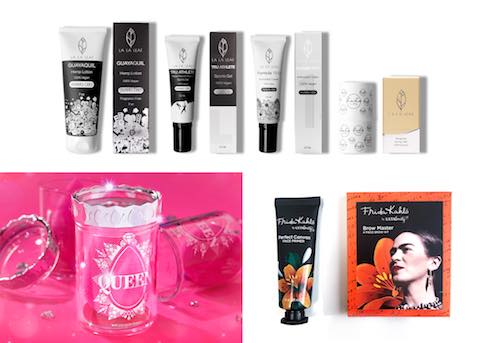 Florham Park, N.J. – WWP, a leading provider of cosmetic packaging components, plastic tubes, and full-service turnkey solutions, has been recognized three times by the prestigious New Jersey Packaging Executives Club (NJPEC) Package of the Year Awards. WWP's solution for the LALA LEAF CBD Skincare Line won the award for Market Impact, while two solutions – its work with Beauty Blender's Queen Blender and Joy Blender products and its Frida Kahlo Signature Box for Ulta Beauty – won for Visual Impact. Trophies will be presented at an NJPEC ceremony on December 5 at the Madison Hotel in Morristown, NJ.
NJPEC is a non-profit organization that provides hands-on business experience and education to prospects in the packaging and supply industries. All members of NJPEC are volunteers who serve to educate students through scholarship programs and mentoring opportunities. Those who submitted entries to the Package of the Year competition were judged by influential packaging executives from a range of industries, as well as students involved with NJPEC. Award decisions were made based on material, execution and presentation.
WWP won the award for Market Impact in the Personal Care section for its tube solutions for LALA LEAF's CBD Skincare Line. Stressing a modern, black and white aesthetic theme, WWP designed and constructed an airless pump tube and added a flip top to the CBD lotion packaging.
"The goal was to design something original and bold, as we didn't want to follow the same path as other brands. We wanted to be trailblazers by bringing a totally new concept to market," said Michael Faiella, CEO and Founder of LA LA LEAF. "WWP took the time to show options and make suggestions on the packaging that would work best with our brand and they were willing to take a chance on us being a new startup."
In addition, WWP received a Visual Impact Award in the Health and Beauty section for its work with the Queen Blender and Joy Blender brands. WWP worked with Beauty Blender, a leader in innovative beauty products located in the Lehigh Valley area, to create a more sustainable package with a stackable advantage for transporting and merchandising. "It was with great please our team was chosen to work on this project. Beauty Blender charged us with creating a new package which utilized an alternative material that would allow for global distribution, in addition to solving merchandising issues and act as a reusable keepsake for their consumer." said Ed Quinn, VP of Sales, East Coast for WWP.
Finally, Cosmetic Design Group (CDG), a WWP company, also won a Visual Impact Award in the Color Cosmetics sub-category for its work with Ulta Beauty's Frida Kahlo Signature Box, which honors the late Frida Kahlo's legacy. The comprehensive collection features a 12-shade eyeshadow palette, a shadow switching pan, a four-pan brow sculpting palette, a liquid illuminator highlighter, two blush & bronzer duo powders, a blurring face primer, three shades of 7-free nail lacquer, and a signature keepsake box.
CDG overcame several obstacles to achieve a look worthy of Frida Kahlo. Placing white images atop a black tube substrate required richness of color and bright, white artwork, including a second layer of white print to avoid blurring or other aesthetic sacrifices. The final print on the black tube was beautiful, powerful and impactful, just like Frida's art.
"We're very honored to receive these distinguished awards from a highly regarded industry leader like NJPEC," said Jim Farley, EVP, Global Business Development for WWP. "WWP appreciates the privilege to partner with NJPEC in providing continued education to students and giving them the opportunity to get involved in the industry. WWP looks forward to continue to provide our customers with evolving technologies to further cultivate ease and accessibility in beauty packaging."
For more information, contact WWP LLC, 15 Vreeland Road, Suite 4, Florham Park, NJ 07932; phone: 973-805-6500 or toll-free 1-800-950-0390; fax: 973-805-6510; or visit the company's website at www.wwpinc.com.