Spokane, Wash., Spokesman-Review Prepping New Building for 32-Unit Goss Magnum Pressline
Friday, December 06, 2019
Press release from the issuing company
Burlington, Wash. – The Spokesman-Review first published in 1894, is currently pouring a new concrete press pad in preparation for a 32-unit Goss SSC Magnum pressline to be installed by imPRESSions Worldwide. The Spokesman-Review and imPRESSions inked this purchase agreement in March 2019, shortly after the newspaper announced that it was building a new printing facility to house the Magnum pressline and mailroom under one roof. The press purchased by the Cowles family consists of 8 Magnum four high towers & 2 Universal folders. The press is fully automated with remote ink, motorized register, auto register and more.

The new production building is generally complete and now ready to receive the first shipment of equipment from imPRESSions. The move from their downtown double-wide press to the Goss Community SSC Magnum press will allow The Spokesman-Review more versatility to expand their printing capabilities and bring on more commercial printing.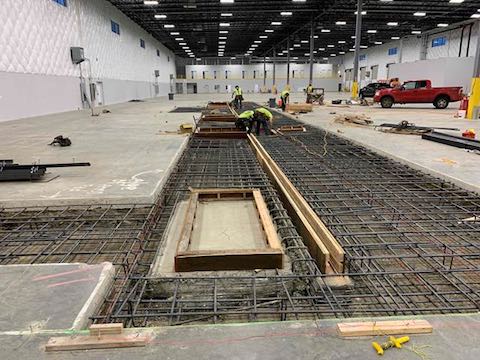 The new printing facility located just East of the city, will operate under the name Northwest Offset Printing. The project was driven in part by Rick Sant, formerly with Freedom Printing (Orange County Register) in Anaheim, CA. Mr. Sant is now the General Manager for Northwest Offset Printing. Rick Sant said, "The move away from the large double-wide press and into a right size press was obvious for us. We knew we wanted to continue to print our own newspaper and we needed to be more competitive to get commercial print jobs. With full color on every page, jaw folders, a quarter folder and one web of heat we are positioned well to print newspapers and commercial jobs. imPRESSions has always performed well for me and we look forward to getting this press installed and running early next year."

President of imPRESSions Worldwide, Inc., Tom Loesch added, "We are honored to work with Rick Sant and the team in Spokane again. The Spokesman-Review is a fabulous and fearless newspaper with a storied history and the Cowles family does so much for the community. Our team really enjoys working in Spokane and with the crew there. This type of project is becoming very typical for us as we continue to replace double-wide presses with single-wide presses. We are excited to get the Magnum press installed and running!"

Now in their 25th year, imPRESSions Worldwide is the premier company offering the largest inventory of second-hand single-wide newspaper and commercial presses and auxiliary equipment. imPRESSions's team of experienced professionals has delivered more than 1,500 precise press projects to over 50 countries. Operating from two facilities in the USA, imPRESSions offers a wide range of equipment and world-class services, including reconditioning, installation and press room upgrades. Their product lineup is greatly expanded thanks to new global partners Goss Graphic Systems China, DG press Services & Contiweb. imPRESSions is the most trusted source for superior quality equipment and customer service.
To post a comment Log In or Become a Member, doing so is simple and free