BFHS Book of Wisdom Offers Leadership Advice to New and Aspiring Members of the Graphic Communication Industry
Tuesday, December 03, 2019
Press release from the issuing company
San Luis Obispo, Calif. – Launched at its annual meeting in Houston, Texas on November 15-16, 2019, the Ben Franklin Honor Society of Printing Industries of America is now offering copies of the BFHS Book of Wisdom for those aspiring to succeed as managers in the graphic communication industry.
The 248-page book includes a collection of 47 success stories from some of the most accomplished leaders in the industry spanning the latter part of the 20th century to the present, all inducted into the Society for lifetime achievements. Edited by Cal Poly Professor Emeritus, Harvey Levenson, the book presents advice under the categories of Change, Communication, Company, Customers and Markets, Employees, Industry and Community, Leading and Managing, Principles and Philosophy, Products and Services, Professional Development, Education and Training, and Technology.
Levenson said, "The book is an excellent resource for students in graphic communication educational programs, and for those already in industry aspiring to reach high-level management positions."
A Content Analysis of the book shows that focusing on professional development, education, and training of staff at all levels; carefully developing leadership and managing strategies; and practicing overall employee respect and support are the most relevant areas for achieving organizational goals and objectives. Read the Content Analysis for more at: https://hrlsite.files.wordpress.com/2019/11/bfhs-content-analysis-research-paper.pdf.
The book was designed by Marina Joyce, founder of INTAGLIO. Copy editing was provided by Linda Coss of Plumtree Marketing. Printing was contributed by Dave DeLana, president of Heritage Integrated. June Crespo, Director, PIA Board & Affiliate Relations, and Gerald Nathe, BFHS immediate past Chair, provided administrative support.
The book is available for a tax-deductible donation of $50. All proceeds go to into Ben Franklin Honor Society student scholarship funds or to projects to benefit the industry. To acquire copies of the BFHS Book of Wisdom, contact:
Ms. June Crespo
Director, Board & Affiliate Relations
Printing Industries of America
301 Brush Creek Road
Warrendale, PA 15086
Phone: 412-259-1778
Email: jcrespo@printing.org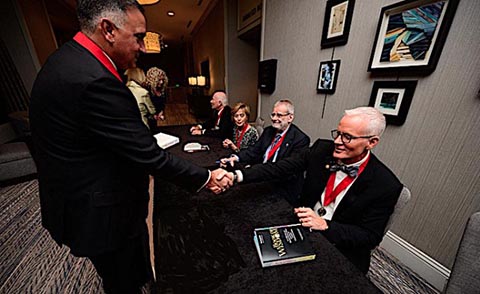 BFHS Book of Wisdom signing session by some of the authors represented in the book. Seated from right to left: Michael Makin, President, Printing Industries of America; Harvey Levenson, Cal Poly Professor Emeritus and book editor; Daneise Archer, Chair, Ben Franklin Honor Society; James Dunn, past President, Heidelberg USA.
To post a comment Log In or Become a Member, doing so is simple and free