Accent Opaque Swatchbook Wins Gold Summit Creative Award
Friday, November 22, 2019
Press release from the issuing company
Rockford-based creative agency Trekk has been awarded a Gold Summit Creative Award for its work on International Paper's Accent Opaque Swatchbook.
About the Accent Opaque Swatchbook
The Accent Opaque Swatchbook is every printer and designer's go-to guide to the sizes, weights, and finishes of Accent Opaque paper. For the brand new 2019 swatchbook, Trekk set out to create a tool that would also highlight Accent's performance and results through several vibrant spreads featuring innovative printing techniques.
Sheets finished with foils, embossing, and UV coating are paired with unfinished sheets to show how Accent performs with and without finishing. Each technique is strategically chosen to enhance the image and highlight its best features.
The Swatchbook also features fun hidden Easter eggs: the Accent logo is hidden multiple times within its pages, demonstrating the versatility of the A and charming Accent enthusiasts.
The Accent Swatchbook launch centered around a lumpy campaign that included Accent stickers, a personal letter, and the Swatchbook, all delivered to key sales prospects in a custom-designed Accent box.
Immediately upon the launch, the Accent team received hundreds of requests for the Swatchbook, and feedback has been resoundingly enthusiastic. It was so successful, in fact, that International Paper and Trekk teamed up again to develop an augmented reality campaign that takes people behind the scenes on the Swatchbook's design and development.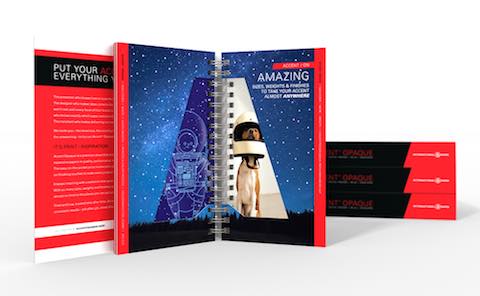 To post a comment Log In or Become a Member, doing so is simple and free