Stuart Web Inc. Invests in DGM 430 Press
Monday, November 11, 2019
Press release from the issuing company
Burlington, Wash. – Stuart Web, Inc. has made another investment in their printing operation and will be adding three 22" cut-off DGM 430 Towers to their existing Press. Stuart Web is a family-owned commercial printer with a custom-built facility located in Stuart, Florida that provides full-service tabloid, newspaper and booklet printing. The company has expanded consistently over the last few decades and after this installation is complete, their Pressline will have 12 towers and 3 folders.

The equipment was recently acquired by imPRESSions Worldwide in a liquidation buy-out from The Chronicle Printing Division (Centralia, WA). The towers were updated by imPRESSions with motorized register, brush dampening and new Perretta ink fountains in order to match the existing equipment in Stuart. As a single source provider, imPRESSions Worldwide additionally supplied new DCOS closed loop register and density cameras that will be installed on four of the twelve towers. By acquiring the DGM 430 towers and automation package Stuart Web will expand and improve on quality and capabilities of their services. installation is underway and will be completed in stages to limit impact on production and will be 100% complete in January 2020.

"Historically, Stuart Web has always purchased new press equipment from the manufacturer, but now the future is trending towards used equipment. This time we took advantage of a good opportunity in the second-hand market. Tom and his crew from imPRESSions formulated a logistical plan and timeline to deliver & install nice late model press equipment from Washington state to Florida. It worked flawlessly and exceeded our expectations," said Kevin Hawken, V.P. of Stuart Web Inc.

Tom Loesch, president of imPRESSions said "The facility and the people at Stuart Web are both top-notch. Ownership and management are on one page and they have a great group of employees. This is a beautiful location and a great time of the year to be working in Florida. We feel very fortunate to play a role in making this operation even better than it is today."

Now in their 25th year, imPRESSions Worldwide is the premiere company offering the largest inventory of second-hand single-wide newspaper and commercial presses and auxiliary equipment. imPRESSions is fully staffed and has over 1500 precisely executed press projects and has delivered to more than 50 countries. Operating from two facilities in the USA, imPRESSions offers a wide range of equipment and world-class services, including reconditioning, installation and press room upgrades. imPRESSions is the most trusted source for superior quality equipment and customer service.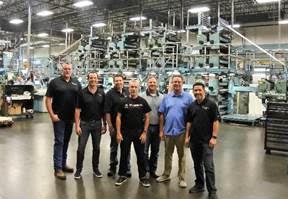 Jimmy Easterly (imPRESSions), Ben Dorman (imPRESSions) Darrell Brannon (Stuart Web), Tom Loesch (imPRESSions), Kevin Hawken (Stuart Web), Ron Erhardt (DCOS), Armando Garcia (imPRESSions).
To post a comment Log In or Become a Member, doing so is simple and free