MAXSON AUTOMATIC MACHINERY COMPANY (Westerly, R.I.) can outfit its high speed precision sheeters with a web steering design that automatically centers the web to permit multiple pile work without wasteful edge trim. This can save at least 1% in material costs.
The same design can guide the incoming web of preprinted material to accurately cut to a register mark.This allows converters the value added option of sheeting printed materials.
The web steering system includes a sensing head, and two parallel rolls on a common frame and pivoting carriage mounted within the web conditioning frame. Web aligners arrangements can be configured for multiple roll sheeting.
The sensing head detects the edge of the web or a line in the case of preprinted material, sending a pneumatic signal to an electronic converter. The resulting signal pivots the carriage accordingly. The web wraps around two dynamically balanced rolls mounted on the pivoting carriage, steering the web. Controls for the edge guidance system allow for automatic or manual operation.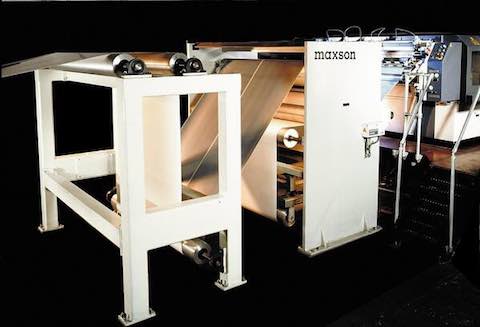 The web steering design can reduce waste when sheeting multiple pile orders and offers converters the ability to market themselves as cut to register capable.