DCOS Wins Another DGM Press Project
Friday, November 01, 2019
Press release from the issuing company
Kinna – DCOS Automation has been awarded a contract to install closed loop ink density / color registration equipment to a DGM 440/430 press at Stuart Web, located in Stuart, Florida. Working with imPressions Worldwide on a comprehensive press addition and system upgrade project, Stuart Web will also add 3-used DGM 430 4-high towers to their existing press.

This project is the second DCOS closed loop automation system installed on a press with UV curing in North America.

"Stuart Web's DGM 440 tower is dedicated to UV curing. Due to the higher operational costs of UV printing, smart UV printers are realizing the benefits of the lower waste that our proven closed loop automation systems provide" adds Ron Ehrhardt, Sales Director for DCOS.

Delivery and installation will commence in January 2020.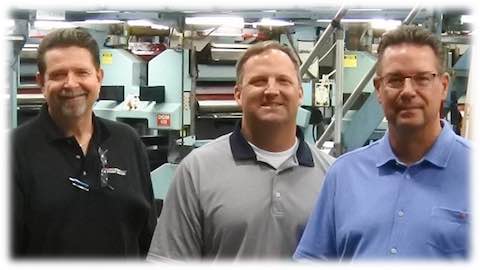 From left; Darrell Brannon, Pressroom Manager, Stuart Web; Kevin Hawkin, Vice President, Stuart Web; and Ron Ehrhardt, Sales Director, DCOS.
To post a comment Log In or Become a Member, doing so is simple and free