For converters of specialty papers and products that require low volume output and quick size changes, MAXSON AUTOMATIC MACHINERY COMPANY, (Westerly RI) offers the MSE Sheeter. Capable of operating at speeds of up to 300 fpm (90 mpm), the sheeter is specifically designed for ease of set up for single Operator and delivery of press ready skids of material.
Capable of converting up to 64" (1525 mm) wide rolls, the MSE Sheeter can produce cut offs from 15" – 50" (381 – 1270 mm) long. The machine's compact foot print makes it ideal for short order and low volume work on all types of material up to 0.020" (0.5 mm) thick.
Outfitted with a dual motor drive system, sheet length accuracy of ±0.015" (±0.381 mm) and squareness of ±0.020" (±0.508 mm) is maintained regardless of cutoff or line speed. Size changes are made via key pad entry. The Sheeter can be outfitted with an optional automatic squaring system to further ease set up.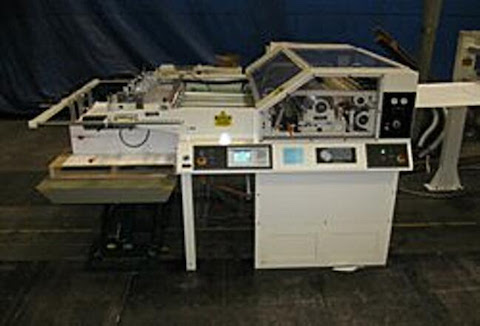 The MAXSON MSE Sheeter combines a compact foot print, ability to deliver press ready sizes and an affordable price.