Domino was delighted to welcome Tony de Vos, Managing Director, and Xavier de Vos, Chief Operating Officer, from Label-Pak International onto booth No 9A60 on the first day of Labelexpo 2019, when they came to view their latest investment - the 7 colour Domino N610i ink jet label press which is being demonstrated at the show. The press will be delivered directly to the Belgian-based label converter immediately after the show. Although Label-Pak are not newcomers to digital technology, this represents their first step into digital ink jet printing.
Xavier de Vos explains, "We first invested in digital printing technology 4-5 years ago in response to increased customer demand for shorter print runs and multiple SKUs. This trend has continued to increase and we soon realised that in order to be able to offer our customers a complete range of printing solutions, we also needed to invest in digital ink jet technology."
Established in 1968, this successful family-owned business located in Wavre, employs 31 people and produces self-adhesive labels and non-adhesive cardboard labels for their customers from the food & beverage, personal care, chemical, health & safety, security, household and logistics sectors based in Belgium, Luxembourg, the north of France and the Netherlands.
Using a combination of analogue and digital printing technologies with added capabilities for screen printing, cold foiling and lamination, Label-Pak delivers an extensive variety of labels ranging from simple logistics labels to elaborate 10 colour dual sided, multi-page, dry-peel and coupon labels, to security, reseal and scratch off labels.
Xavier continues, "We knew that it was time to invest in digital ink jet, so we researched the market and one of our most important criteria was to work with a company that had a strong history and heritage of developing ink jet systems. We approached Domino and were immediately impressed both by the excellent service and high print quality of the sample tests we undertook. To meet our customer demands, we needed a label press that could deliver an extensive range of vibrant colours. The 7 colour Domino N610i UV ink jet label press provides the perfect solution, enabling us to deliver the wide gamut of colours our customers require."
"We are delighted to be taking this step into digital printing in partnership with Domino, whose extensive experience of developing and manufacturing proven and reliable ink jet technology was a contributory factor in our decision to invest in the Domino N610i. Xavier concludes, This new investment into digital ink jet will supplement and complement our existing printing technologies, enabling us to expand our business and product offering to our customers, which in turn, will create new business opportunities for them in the future."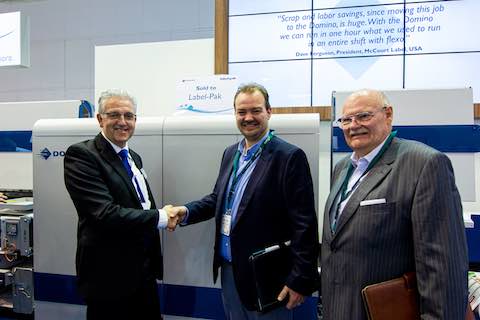 Domino's Ruud Bos with Xavier de Vos, Chief Operating Officer, and Tony de Vos, Managing Director, from Label-Pak International.